What is haluski? Haluski is a buttery Polish dish with egg noodles and fried cabbage often served during Lent and is the perfect recipe to use up leftover cabbage. Very popular in Pittsburgh!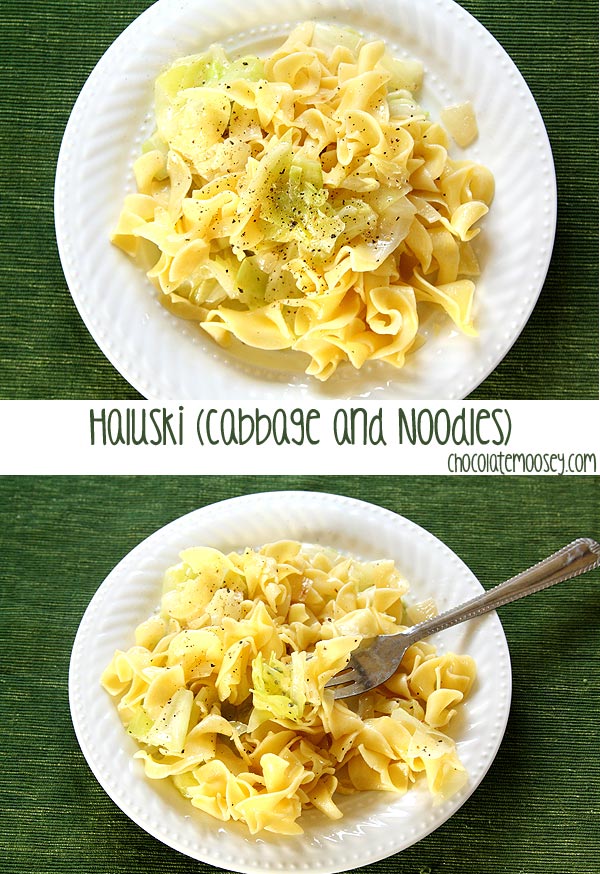 Are you familiar with haluski? Is it a Pittsburgh thing or something? I know you're expecting dessert, but I have a problem.
Nobody out here in south central PA knows what haluski is. It kills me because it's one of the easiest dishes you can throw together.
Haluski is a Polish dish of cabbage and noodles that I've eaten at least once a month growing up. You always find it as a side to fish fries during Lent.
I made a big batch of it and brought it to lunch so I could educate my coworkers. They all asked for the haluski recipe, so it's probably safe to say it was a huge success.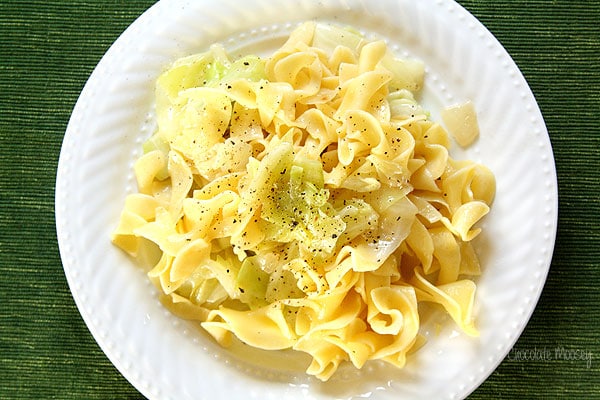 Haluski is egg noodles tossed with sauteed cabbage, onions, and butter. It is one of those dishes that I rarely make myself, mainly because my mom does it well.
I won't make pierogies myself either because that is another dish my mom makes with fried onions on top. I guess it's because of the nostalgia tied to them since I grew up eating them during childhood.
Ironically, nobody in my family is Polish. I guess it's just something us Pittsburghers eat all the time regardless of ethnicity.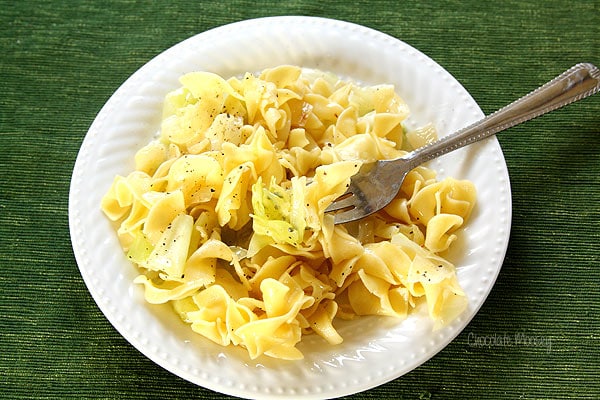 How To Make Haluski
Traditionally, the noodles are made from scratch. As ambitious as I am with my from-scratch philosophy, I'm pretty cool with buying packaged egg noodles. It makes dinner that much faster and easier.
If you want to make your own noodles, here's a recipe for homemade egg noodles from Neighborfood.
First, you saute onion and cabbage in butter. Lots of it. Once the cabbage is fork tender, add the cooked egg noodles and toss. It's that simple!
My mom also has a habit of putting lots of black pepper on top of things. Normally I'm good without it, but no matter how hard I try, I can't eat haluski without black pepper.
How To Cut Cabbage For Haluski

Not sure how to cut cabbage? I wrote a separate guide with step by step photos for how to cut cabbage.

Before you begin, make sure your chef's knife is super sharp. A dull knife means you're more likely to slip and cut yourself on such a sturdy vegetable.

To make haluski even faster, chop up the whole head of cabbage at once and keep leftovers tightly sealed in the refrigerator. That way when you're worn out from a long day at work, you can throw things in a pot and have dinner ready in roughly a half hour.
The Origin Of Haluski
As you can see in the comments below, haluski has multiple names and origins. Share your favorite memory with me!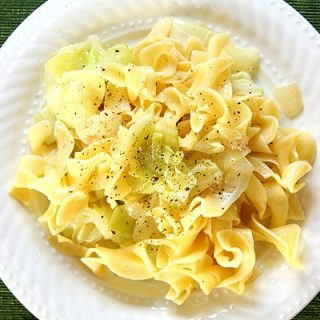 Haluski (Cabbage and Noodles)
Haluski is a buttery Polish dish with egg noodles and fried cabbage often served during Lent. Very popular in Pittsburgh!
Ingredients
8 ounces uncooked wide egg noodles
6-8 tablespoons unsalted butter
1 small onion, chopped
1 pound green cabbage, chopped into bite-size pieces (roughly half a head of small cabbage)
Salt and black pepper, to taste
Instructions
Bring a large pot of water to boil. Once boiling, add a big pinch of salt and egg noodles. Cook according to package directions, roughly 10-12 minutes. Drain when done.
Meanwhile, in a large Dutch oven over medium heat, melt 6 tablespoons butter. Add the onion, cabbage, and a big pinch of salt. Saute for 15-20 minutes or until cabbage is brown and fork tender. Add more salt to taste, if necessary.
Add the cooked noodles to the cabbage mixture and toss to coat. If necessary, add the remaining 2 tablespoons butter. Season with black pepper.
Recommended Products
As an Amazon Associate and member of other affiliate programs, I earn from qualifying purchases.
Now that you have enough chopped cabbage to last all week, check out my recipes for what to do with leftover cabbage.