These crispy baked Salt and Vinegar Wings are easy to make at home with its salty and tangy marinade! Serve them for dinner or for your Super Bowl watching.
Happy 2022! I'm finally back with a new recipe.
There's a quote I saw recently that said "If you don't schedule time for maintenance, your equipment will schedule it for you."
That's exactly how I felt, which is why I took a break.
October through December was crazy busy for me, between recipe testing for the blog and selling Pittsburgh prints through my Etsy shop.
Then during my time off, I canceled a trip to NYC due to cases spiking while simultaneously dealing with an expensive car issue only the dealership could fix.
I was running on empty, so I took a few weeks off and stayed home to clean, rest, and cook.
Much like you, I own cookbooks with all kinds of bookmarks. The problem is most recipes aren't quick, so I needed to actually find time to make them.
The first week off was a little rough. It took me awhile to find the energy to really enjoy cooking again. Turns out I don't have a time management problem; I have an energy management problem.
Once the second week rolled around, I was finally feeling motivated again and even checked off homemade brioche that's been on my bucket list for probably 10 years now.
Now that I'm back to blogging, I need to rethink my work schedule. The plan is to schedule 1-2 days a month where I can cook from my books again.
During my time off, all I wanted to do was cook dinner and savory breads.
As much as I love baking, I wasn't in the mood for sweets between the sugar overload from Christmas and not being able to give extra food away.
When deciding what to blog first for 2022, these Salt and Vinegar Wings caught my eye.
Ever since I made my Salt and Vinegar Chips and Salt and Vinegar Popcorn, I've had this idea for baked salt and vinegar chicken wings.
Originally I wanted to make them with vinegar powder but seeing I'm trying to cut back on unnecessary pantry ingredients, I ended up marinating the wings in a vinegar mixture.
As I discovered way back when with my Sweet Chili Wings, you make oven baked chicken wings by placing them on a roasting rack, which results in crispy chicken skin.
Once the wings are done, you toss them with more salt and vinegar before eating.
This chicken wing recipe makes 1 dozen wings, which you can serve as a dinner for two (I can easily eat 6 wings myself) or as an accompaniment for watching the Super Bowl.
Ingredients For Salt and Vinegar Wings
To make oven baked wings with salt and vinegar, you'll need the following ingredients:
Chicken Wing Pieces: Wings can be separated into three parts – drumette (looks like a drumstick), flat (shaped like a safety pin), and tip. Ideally you want already-cut drumettes and flats. If you're cutting whole wings yourself, save the tips to make homemade broth or discard.
Vegetable Oil: Brushing oil on the wings helps the skin crisp up. You want to use a neutral oil like vegetable or canola for its low smoking point.
Salt: In addition to being in the name, salt is also used to make the meat taste even better. Kosher salt works best because the salt flakes are bigger than table salt.
Vinegar: Probably the most important part for salt and vinegar wings! I use distilled white vinegar for a more traditional taste, but you can also use malt or apple cider vinegar to add a little more sweetness.
Water: Helps dilute the vinegar so it's not too tangy.
Garlic and Onion Powders: Using spices add a bit of a flavor kick to the sauce.
How To Bake Chicken Wings
The best way to bake chicken wings is placing a roasting rack inside a baking pan and cooking the wings on the rack.
This allows the heat to circulate underneath as well as letting the fat drip down.
Don't have a roasting rack? You can use a cooling rack on a rimmed baking sheet.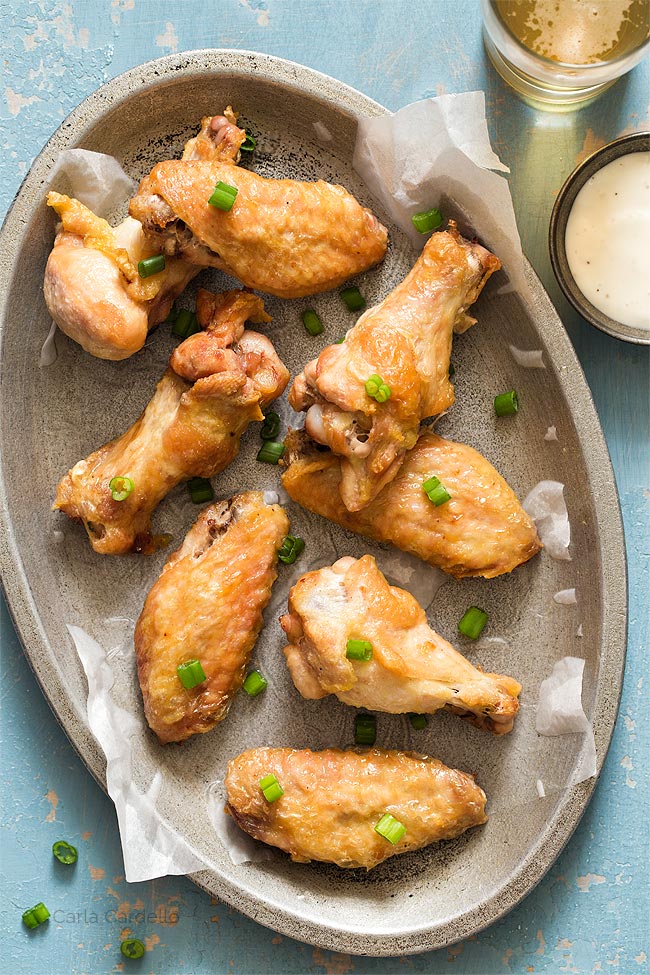 How To Make Salt and Vinegar Wings
Before you do any baking, first you need to marinate your wings.
Whisk together the vinegar, water, salt, garlic powder, and onion powder until the salt dissolves (I do this directly in the measuring cup). Reserve half to toss with the wings later.
Add your wings to a shallow dish or freezer bag and pour half of the vinegar mixture directly on top, making sure the wings are as submerged as possible.
Refrigerate for 2-4 hours. Once ready, discard the used marinade and pat the wings completely dry. Otherwise, wet skin won't crisp up.
Place the wings in a single layer on the roasting rack, brush each one with oil, then sprinkle some salt on top.
Bake for roughly 45-50 minutes or until the internal temperature reaches 165F.
Once baked, toss the wings with the remaining vinegar mixture and serve immediately.
Do I cover wings when baking?
You definitely do not want to cover your wings while baking. Otherwise you'll end up with steamed skin instead of crispy.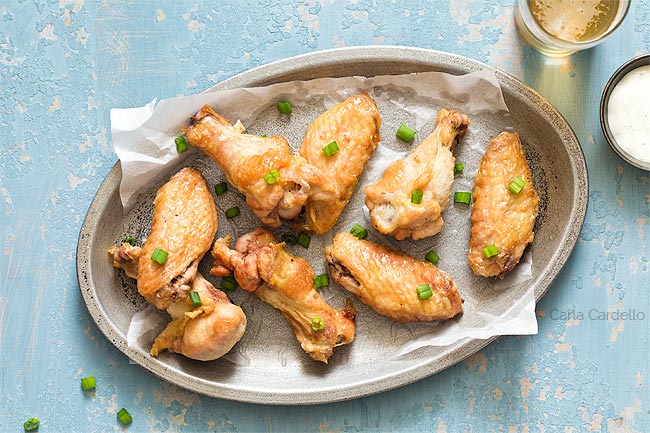 More Crispy Baked Chicken Wings

Looking for more easy wing recipes? Check out these oven baked wing recipes:
Salt and Vinegar Wings
These crispy baked Salt and Vinegar Wings are easy to make at home with its salty and tangy marinade! Serve them for dinner or for your Super Bowl watching.
Ingredients
12 wing pieces (drumettes and flats), thawed and patted dry
1 cup white distilled or apple cider vinegar
1 tablespoon kosher or sea salt (do not use table salt or it'll be too salty)
1 teaspoon granulated sugar
1/2 teaspoon garlic powder
1/2 teaspoon onion powder
2 tablespoons vegetable oil
Sliced green onion, for garnish
Instructions
Add the wings to a shallow baking dish or freezer bag.
Whisk together the vinegar, salt, sugar, garlic powder, and onion powder until salt and sugar have mostly dissolved. Reserve half of the mixture for later.
Pour the remaining half over the chicken, making sure the wings are as submerged as possible. Refrigerate 2-4 hours.
Preheat oven to 400F. Line the bottom of a roasting pan or cookie sheet with foil. Place a roasting or cooling rack on top then generously grease with cooking spray.
Remove the wings from the marinade and discard the marinade. Pat wings completely dry.
Place the wings in a single layer on the roasting rack. Brush each side with the oil then sprinkle a touch of salt on each one. Bake 45-50 minutes until internal temperature reaches 165F.
When the wings are done, toss with the reserved vinegar mixture then serve immediately with green onion on top.
Recommended Products
As an Amazon Associate and member of other affiliate programs, I earn from qualifying purchases.