Salt and Vinegar Popcorn
This 3 ingredient Salt and Vinegar Popcorn shares the same flavors as salt and vinegar chips but is much quicker and healthier to make, thanks to one secret ingredient.

Hi I'm Carla, and I'm a snackaholic.
Doesn't matter if it's BBQ chips, popcorn, pretzels, or nachos – I love snacks.
If I had to pick my favorite snack flavor in the world, it'd have to be salt and vinegar.
It even helped cure my sea sickness when I took the ferry to see the Statue Of Liberty with my dad a few years ago (the swaying of the boat while we were still docked really got to me and for whatever reason, I ate a bag of salt and vinegar chips. Made sense at the time).
As much as I love my salt and vinegar chips and salt and vinegar wings, it's not a snack you can make in minutes.
That got me thinking – what snack can I make in minutes and satisfy my salt and vinegar craving?
The answer: Salt and Vinegar Popcorn made with only three ingredients – freshly popped popcorn, salt, and vinegar powder.
I can be on the couch watching Criminal Minds when I get the urge to snack. In about 5 minutes, I can have a big bowl of salt and vinegar popcorn ready to go (sadly, it also disappears in 5 minutes too).
What is vinegar powder?
Let's talk vinegar powder and why you need to buy it.
It's essentially dehydrated vinegar that you can use to flavor foods without adding extra liquid.
A few months ago, I updated my salt and vinegar potato chip recipe with this new-to-me ingredient that is essential to getting that lip-smacking vinegar taste you expect.
Soaking the potato chips in vinegar wasn't enough; it needed that concentrated vinegar flavor from the vinegar powder.
With popcorn, there's no way you can soak it in vinegar, but you can toss it with vinegar powder.
I bought mine online from Spice Jungle (affiliate link).

Want to know how quick it is to make salt and vinegar popcorn?
Pop kernels, add salt and vinegar powder, shake, eat.
I popped my popcorn on the stove top, a technique I learned back when I studied abroad in Ireland because we didn't have a microwave.
If you own an air popper, feel free to use that according to your popper's instructions.
Last resort would be microwavable popcorn, but you need to make sure it's plain (and adjust for salt if it's pre-salted).

Salt and Vinegar Popcorn
Yield: 3 cups
Prep Time: 5 minutes
Total Time: 5 minutes
This 3 ingredient Salt and Vinegar Popcorn shares the same flavors as salt and vinegar chips but is much quicker and healthier to make, thanks to one secret ingredient.
Ingredients
3 1/2 cups air-popped popcorn* (see Note on making popcorn)
1 tablespoon vinegar powder (can buy online at Spice Jungle)
1 teaspoon salt
Instructions
In a large bowl with a lid or a paper bag, shake together the popcorn, vinegar powder, and salt. Serve immediately.
Notes
*3 1/2 cups of popped popcorn is roughly equal to 2 tablespoons unpopped kernels plus 1 tablespoon vegetable oil. To make popcorn on the stove: Find a pot with a wide bottom and a lid. Add the oil and stir to coat the bottom. Add the kernels and shake the pan until coated. Turn on the heat. Shake the pan every so often so the kernels move around a bit. After what seems like forever, a kernel should pop. Once that happens, add your lid. Once the popping stops, remove the pan from the heat. Pour into a giant bowl and let cool for a bit. Sift through popcorn to remove any unpopped kernels and possible burnt pieces.
More Popcorn Recipes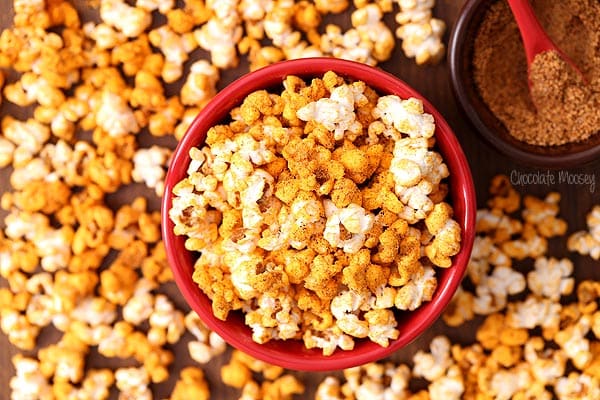 Chili Cheese Popcorn
This post may contain affiliate links. As an Amazon Associate and member of other affiliate programs, I earn from qualifying purchase.