Curry Chicken Wings
Love eating out but want to save money? Baking these Indian-inspired Curry Chicken Wings at home is easy and brings a little global spice to dinner!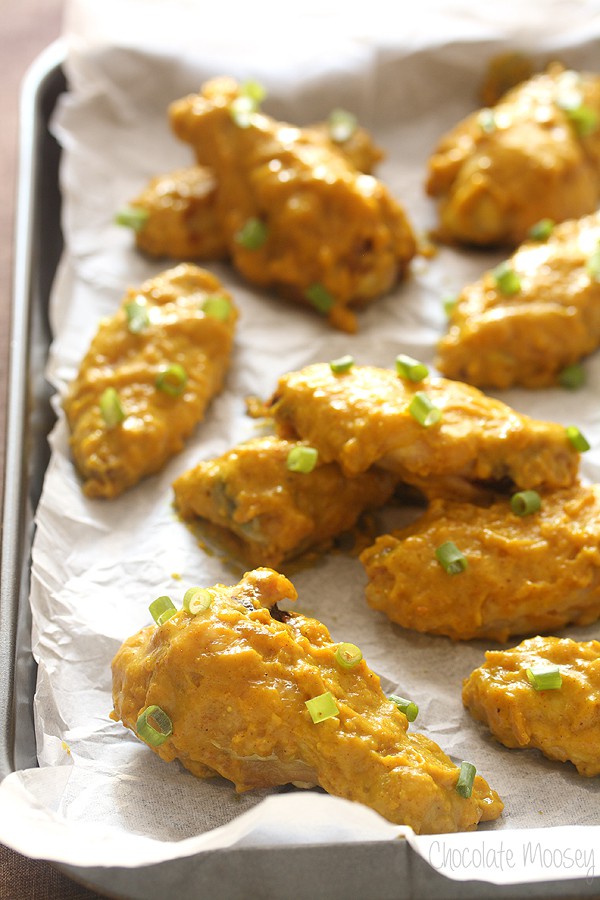 Earlier I talked about my love for
Shrimp Curry without coconut milk
.
Curry really is one of those magic words that reels me in when I read a recipe, especially if I'm eating out.
Eating out is such a love/hate relationship. On one hand, someone else is cooking and you can eat meals you don't typically cook at home.
On the other hand, it can be quite expensive (and disappointing if the meal was a let down).
As much as I love discovering new restaurants, I can't eat out all the time. When I do, I'm strategic about it; I pick foods that I don't typically make at home.
Sometimes it's based on technique (which is why I order fried foods a lot). Other times it's about ingredients.
Like I mentioned, when I see curry on the menu I'm in. That's where the inspiration for these Curry Chicken Wings came from.
When I moved back to Pittsburgh back in 2014, it was one of the longest days of my life. I ended up getting the moving truck the morning of moving day at a place further than where I requested.
My family and I packed up the truck and cars, drove 3 hours on the Turnpike to my new apartment, then unpacked the truck and cars.
After a long and tiring day, we opted to go out for dinner so we could sit and relax.
Fortunately, my dad planned ahead and found a sports bar down the road that were voted best chicken wings in Pittsburgh (plus a long beer list).
This bar doesn't mess around; they have at least 30 different flavors of wings.
Now I didn't get the winning wings because their curry wings caught my eye (and my stomach) first. Wings tossed in curry sauce?! I was in love. They even had a clever name – Curry Sutra.
As much as I'd love to order them again, have you seen the price of wings?! Back in 2014, they were $7.50 a dozen. That's 63 cents a wing (plus the cost of a drink and tip)!
Now? In 2022? With the wing shortage, it's…ridiculous.
Buying a bag of frozen wings at the store is much more affordable. Probably even more affordable if you buy whole wings and butcher them yourself.
This curry chicken wing recipe isn't meant to be a copycat. Theirs was much spicier (plus copycat recipes have such high expectations).
Instead, I used my own curry sauce and my trusty oven baked method, which means the curry chicken wings are crispy even without the deep fryer.
If I can recreate a favorite recipe at home, saving time, money, AND calories, that's a winning meal in my book.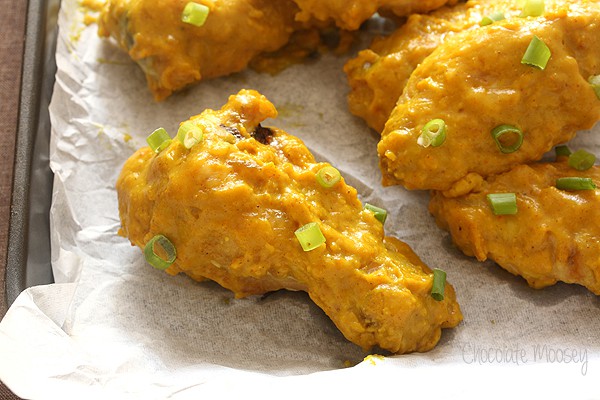 What is curry?
Curry is an Indian-style sauce made from a variety of flavorful spices. You often serve it with meat or tofu and vegetables over rice.
The spice mixture used to make the sauce is called curry powder and often varies on the blend.
Mine is a Madras-style powder with turmeric, cayenne, coriander, ginger, cumin, fenugreek, white pepper, cinnamon, fennel, nutmeg, cardamom, cloves, and black pepper.
They can also vary in spice level. Some are specifically labeled hot curry powder, but not all curry powders are that spicy.
Indian grocery stores are an excellent place to pick up high-quality curry powder, but it's also becoming more common at general grocery stores.
Still can't find any? You can order online from Penzey's Spices.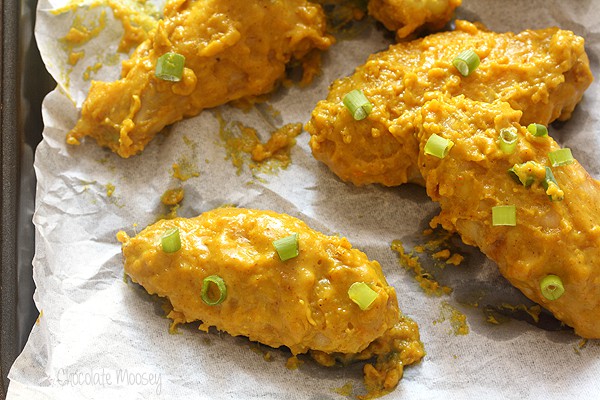 Ingredients For Curry Chicken Wings
Here is what you'll need to make oven baked wings with curry sauce:
Chicken Wing Pieces: Wings are divided into three parts – drumette (looks like a drumstick), flat (shaped like a safety pin), and tip. Ideally you want already-cut drumettes and flats. If you're cutting whole wings yourself, save the tips to make homemade broth or discard.
Vegetable Oil: Brushing oil on the wings helps the skin crisp up. You want to use a neutral oil like vegetable or canola for its low smoking point.
Salt: Can't cook meat without salt! It makes the wings taste even better.
Flour: The flour thickens the sauce so you can coat the meat better.
Curry powder, ginger, onion powder, and garlic powder: The base of a good curry sauce comes from the spices. Make sure you're using high-quality fresh spices.
Sugar: A touch of sweetness helps balance the sauce.
Butter: Not only does it add flavor, butter is the base of a roux which thickens the sauce.
Chicken broth: Can't have a sauce without a liquid! The broth smoothes out the roux and activates its thickening power.
Milk: Adds some creaminess to the sauce. I use whole dairy milk, but you can also use coconut milk.
Lemon juice: The acidity helps brighten up an otherwise heavy sauce.
Green onion: Green onion is mainly used for presentation but does add a nice bite to the wings.
Are wings better fried or baked?
I will always choose baking wings over frying them.
Not only do they taste less greasy (I hate when my wings taste like fried oil), baking means you're giving the wings more time for the flavor to develop as the fat renders.
It also ensures the entire dozen is done together rather than frying in batches.
This is especially useful if you're hosting a Super Bowl tailgating party. Who wants to babysit a fryer when you can pop them in the oven and go back to watching the game?
How To Bake Chicken Wings
As mentioned with my sweet chili wings, the best way to bake chicken wings is using a roasting rack inside a baking pan.
This ensures crispy chicken skin because the fat drips down and the heat circulates underneath. THEN you toss the wings in sauce.
Crispy, finger lickin' wings straight from the oven.
How To Make Curry Chicken Wings
To make curry chicken wings in the oven, first line the bottom of a roasting pan or baking sheet with edges with foil to catch the fat and make cleaning up easier.
Place a roasting rack or cooling rack on top then grease generously with cooking spray.
Next, prep your wings. Make sure they're completely dry then toss with vegetable oil, salt, and pepper. Place them onto the rack in a single layer.
Bake for roughly 45-50 minutes or until the internal temperature reaches 165F.
While the wings are baking, make the homemade curry sauce. First, whisk together your flour, spices, and sugar.
Next, heat the butter in a large saucepan. Once melted, stir in your flour mixture until a roux (paste) forms. Cook for another minute to let it toast a little then gradually whisk in the broth and milk to smooth it out.
Bring to a boil. Once boiling, let it cook a few more minutes or until the sauce thickens, whisking often. Stir in the lemon juice, remove from the heat, and keep warm.
Once the wings are ready, toss with the curry sauce. If the sauce thickened a little too much while waiting, thin it out with a little more broth.
Garnish with green onion then serve immediately before the skin absorbs the sauce and get soggy.
Do I cover wings when baking?
No need to cover your curry chicken wings while baking. If you do, they'll steam and lose their crispiness.
More Crispy Baked Chicken Wings

Looking for more easy wing recipes? Check out these oven baked wing recipes: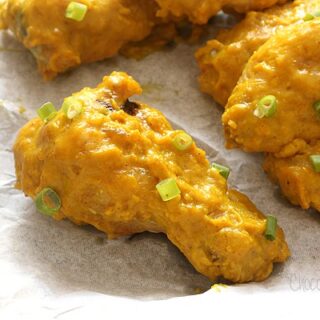 Curry Chicken Wings
Yield: 12 wings
Prep Time: 30 minutes
Cook Time: 50 minutes
Total Time: 1 hour 20 minutes
Love eating out but want to save money? Baking these Indian-inspired Curry Chicken Wings at home is easy and brings a little global spice to dinner!
Ingredients
12 wing pieces (drumettes and flats), thawed and patted dry
2 tablespoons vegetable oil
Salt, to taste (preferably kosher)
2 tablespoons all-purpose flour
1 tablespoon curry powder
1 tablespoon granulated sugar
1/2 teaspoon ground ginger
1/2 teaspoon onion powder
1/2 teaspoon garlic powder
1/4 teaspoon salt (preferably kosher)
1 tablespoon unsalted butter
1/2 cup chicken stock or broth
1/2 cup whole dairy milk
1 teaspoon lemon juice
1 green onion, chopped
Instructions
Preheat oven to 400F. Line the bottom of a roasting pan or cookie sheet with foil. Place a roasting or cooling rack on top then generously grease with cooking spray.
In a large bowl, toss together the wings, oil, and salt. Place wings in a single layer on roasting rack. Bake 45-50 minutes until internal temperature reaches 165F.
Meanwhile, make the sauce: In a medium bowl, whisk together the flour, curry powder, sugar, ginger, onion powder, garlic powder, and salt.
In a large saucepan, melt the butter. Stir in the flour mixture to make a roux (paste). Cook an additional 1 minute.
Gradually whisk in the chicken broth and milk, smoothing out the roux as much as you can. Bring to a boil then cook until thickened, about 3-5 minutes, whisking often. Remove from the heat and keep warm.
Once the wings are done, toss with the curry sauce then garnish with green onion. Serve immediately.

If the sauce thickened too much while cooling, reheat and stir in a little more broth to thin it out.
Recommended Products
As an Amazon Associate and member of other affiliate programs, I earn from qualifying purchases.
Originally published October 19, 2014
This post may contain affiliate links. As an Amazon Associate and member of other affiliate programs, I earn from qualifying purchase.