Get Game Day ready with sweet and spicy Sweet Chili Wings! They are baked chicken wings tossed in a sticky Asian sauce, which means you don't need to fry them in oil.
If you're like me, you love to eat out.
Of course, I don't do it often because it hurts the wallet, but that doesn't mean I don't crave it.
Take chicken wings for example. I love wings. I hate how they are so messy, but I really do love chicken wings.
My favorites are either baked buffalo chicken wings or curry chicken wings, but I wouldn't pass up garlic butter or ranch either (who passes up them anyway?!).
You have to admit when you go out the cost adds up, not to mention unhealthy with all of that deep frying.
All that money. All that oil. Time to start making them at home!
That's when I came up with this recipe for Sweet Chili Wings. Sweet chili sauce is one of my favorite condiments, so why made make a delicious sweet chili wing sauce?
I got the idea when I was making an Asian honey glaze but ran out of honey. That's when I realized I could easily substitute sweet chili sauce.
And since I hate frying at home (both the smell and the calories), I baked my sweet chili chicken wings in the oven.
Yes, it IS possible to have crispy baked chicken wings without frying.
What is sweet chili made of?
Sweet chili sauce is a popular chili sauce condiment often found in Thai and Western cuisine. It's made from red chili peppers, vinegar, garlic, and sugar.
You can make your own sweet chili sauce recipe or you can buy a bottle, often found where Asian condiments are sold.
What does sweet chili sauce taste like?
As the name implies, sweet chili sauce has a sweet and spicy taste with some sour sharpness from the vinegar. A lot of them also have a strong garlic flavor.
Are wings better fried or baked?
I personally prefer baked wings over fried. In addition to tasting less greasy (don't you hate when all you taste is oil?!), baking your wings means you're giving more time for the flavor to develop as the fat renders.
It also ensures the entire dozen is done at the same time rather than frying in batches.
This is especially useful if you're hosting a tailgating party for the Super Bowl. Who wants to stand by a fryer when you can pop them in the oven and go sit back down on the couch?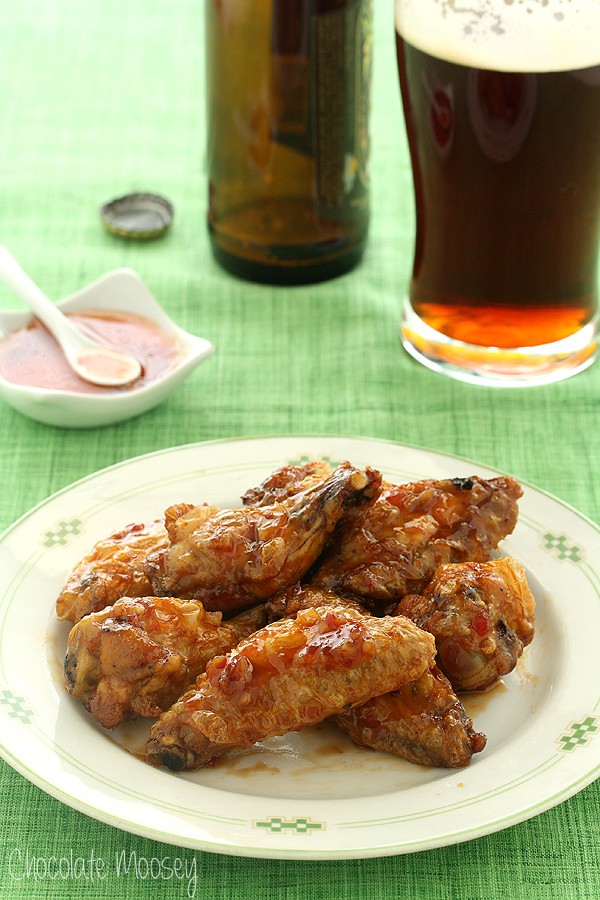 Ingredients For Sweet Chili Wings
To make oven baked wings with sweet chili sauce, you'll need the following ingredients:
Chicken Wing Pieces: Wings can be separated into three parts – drumette (looks like a drumstick), flat (shaped like a safety pin), and tip. Ideally you want already-cut drumettes and flats. If you're cutting whole wings yourself, save the tips to make homemade broth or discard.
Vegetable Oil: Brushing oil on the wings helps the skin crisp up. You want to use a neutral oil like vegetable or canola for its low smoking point.
Salt: Can't cook meat without salt! It makes the wings taste even better.
Water: Helps dilute the sauce when you reduce it to a thick glaze.
Sweet Chili Sauce: The signature flavor for these wings! As mentioned, you can make your own or find a bottle by the Asian condiments.
Soy Sauce: Adds both salt and umami to the sauce. I use regular soy sauce but if you're watching your salt intake then you can use reduced-sodium.
Garlic: Adds extra flavor to the sauce.
Ginger: Helps balance the sauce and adds some freshness. I prefer using fresh ginger paste (often found by the herbs), but you can use finely chopped ginger or even ground ginger in a pinch.
How To Bake Chicken Wings
When I first started baking wings in the oven, I would line a baking sheet with foil, toss the wings in sauce, then bake for 60 minutes.
Although they were still good, they weren't very crispy and stuck to the foil.
Then I read Bon Appetit's recipe for Crispy Chicken Wings.. You bake the wings for 50 minutes on a roasting rack in a pan so the juices drip down and heat circulates underneath. THEN you toss the wings in sauce.
Depending on your sauce, you were either done or you would continue baking to caramelize.
This method made a huge difference! I've never had baked chicken wings so crispy before. Crispy! And baked! And healthy!
Ok not really, but they are "healthier" than frying them. Can chicken wings with crispy skin ever be healthy?
How To Make Sweet Chili Wings
To make sweet chili wings in the oven, first line the bottom of a roasting pan or baking sheet with edges with foil for easy clean up.
Place a roasting rack or cooling rack on top and spray generously with cooking spray.
Next, prepare your wings. Make sure they're completely dry then toss with vegetable oil, salt, and pepper. Place them onto the rack in a single layer.
Bake for roughly 45-50 minutes or until the internal temperature reaches 165F.
While the wings are baking, make the sweet chili wing sauce. Combine the water, chili sauce, soy sauce, garlic, and ginger in a saucepan and bring to a boil.
Once boiling, reduce the heat to a simmer then cook until the sauce has reduced to 1/4 cup total, roughly 5-10 minutes.
You'll want to physically measure this out. If it doesn't reduce enough, it won't thicken up. If it reduces too much, it may be too salty.
Once the wings are done, toss them into the sauce. At this point you can serve as is or continue baking another 10 minutes to caramelize for a little more extra flavor.
Both options are equally delicious. It's just a matter of preference and time.
Do I cover wings when baking?
Nope! Do not cover your sweet chili wings while baking. If you do, they'll steam and lose their crispiness. Trust me – you don't want to eat soggy skin!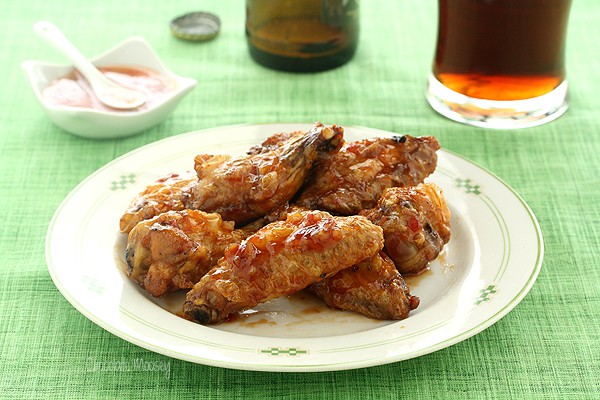 More Crispy Baked Chicken Wings

Looking for more easy wing recipes? Check out these oven baked wing recipes: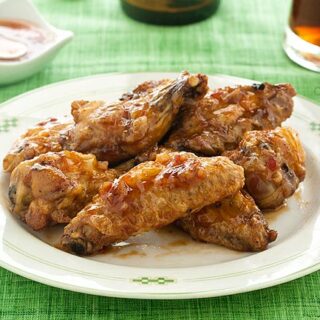 Sweet Chili Wings
Total Time:
1 hour
5 minutes
Get Game Day ready with sweet and spicy Sweet Chili Wings! They are baked chicken wings tossed in a sticky Asian sauce, which means you don't need to fry them in oil.
Ingredients
12 wing pieces (drumettes and flats), thawed and patted dry
2 tablespoons vegetable oil
Salt, to taste (preferably kosher)
1/2 cup water
1/2 cup sweet chili sauce (homemade or store bought)
1/4 cup soy sauce (regular or low sodium)
3 garlic cloves, minced
1/2 teaspoon fresh ginger paste or ground ginger
Instructions
Preheat oven to 400F. Line the bottom of a roasting pan or cookie sheet with foil. Place a roasting or cooling rack on top then generously grease with cooking spray.
In a large bowl, toss together the wings, oil, and salt. Place wings in a single layer on roasting rack. Bake 45-50 minutes until internal temperature reaches 165F.
Meanwhile, make the glaze: In a large saucepan stir together the water, chili sauce, soy sauce, garlic, and ginger then bring to a boil.
Once boiling, reduce the heat to simmer then cook until reduced to 1/2 cup, about 10-15 minutes. Let sit for 15 minutes to thicken slightly.

If using low-sodium soy sauce, taste and adjust for salt if necessary.
When the wings are done, toss with the glaze then serve immediately.

Optional: After tossing in the glaze, bake for an additional 8-10 minutes or until the glaze is lightly caramelized.
Recommended Products
As an Amazon Associate and member of other affiliate programs, I earn from qualifying purchases.
Source: Adapted from
Bon Appetit