Mexican Chicken Wings (Taco Wings)
Move over, buffalo chicken! Mexican Chicken Wings (Taco Wings) is the new tailgating favorite as it combines everyone's love for Mexican food with their love for baked chicken wings, all thanks to a homemade taco sauce that is finger lickin' good.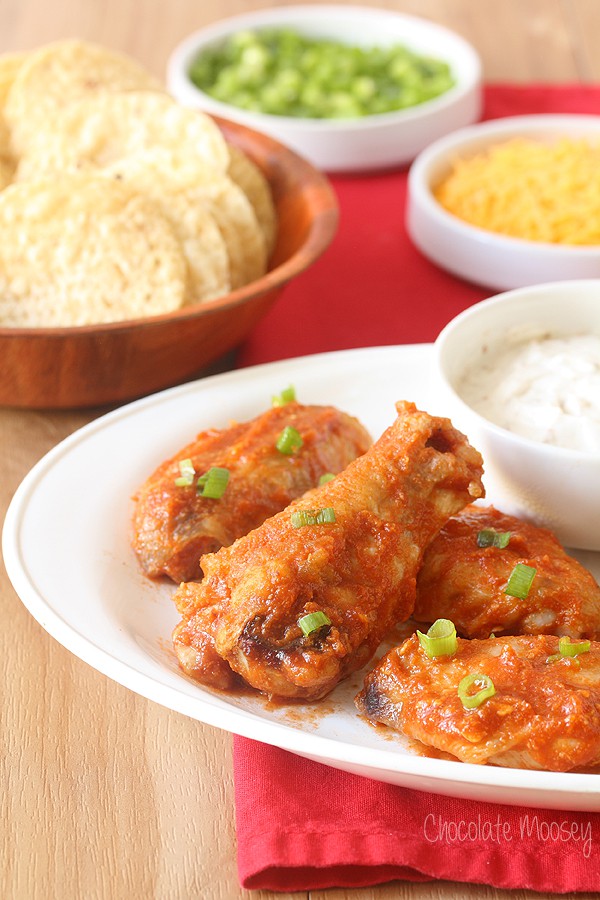 I've been craving Mexican food lately, which is weird because I NEVER crave Mexican food. Ever.
If you ask me about where to eat dinner based on my mood, I may say Indian, Middle Eastern, Greek, American, but never Mexican.
It's not that I hate it – far from it, actually.
I mean, we are talking cheese, salsa, jalapenos, cilantro, meat, tortillas. I just never crave it.
The other day I checked out a Tex Mex cookbook from the library and have been wanting tacos ever since. Tacos tacos tacos.
A few days later, I started thinking about football season and tailgating recipes. I love meat, and tailgating is always about the meat. Let's not talk about how many chicken wings I tend to eat (hint – a lot).
Then I started thinking about tacos (again), but they are not a very tailgating-friendly food. Then I started thinking about taco dip because that IS a tailgating-friendly food.
Then I started thinking about wings and ended up craving those.
Tacos, wings, taco wings.
And that is how Mexican Chicken Wings (Taco Wings) were born, all because I checked out a book at the library with pictures of tacos.
The most important thing about cooking meat, especially chicken, is you need to make sure it's cooked to the proper temperature.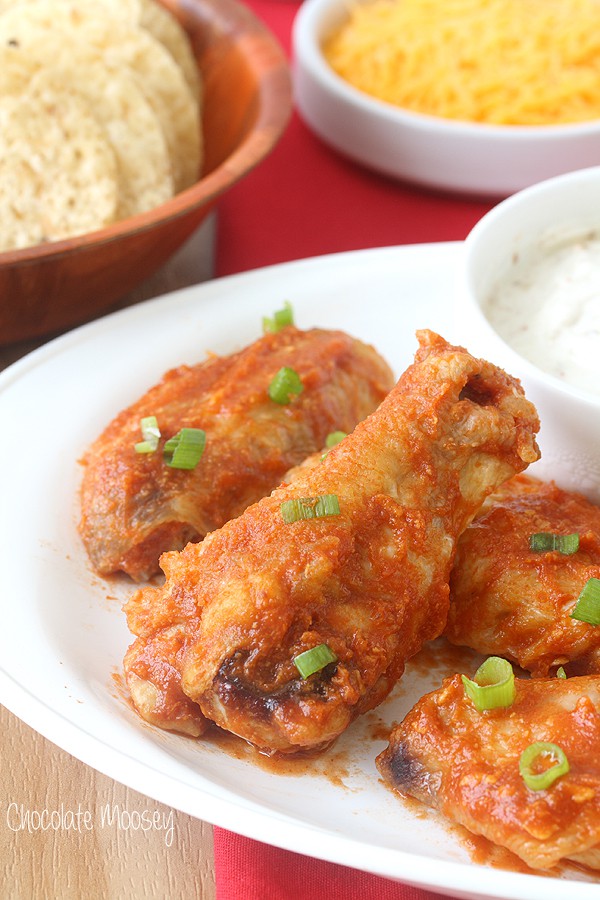 I've heard of taco wings before, but most are just wings tossed with taco seasoning.
No, no. I want them SAUCY. Lots of sauce. Finger lickin' good sauce.
I've made taco sauce before for tacos, so I baked the wings until done then tossed with my homemade taco sauce.
I even put cheese in the sauce!
I thought about sprinkling cheese on top of the wings but changed my mind and just melted it into the sauce.
The dipping sauce you see is just sour cream mixed with some
fajita seasoning
. Easy peasy.
I think I love these more than my baked buffalo chicken wings.
They may even edge out my sweet chili wings, but I think it would depend on whether I wanted tacos that day.
And to answer your question, despite eating a dozen of these taco wings, yes I'm still craving tacos.
More Crispy Baked Chicken Wings

Looking for more easy wing recipes? Check out these oven baked wing recipes:
Saucy Taco Baked Chicken Wings
Yield: 1 dozen
Prep Time: 30 minutes
Cook Time: 55 minutes
Total Time: 1 hour 25 minutes
Saucy Taco Baked Chicken Wings is the new tailgating favorite as it combines everyone's love for Mexican food with their love for chicken wings.
Ingredients
12 chicken wing pieces, thawed and patted dry
2 tablespoons vegetable oil
1 cup tomato sauce
1/4 cup chicken broth
1 tablespoon white vinegar
1 teaspoon ground cumin
1/2 teaspoon chili powder
1/2 teaspoon onion powder
1/2 teaspoon garlic powder
1/4 teaspoon smoked paprika
1/4 teaspoon salt
1/4 teaspoon granulated sugar
1/4 cup shredded cheddar cheese
1/2 cup sour cream
1 teaspoon fajita seasoning (homemade or store bought)
Chopped green onion, for garnish
Instructions
Preheat oven to 400F. Line the bottom of a roasting pan or cookie sheet with foil. Place a roasting or cooling rack on top.
In a large bowl, toss together the wings and oil. Place wings onto rack in the pan and bake 50-55 minutes until the internal temperature is at least 165F. Verify doneness by using a 165° Cook'd Right™ Sensor.
Meanwhile, make the sauce. In a large saucepan, combine the tomato sauce, broth, vinegar, chili powder, cumin, onion powder, garlic powder, paprika, salt, and sugar. Bring to a boil. Once boiling, cover with a lid and cook for 20 minutes, stirring often. Remove from the heat and stir in the cheese until melted.
In a small bowl, whisk together sour cream and fajita seasoning.
Once the wings are cooked to doneness, toss with the taco sauce. Top with green onion. Serve with dipping sauce.
This post may contain affiliate links. As an Amazon Associate and member of other affiliate programs, I earn from qualifying purchase.