Puff Pastry Cinnamon Rolls (Small Batch)
Love baking cinnamon rolls but limited on time to make the dough? With these small batch Puff Pastry Cinnamon Rolls, you can easily have fresh-baked pastries in half the time.

If I had to choose what my favorite pastry is, it'd be fresh-baked cinnamon rolls. One of my guilty pleasures, for sure.
I love making and kneading fresh dough from scratch, but one of the challenges is that it's time consuming; I can't just whip up cinnamon rolls in an hour.
You need time for the dough to rest and rise before assembling and baking away.
It's mainly why when I stop by a bakery for something sweet to eat, I'll go for cinnamon rolls because I never make them often enough at home.
That was until I discovered puff pastry.
Now I've been using puff pastry as a shortcut for years since making it from scratch can take anywhere from 2-4 hours, but it wasn't until I checked out Sunny Anderson's cookbook from the library and spied her cinnamon rolls that I could use puff pastry for the dough.
Genius! Although I didn't use her recipe, I came up with my own version for Puff Pastry Cinnamon Rolls, which also happen to make only 6 cinnamon rolls.
A small batch cinnamon roll recipe that takes half the time to make? I better go make more.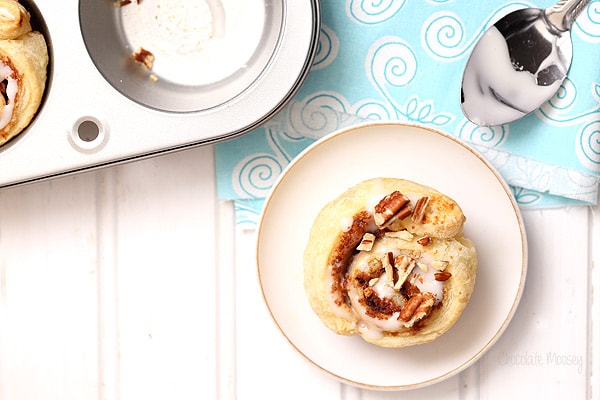 The key to working with puff pastry is giving it enough time to thaw out (40 minutes or so) without letting it get too warm.
You still want cold dough that is just warm enough to be pliable; otherwise you will tear the dough (and if you do tear the dough, just pinch it back together).
I only used one puff pastry sheet as most boxes contain two, so you can either save the extra for another baking day or just double the recipe and make a dozen.
I decided to stick to a traditional cinnamon roll filling, mainly because you can't go wrong with cinnamon and sugar.
I did throw in chopped pecans to add a little bit of crunch to the texture. Feel free to use walnuts or just leave them out altogether.
Since these small batch cinnamon rolls don't take long to assemble, you can easily wake up early one morning, make a batch, and have fresh pastries ready for a late breakfast or early brunch.
They are of course best eaten the day they are made, but I had one the next morning that was still perfectly fine with a cup of coffee.
Small Batch Puff Pastry Cinnamon Rolls
Yield: 6 rolls
Prep Time: 30 minutes
Cook Time: 20 minutes
Total Time: 50 minutes
If you're anything like me, I love baking cinnamon rolls but am usually limited on time to make the dough. With these small batch Puff Pastry Cinnamon Rolls, you can easily have fresh-baked pastries in half the time.
Ingredients
1 tablespoon unsalted butter, melted
1 sheet puff pastry, thawed according to package directions (it should still be cold but pliable enough to roll)
1/4 cup packed brown sugar
2 teaspoons ground cinnamon
1/4 cup chopped pecans (plus more for garnish)
1/4 cup powdered sugar, sifted
1 teaspoon milk
1/4 teaspoon vanilla extract
Instructions
Preheat oven to 400F. Brush some of the melted butter into 6 cavities of a 6-cup or 12-cup muffin pan.
Unfold the puff pastry (if the dough is a little warm, you may want to lightly flour the surface). Brush the remaining melted butter on top of the dough.
In a small bowl, mix together the brown sugar, cinnamon, and pecans. Sprinkle it evenly on top of the dough. Tightly roll up the dough into a cylinder (if the dough starts to tear, just pinch it back together. If the dough starts to get too warm, refrigerate it for 15 minutes or until cold again).
Cut the dough into 6 even pieces then place into one of the pan cavities brushed with butter. Bake 20 minutes or until the dough is puffed and golden brown. Cool 15 minutes.
After 15 minutes, make the glaze. In a medium bowl, whisk together the powdered sugar, milk, and vanilla. It should be slightly thick yet a little runny and hold its shape for a few seconds then smooth itself out when drizzled back into the bowl. If it doesn't hold its shape, add a little more sugar. If it's too thick, add a few more drops of milk.
Drizzle the glaze over the warm cinnamon rolls then garnish with pecans. Serve warm or at room temperature. Store in an airtight container for up to 2 days.
Source: Inspired by
Sunny's Kitchen: Easy Food for Real Life
More Breakfast Recipes
This post may contain affiliate links. As an Amazon Associate and member of other affiliate programs, I earn from qualifying purchase.