Peaches and Cream Stuffed Cupcakes are moist peach cupcakes with a surprise filling of peaches and cheesecake then topped with cream cheese frosting.
Surprises make life…interesting.
Take the snake that showed up in my yard as an example. I arrived home from work and went inside my apartment.
About 5 minutes later, I went outside to water my garden. When I turned around to go back inside the house, there was this black…thing coiled up in the grass.
That's right – a black snake was right up against my porch and scared the cupcakes out of me. By the sidewalk I just walked past 5 minutes ago.
Being that I was the only one home, I pretended I didn't see it. That's standard procedure, right? To run back inside the house and act like there's not a snake in your front yard?
That's an example of a bad surprise nobody wants. Now let's talk about a good surprise, like these Peaches and Cream Stuffed Cupcakes.
They look normal, sitting there being all summery and elegant. But once you take a bite? Surprise! Cheesecake in the middle.
So much better than a snake hanging out in your yard.
I got the idea to stuff these peach cupcakes with cheesecake one day. Probably because you often hear peaches and cream go together.
I made my trusty eggless cheesecake batter then folded in fresh peaches. You could also use peach pie filling.
For the cupcakes themselves, I first used
peach curd
.
The peach flavor was very subtle. Peach preserves give them a little more dominant peach flavor.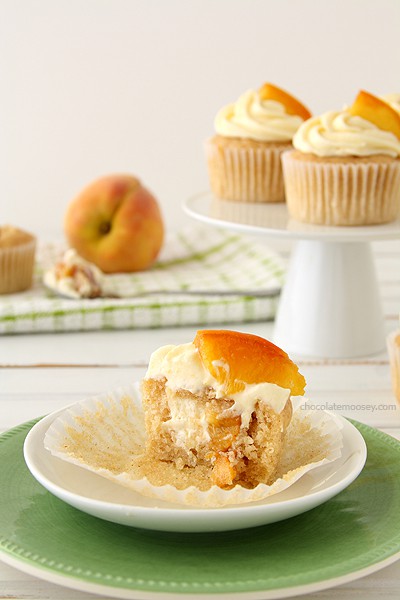 When I have extra baked goods, I take them to work so I'm not stuck eating all of the calories.
And these cupcakes didn't last long at all. Some people even ate two of them (I'm not judging).
They are elegant enough to serve at a formal lunch yet fun enough to serve at a birthday party.
Now this is one surprise I wish would happen more often.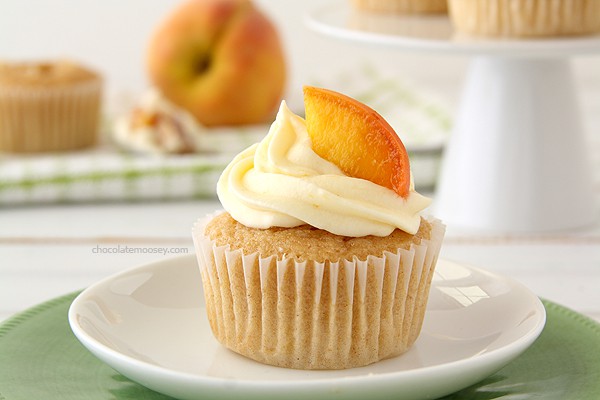 Peaches and Cream Stuffed Cupcakes
Peaches and Cream Stuffed Cupcakes are moist spiced cupcakes with a surprise filling of peaches and cheesecake then topped with cream cheese frosting.
Ingredients
1 1/2 cups all purpose flour
1 1/2 teaspoons baking powder
1/4 teaspoon salt
1 teaspoon cinnamon
1 cup granulated sugar
1/2 cup vegetable oil
1 egg
1 teaspoon vanilla extract
1/2 cup buttermilk
1/2 cup peach preserves or peach curd
Cheesecake Filling
2 tablespoons heavy whipping cream
2 tablespoons granulated sugar
4 ounces cream cheese, softened
1/4 teaspoon vanilla extract
1/2 cup peaches, pitted and chopped (peeling optional)
Double batch of Small Batch Cream Cheese Frosting (get recipe here)
Instructions
Preheat the oven to 350F degrees. Line a cupcake pan with 12 paper liners.
In a medium bowl, whisk together the flour, baking powder, salt, and cinnamon.
In a large mixing bowl, beat together the sugar and oil until combined. Beat in the egg and vanilla. Alternating between the two, gradually add the flour mixture and buttermilk, starting and ending with the flour. Beat in the peach preserves or curd.
Scoop the batter into the pan, filling each cup about 3/4 full. Bake 18-20 minutes or until a toothpick inserted into the center comes out clean. Let cool completely.
For the cheesecake filling: In a small bowl, beat the cream until stiff peaks form (when you pull the beaters straight up, peaks will form and not fall over).
In a large mixing bowl, beat together the sugar and cream cheese until creamy and smooth, scraping down the bowl as needed. Beat in the vanilla. Fold in the whipped cream then fold in the chopped peaches.
Make the cream cheese frosting (get instructions here).
Once the cupcakes are completely cool, cut out a hole in the middle, being careful not to cut through the bottom. Scoop out some of the cake but reserve the top to put back on after filling. Fill with the cheesecake filling then cover the top with the reserved cake. If there is any filling leftover, refrigerate.
Fill a piping bag with the frosting then frost each cupcake. Refrigerate cupcakes in an airtight container for up to one week.
Source: Adapted from
125 Best Cupcake Recipes
—-
If you liked these Peaches and Cream Stuffed Cupcakes, then you may also like these recipes:
From me: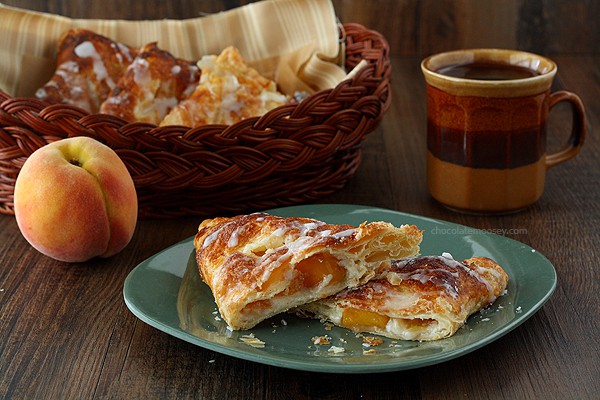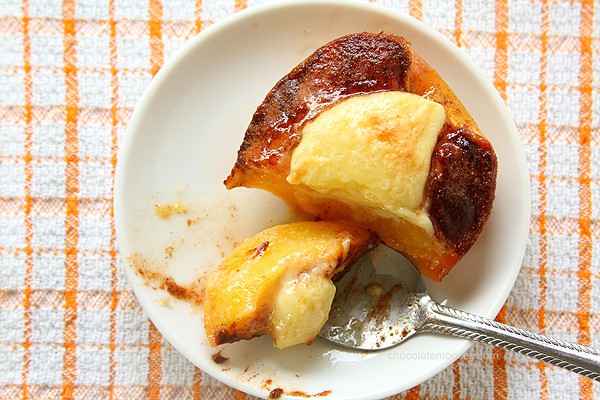 From other bloggers: