Iced Coffee Popsicles (Small Batch)
When it's hot outside and you need a caffeine boost to cool down, keep these 3 ingredient small batch Iced Coffee Popsicles in your freezer to get you through the day. It's a cup of coffee in frozen form and makes roughly 4 pops.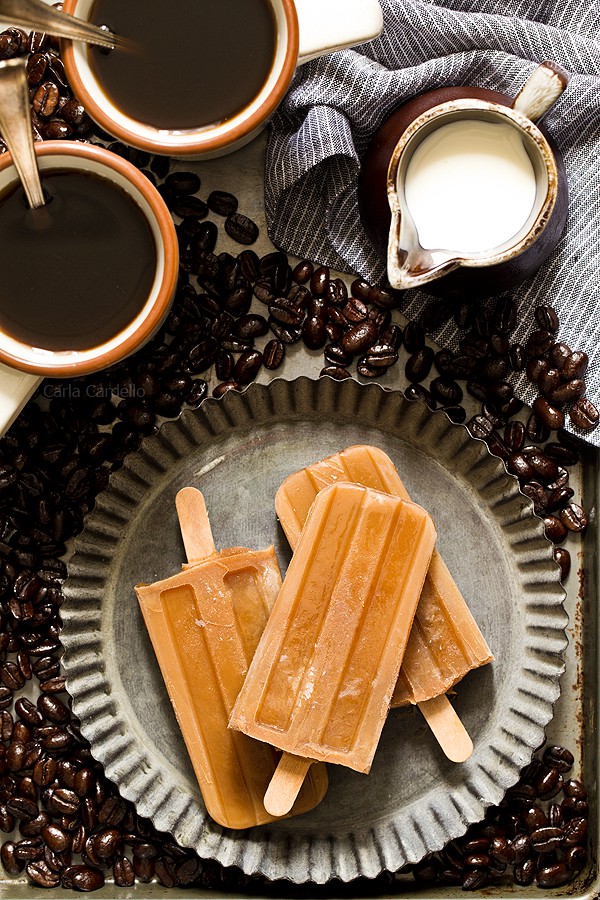 Hi I'm Carla and I love
coffee
.
Every day I have the same coffee ritual. I drink a hot coffee in the morning (even if it's 90 degrees outside UNLESS I'm physically outside myself and sweating, in which case I get iced. See – Boston in May 2017 with a record high of too freaking hot).
Then in the afternoon, most days I have a second cup. Usually at this point I like something a little sweeter, whether it's a s'mores hot mocha or a caramel affogato.
During the summer I have a pitcher of cold brew but it takes 24 hours to steep, so when I'm out, I have to wait. Except I can't wait because it's coffee.
This is where the freezer is my friend. It's the gatekeeper to storing ready-to-eat food so you don't have to make it again later, like cookies and lasagna. It's also home to sweet treats to cool you down when all you want to do is stick your head in the freezer.
In a moment's notice, I can keep these Iced Coffee Popsicles on hand and get my caffeine fix while also cooling down. The best part? I don't need coffee to make coffee because I already made them while awake.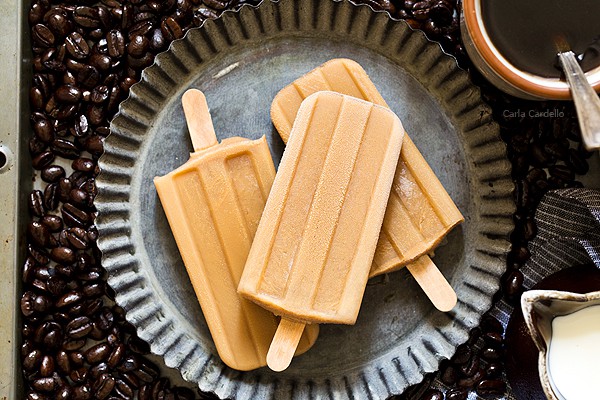 Coffee is a huge part of my lifestyle. When I travel, I hit as many local coffee shops as I can. Sometimes I go back to the same one for convenience, like in Savannah where
The Coffee Fox
was only a block from where we stayed.
Not only do I enjoy exploring coffee shops, I have yet to find good hotel coffee. Plus local coffee shops are (almost) always better than certain national chains.
There was one local place near Boston that was kinda gross, but they specialized in coffee flavors more than the coffee itself. No coffee syrup can save bad coffee.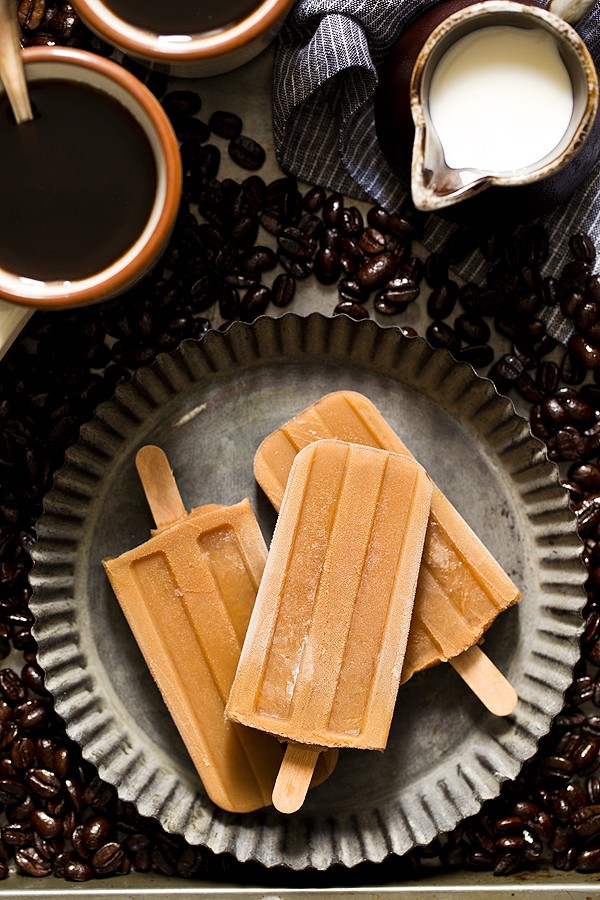 Which leads into my next point – make sure you start with good coffee. If you won't drink the coffee on its own, there's no point in continuing.
How To Make The Best Cup Of Coffee

The key to making these Iced Coffee Pops the best they can be is starting out with good coffee. Because there are so few ingredients in this recipe, everything needs to be high quality. Here are some helpful tips on getting the best from your coffee maker:

Start with fresh coffee grounds. Ideally you want to buy freshly roasted whole beans and grind them yourself right before brewing. As soon as you grind coffee beans, they start to lose their oils and become stale. That's why packaged coffee is never fresh because it sits on the shelf until sold. I've tested multiple grinders and love my Capresso Burr Grinder (affiliate link). I've had it for at least 10 years now and use it almost every morning.

Use the correct water to coffee ratio. This will vary depending on which method you use to make your coffee and how many cups you're making at once. It'll also vary depending on how strong you like your roast. For example, if you don't like a strong brew, you may want to use less coffee grounds and/or more water. The best way to figure out your personal ratio is to look up recommendations for your brewing method then adjust until you find the correct strength.

Use the proper water temperature. This is more difficult with an automatic drip maker because you can't control the temperature. However, if you're using another method such as pourover or a French press, you want the water to be between 195F – 205F degrees. Boiling water at 212F or hotter will burn the coffee.

Know what you like. There are so many choices when it comes to buying coffee beans – region of origin, type of roast, and sometimes even flavoring. I personally love medium to dark roasts, so I stay away from light roasts because I don't like their taste. Although I like my coffee pure, sometimes I'll buy flavored beans such as hazelnut. If you're not sure where to begin, start by going to a place where you can buy freshly roasted beans by the pound and buying small amounts of a few varieties. Note which ones you like and don't like then see what your pattern is.
Because everyone loves their coffee a little differently, this recipe is simply a guideline. Some like it without cream or sugar. Some like it sweet. Some like it with milk and no sugar. Some like flavored coffee creamers. It's totally up to you! My suggestion is make the coffee like you would drink it then freeze it.
Items you will need (affiliate links):
Looking for more popsicle recipes? Check out strawberry popsicles and pineapple popsicles.
Iced Coffee Popsicles (Small Batch)
Ingredients
1 cup cold coffee
1/4 - 1/2 cup cold milk
1 - 4 tablespoons granulated sugar
Instructions
Whisk together the coffee, milk, and sugar. Taste and adjust to your liking.
Pour into popsicle molds or paper cups then insert wooden sticks. Freeze until firm, preferably overnight.
Notes
Because everyone's taste in coffee varies, the amount of sugar and milk listed is a recommendation. Feel free to adjust to your taste.
It's important the coffee and milk are cold because that will help reduce the amount of ice crystals formed after freezing. The colder the mixture is, the quicker it'll freeze. If you use room temperature ingredients, refrigerate 1 hour before freezing.
This post may contain affiliate links. As an Amazon Associate and member of other affiliate programs, I earn from qualifying purchase.