Peach Pie Yogurt Pops
Peach Pie Yogurt Pops are equivalent to frozen pie on a stick without turning on your oven to bake. It's a great way to celebrate peach season during the summer.
Every August I look forward to picking peaches with my dad, and this year was no different.
It was a beautiful, fluffy cloud kind of day without a drop of rain in sight.
However, I was disappointed in picking peaches this year. First, the price was expensive (and sadly probably cheaper than what you would have paid in stores for the 10 pounds we picked).
Second, when we got to the orchard, the peaches weren't soft. They told us which trees to pick from, so it's not like we picked from the wrong trees.
Had we known what the crop was like, we wouldn't have picked that day (they make you pay before you go to the orchards).
Also, a bee got into the bag so I made Dad take care of it (nice daughter I am, right?).
This definitely threw a wrench into my plans because that meant I had to wait for them to ripen.
That's a big deal in recipe development world because that meant I had to majorly adjust my schedule for the week and hope I got everything I needed done.
Luckily I didn't miss any deadlines because of this (although I'm sure I would've figured something out if that were the case).
I did manage to find a few soft ones that I could use right away, so first up in the kitchen were these Peach Pie Yogurt Pops.
They are similar to my popular watermelon yogurt pops but with a few more ingredients to make them taste similar to peach pie.
Frozen pie on the go without turning on your oven? Sounds great to me!
If you find yourself in the same situation where your peaches aren't quite as soft as you'd like, put them in a brown paper bag with a banana.
The natural gases that both fruits release will accumulate in the bag, speeding up the ripening process.
Instead of using my usual
popsicle mold
, I opted to use 5 ounce cups aka Dixie cups.
Wrap the tops in foil and make a small hole so you can hold the sticks in place. They also make 3 ounce cups if you want smaller pops.
For smooth popsicles, make sure you peel your peaches. Check out my step by step photos on How To Peel Peaches.
Items You May Need (affiliate links):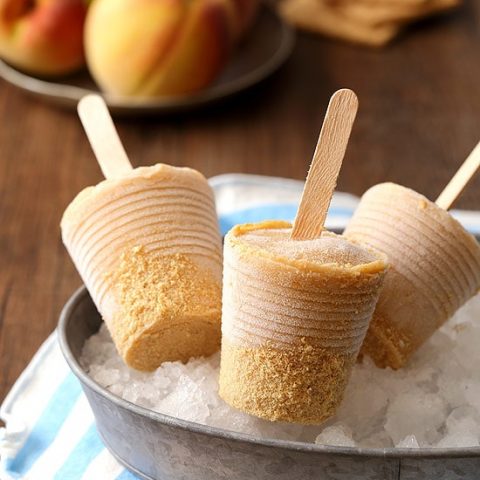 Peach Pie Yogurt Pops
Yield: 4-5 pops
Prep Time: 15 minutes
Total Time: 15 minutes
Ingredients
3 cups peeled and chopped peaches (roughly 3-4 peaches - see How To Peel Peaches.)
1/2 cup Greek yogurt
1/4 cup packed brown sugar
1 tablespoon lemon juice
1/4 teaspoon ground cinnamon
1/4 teaspoon vanilla extract
1/4 teaspoon almond extract
1/4 cup milk (optional)
2 tablespoons graham cracker crumbs
Instructions
In a blender, blend together the peaches, yogurt, brown sugar, lemon juice, cinnamon, vanilla, and almond extract until smooth, 1-2 minutes. If the peaches aren't very juicy, you may need to add 1/4 cup milk to help it blend smoothly. Pour through a fine mesh strainer into a large bowl, discarding any solids.
Pour peach mixture into 5-ounce plastic cups. Cover the tops with foil then make a small hole in the center to insert wooden popsicle sticks. Alternatively, you can use a popsicle mold. Freeze until firm, preferably overnight. Before serving, roll in graham cracker crumbs.
More Popsicle Recipes
This post may contain affiliate links. As an Amazon Associate and member of other affiliate programs, I earn from qualifying purchase.