Blueberry Yogurt Popsicles
Cool down this summer with something colorful and refreshing! Blueberry Yogurt Popsicles with almonds and a secret ingredient that makes their flavor pop.
If you were to observe me for 24 hours, here's what you would see.
First I would grudgingly roll out of bed then stumble into the kitchen where I attempt to make coffee without having said coffee in my system.
Then I blankly stare at my email, waiting for my coffee to kick in. If you ever get a half coherent message from me, check the timestamp. If it's before noon, please remember I am not a morning person.
Then depending on my schedule, it's either going to be a slow boring day with writing and business admin stuff or it's going to be an exhausting yet exhilarating day in the kitchen and makeshift studio. Can you tell which day I prefer?
The downside to playing in the kitchen is I end up washing dishes 3-4 times. Minimum. And by the time I'm all cleaned up I need to make dinner. Which means I get to wash dishes. Again. If you ever see me crying, ask me how many times I've washed dishes that day. My answer will probably be 5.
Once dinner is over and I finally hang up my dishrag, I drive to my usual walking spot and wander around downtown. And sometimes I literally wander. There are times if someone was actually paying attention to me, they'd want to know why I keep passing in the same spot.
Or they may wonder why I stopped in the middle of the street for a photo. Or why I'm crouched down in a sundress in the most awkward position. Or why I'm shooting graffiti down the shadiest alley way.
(BTW if you ARE wondering this, check out my citylifeadventures account. I swear it all makes sense).
Once I'm home from exercising and being socially awkward, I want something refreshing. Usually I'm ok with water, but during those hot sticky summer nights, I want ice cream. Other times I want a popsicle.
Usually I crave my Orange Creamsicles. Sometimes it's Watermelon Yogurt Pops. Other times I need to unwind with margarita popsicles.
This time I wanted something super colorful and fun, which is why I made Blueberry Yogurt Popsicles with almonds.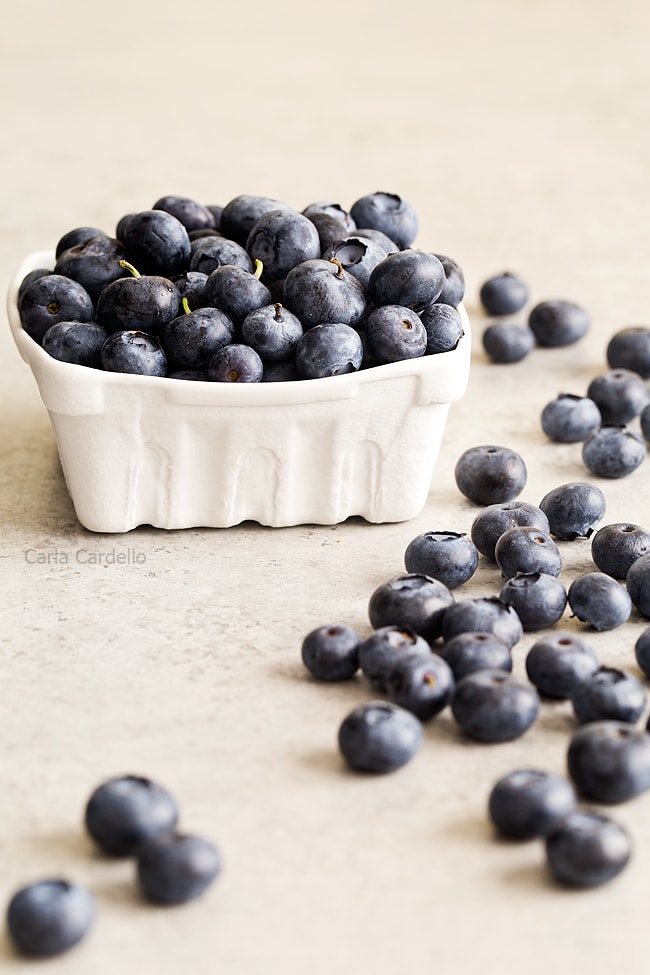 Almonds and berries pair well together, so I knew they'd make a refreshing summer dessert. Plus when you dip the pops into the almonds, they add a nice crunch.
However, adding almond slices alone doesn't give the strongest almond flavor.
What's the best way to add more almond taste? By using Nielsen-Massey pure flavor extracts.
They allow you to add another layer of flavor without adding more liquid (orange and lemon extracts) or without having to steep ingredients (almond and peppermint extracts).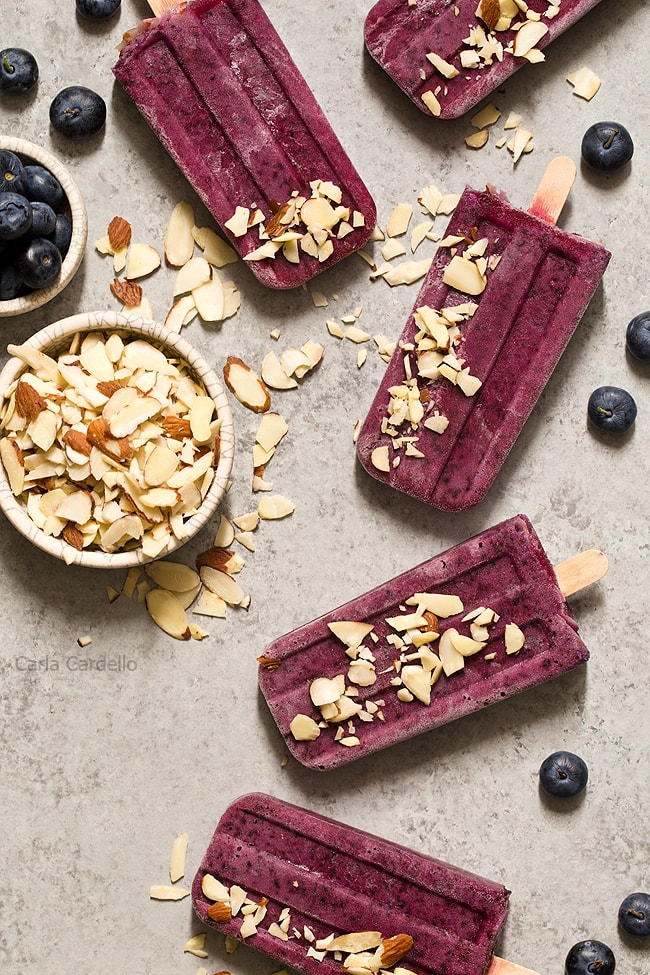 Of course you can't make popsicles without a popsicle mold.
This one on Amazon is my favorite
because they remind me of
fudgesicles
.
However, you can also use paper or plastic cups for a disposable mold. Don't forget the popsicle sticks!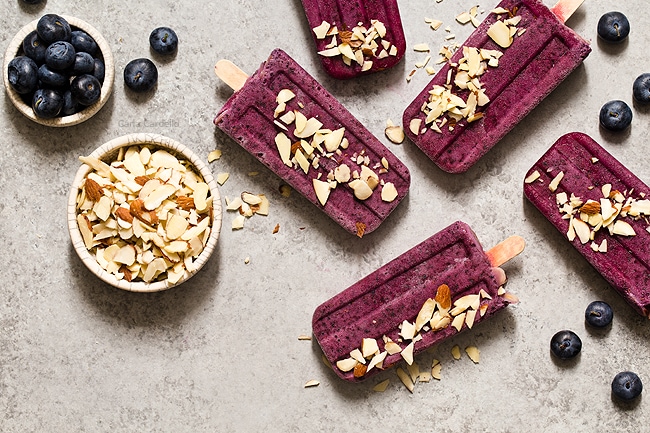 Although I focused on blueberries, you can also make
strawberry popsicles
or
pineapple popsicles
.
Not in the mood for popsicles? Try out my Strawberry Slushies using blueberries.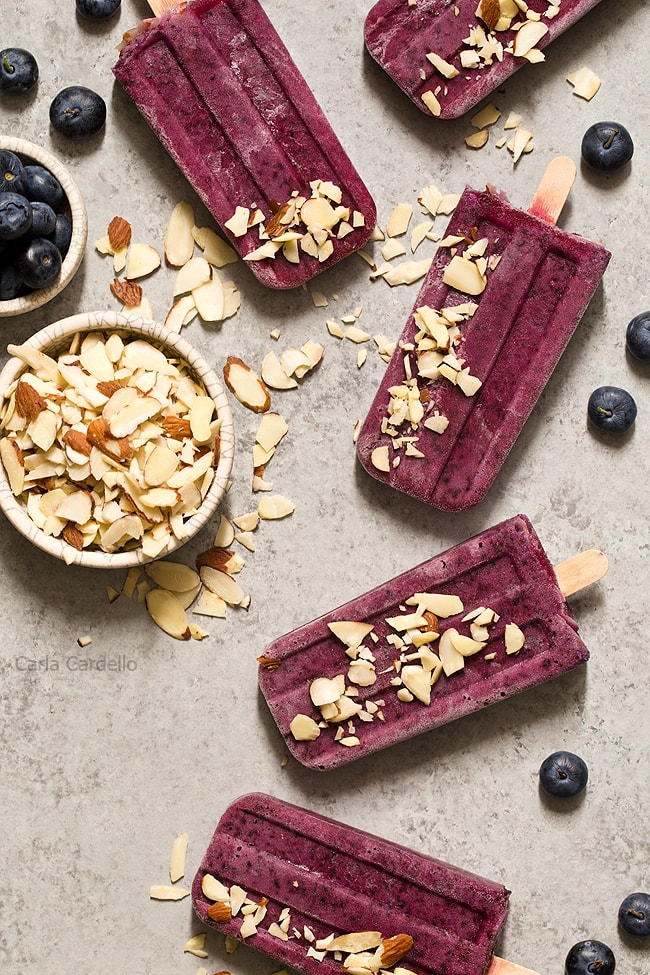 Blueberry Yogurt Popsicles
Ingredients
3 cups fresh blueberries
3/4 cup Greek yogurt
2 tablespoons granulated sugar
1/4 cup water
2 tablespoons lemon juice
1 teaspoon Nielsen-Massey Pure Almond Extract
2 tablespoons sliced almonds plus more for garnish
Instructions
In a blender, blend together the blueberries, yogurt, sugar, water, lemon juice, and almond extract. If the mixture is still thick, add more water to thin it until pourable.
Pour into popsicle molds then add almonds to each one. Insert sticks. Freeze until firm, about 4 hours or overnight.
Right before serving, dip into more almonds for extra crunch.
Disclosure: This post is sponsored by Nielsen-Massey Vanillas and contains Amazon affiliate links. As always, thank you for reading and supporting brands I work with, which helps keep this website running.
This post may contain affiliate links. As an Amazon Associate and member of other affiliate programs, I earn from qualifying purchase.