No Bake Biscoff Cheesecake
This rich and creamy No Bake Biscoff Cheesecake has a Biscoff cookie butter swirl inside a Biscoff cookie crust.

Update – the recipe is now included in this post
Is the weather still hot where you live?
It's pretty much cooled down here in PA. I guess fall is coming around the corner pretty soon.
Maybe I'm a little late with this no-bake recipe, but it's never too late for No Bake Biscoff Cheesecake right?
I wanted to be showcase what I do best without being too boring. And what do I do best around here? Normally I'd say cupcakes, but cheesecake is slowly taking the lead.
I don't even know where all of these cheesecake recipes came from. I guess because I'm so terrible at pies, cheesecake makes up for it.
And what is better than making it up with eggless No Bake Biscoff Cheesecake?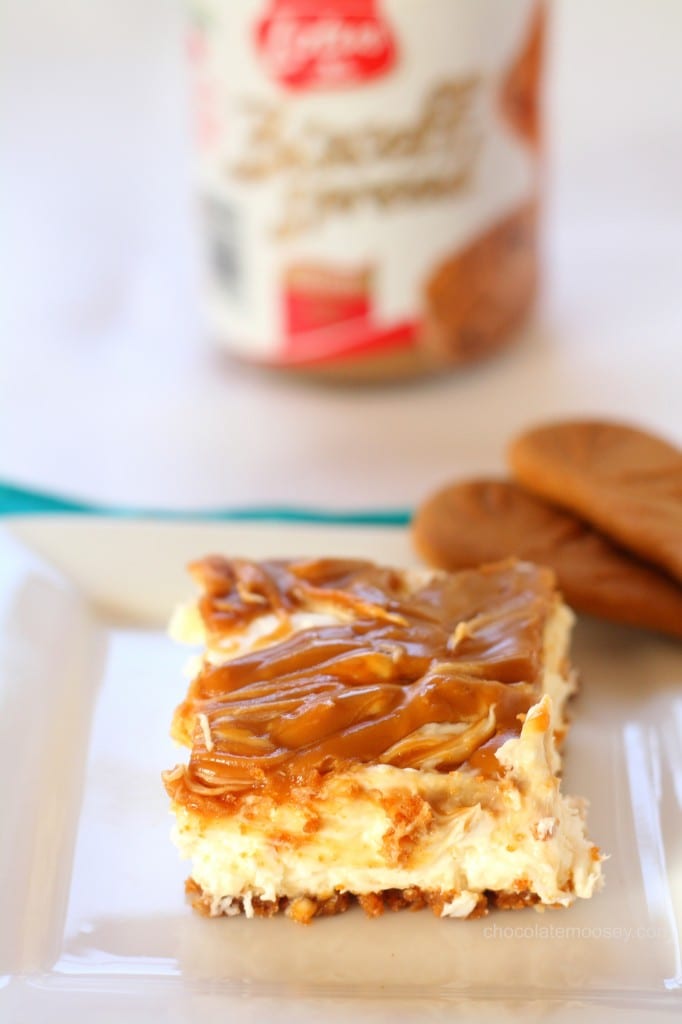 If you've been here before, you know I have a huge assortment of cheesecake. Big cheesecakes, small cheesecakes, stuffed cheesecakes, swirled cheesecakes, bar cheesecakes, cheesecake parfaits, cheesecake-stuffed fruit. What am I missing?
Recently on Twitter, I had someone ask me for a no bake cheesecake recipe. I personally didn't have one, so I did some research.
Everything I found used whipped topping in a tub (commonly referred to as Cool Whip).
Now don't get me wrong – I grew up with Cool Whip. However, I've heard rumors – bad rumors – about the ingredient list is, so I try to stay away from it.
Besides, you only need whipping cream, a little bit of sugar, and a few minutes to make real whipped cream.
No additives that you can't pronounce. No mysterious ingredients. Just you, cream, and sugar.
I also know that between hot weather and people's fears of baking cheesecake, this egg free No Bake Biscoff Cheesecake would be quite a hit.
No cracking, no water baths, no oven. Just you and your mixer (and a way to crush cookies).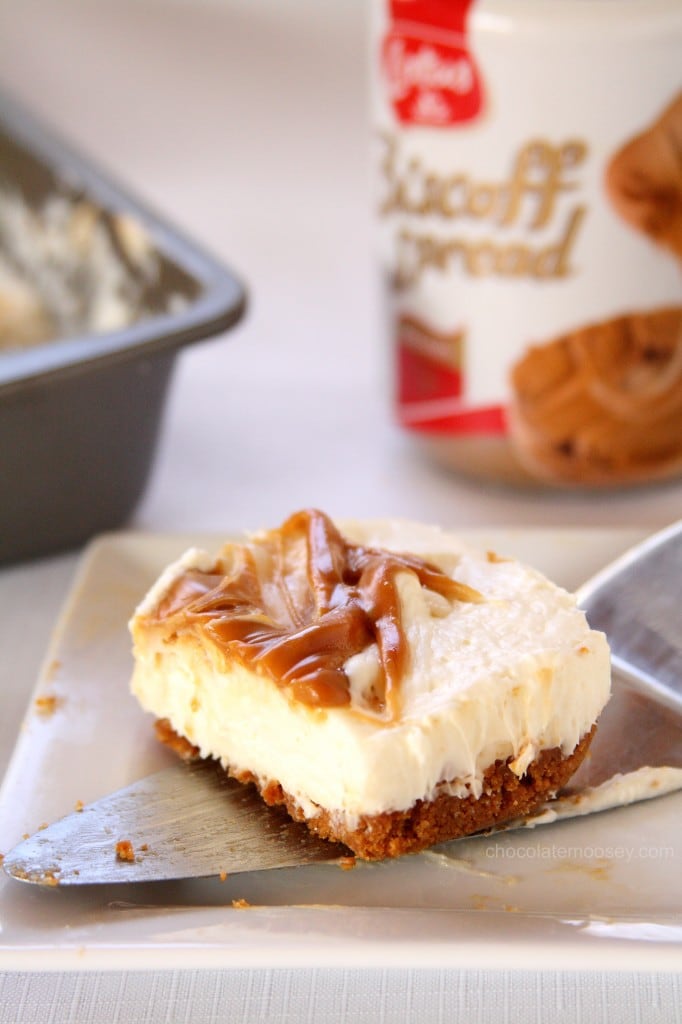 But come on. You didn't think I was just going to give you a plain ol' no-bake cheesecake now, did you? Of course I had to put a twist on it.
For the past few months now, I've been harassed…err….highly encouraged to buy a jar of Biscoff, so I did. Then it sat in my pantry unopened for a few weeks.
I know, I know. That's like a foodie sin, but since I couldn't wrap my head around what it should taste like, I didn't have the urge to grab a spoon and dive in.
I bet you're wondering what Biscoff is. Biscoff is a European company that makes these cookies you supposedly get on airlines.
I never had them and didn't really care until everyone raved and swooned over them. Biscoff also makes a spread, similar to peanut butter but with cookies.
So what does it taste like? Graham crackers mixed with some gingersnap spice. I was hoping for more of a caramel or even brown sugar taste.
I knew I wanted to do a swirl on top, but since Biscoff makes both a spread and cookies, I used the cookies for the crust. My cheesecake needed a double-dose of Biscoff, after all.
I admit I was a bit skeptical about not baking the crust, but rest assured it worked out. In fact, you wouldn't know the cheesecake was no-bake.
When I brought them into work, everyone was all, it's rich! it's creamy! Then they didn't believe me when I told them it was no-bake.
This no-bake cheesecake also translates into egg-free. I checked the Biscoff spread label, and it says vegan right underneath the ingredient list.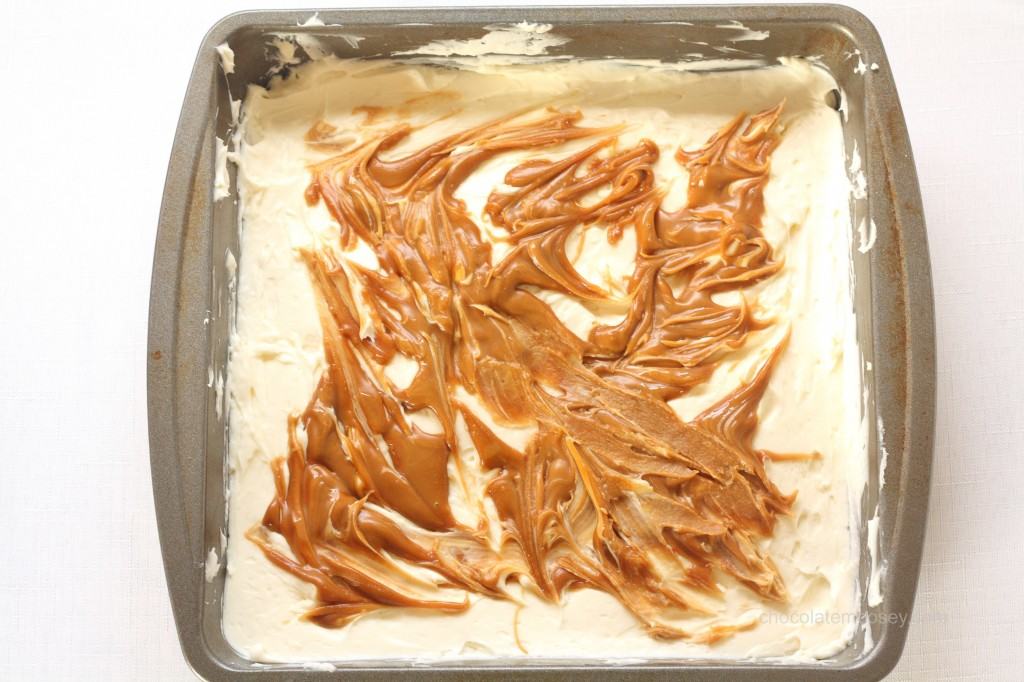 The nice part about being no-bake is there are no eggs.
I was a little nervous for the taste because typically, eggs make the batter rich. How tasty is just cream cheese, sugar, and whipped cream anyway?
I really surprised myself because even though on paper the batter sounded boring, the creaminess you expect in a cheesecake is there.
So if you don't have time to bake a cheesecake or if you are scared the top will crack, this no-bake recipe is for you.
No-Bake Egg-Free Biscoff Swirl Cheesecake
No Bake Cheesecake with Biscoff Swirl
Ingredients
1 1/2 cups Biscoff cookie crumbs (or graham cracker crumbs)
4 Tbsp butter, melted
1/2 cup heavy whipping cream
2 tsp powdered sugar
1/2 cup sugar
16 ounces cream cheese, softened
1 tsp vanilla
1/4 cup Biscoff spread (aka cookie butter)
Instructions
Mix together the cookie crumbs and butter. Press into the bottom of a 9×9 pan. Refrigerate while you prepare the batter.
In a medium bowl, beat the cream until it thickens. Slowly add the powdered sugar then beat until stiff peaks form (pull beaters straight up and the peaks should not fall). Set aside.
In a large bowl, beat together the sugar, cream cheese, and vanilla. Fold in the whipped cream. Spread evenly into the prepared pan.
In a small microwavable bowl, microwave the Biscoff spread until slightly softened (10-15 seconds). Drop by spoonfuls on top of the cheesecake batter then swirl with a knife. Refrigerate for at least 4 hours before serving.
This post may contain affiliate links. As an Amazon Associate and member of other affiliate programs, I earn from qualifying purchase.