Kick up your feet and unwind with Watermelon Margarita Popsicles! Recipe for both tequila and non alcoholic popsicles included.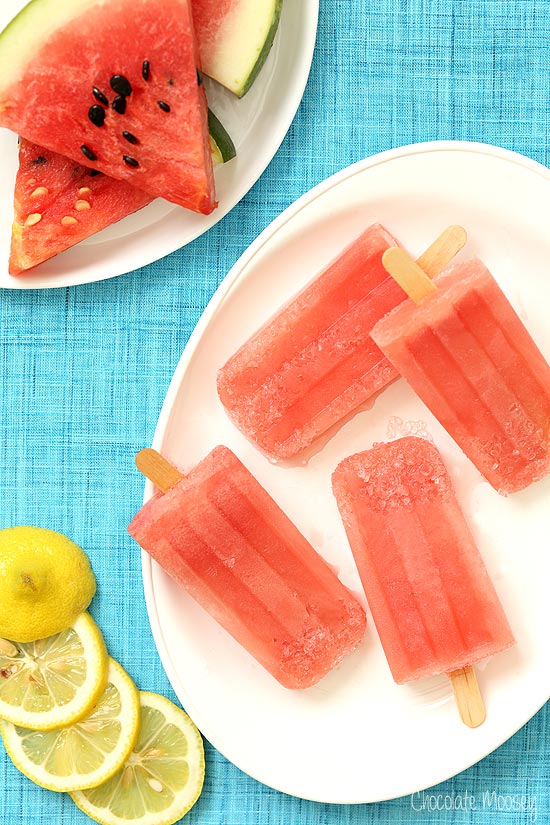 Hello, summer!
Ok so according to the calendar summer isn't until late June but once Memorial Day rolls around, I like to think of it as the unofficial kick off to summer (plus with temperatures in the 80s lately, it's hard to not be ready for summer).
What does summer mean to you?
Does it mean taking a much needed vacation to a new place to explore? Does it mean spending your free time in the great outdoors going camping and fishing? Does it mean abandoning your oven and firing up the grill every chance you get?
To me, it means fresh summer produce, ranging from corn and tomatoes to strawberries and of course watermelon.
These Watermelon Margarita Popsicles are inspired by my watermelon margaritas.
Instead of limes as usually would with margarita popsicles, I used plenty of fresh lemons. Similar to making lemonade popsicles.
Don't get me wrong – I love a cold glass of margaritas, but I wanted to have a little more fun by turning them into margarita freeze pops.
They'd also make fun cinco de mayo popsicles to serve with steak fajitas or chicken fajita salad.
Please name one time you didn't smile when you were eating a popsicle (except maybe if you got brain freeze – I'll give you that one).
Then I took it one step further and added tequila to make them boozy popsicles (don't worry if you don't drink – I included a non alcoholic recipe too).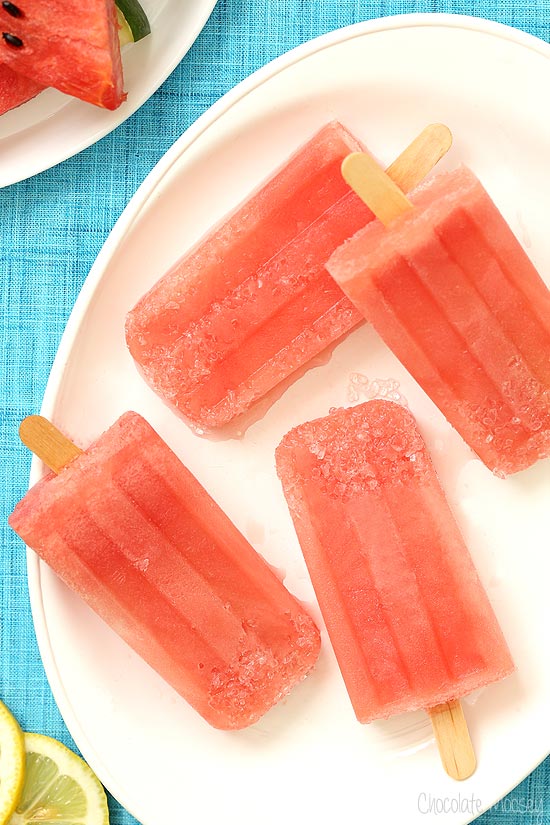 What makes a margarita a margarita?
A margarita is a cocktail with tequila, orange liqueur, and lime juice served in a special margarita glass with salt on the rim.
Margaritas are traditionally made with limes as seen with my frozen mango margarita recipe, but I chose lemons because I love them a million times more than limes.
There's just something refreshing biting into these margarita pops and tasting that big burst of lemon.
I used both tequila and triple sec, but if you're looking for a non alcoholic substitute for tequila in margaritas, you can substitute lemon lime flavored pop.
What do I need to make margarita popsicles?
To make margarita popsicles, you will need:
A blender – You need to turn the watermelon into puree in order to pour the margarita mix into the molds.
Popsicle mold – You need some kind of container to freeze your individual popsicles. I personally own this Norpro Frozen Pop Maker (affiliate link) because I love the shape, but you can use any mold you have on hand. You can also use paper Dixie cups.
Popsicle sticks – Don't forget the popsicle sticks! Otherwise, you won't be able to hold your margarita popsicles. You can buy them from your store's craft section or buy Norpro wooden sticks online (affiliate link).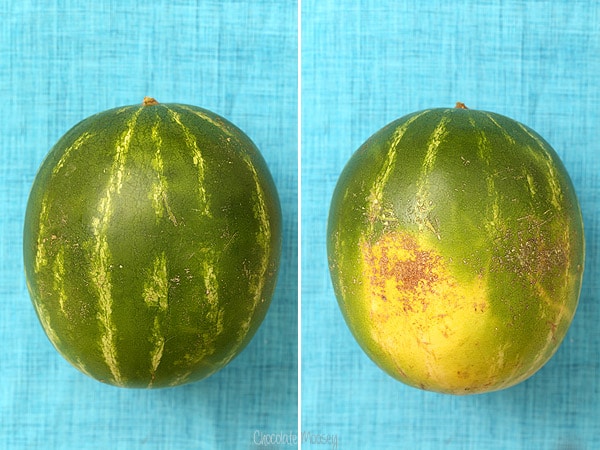 How To Pick A Watermelon
How do you pick the best watermelon for your margarita popsicles?
If you need only a little bit of fruit, you can buy already-cut watermelon from most grocery stores all year round.
However, it's more cost efficient to buy a whole one.
I know, I know. That's the opposite of small batch recipes. However, I have plenty of more watermelon recipes for you to make.
There are three factors in picking a watermelon:
Symmetrical and free from bruises and dents
Heavy for its size because it is 92 percent water
Yellow sunspot on its underside. This indicates it sat in the sun long enough to ripen.
Once you pick your watermelon, don't forget to wash it before cutting.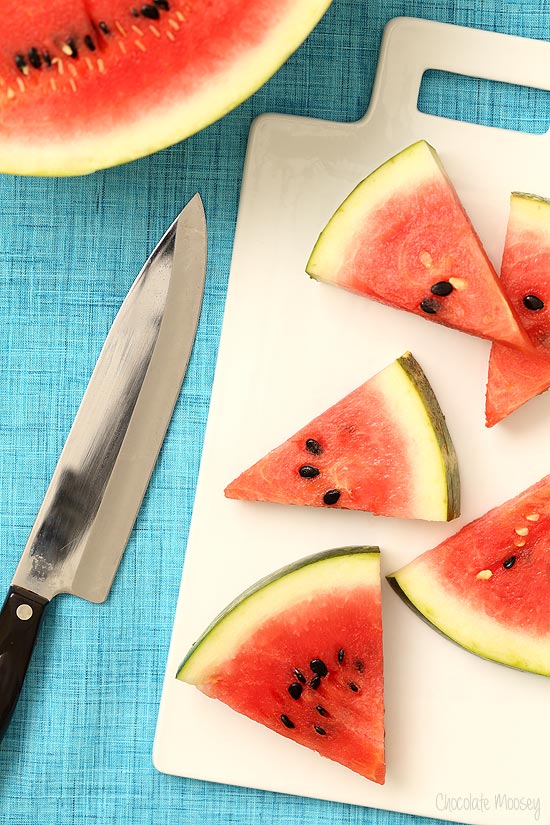 How To Make Margarita Popsicles
To make watermelon margarita popsicles, add your watermelon, sugar, lemon, tequila, and triple sec to a blender. Blend until smooth.
Pour your mixture through a fine mesh strainer into a large bowl, discarding any solids and seeds left behind.
Fill your popsicle molds then insert your wooden sticks. Freeze until firm, which takes another 4 hours but preferably overnight.
Do you put salt in margaritas?
Traditionally, watermelon margaritas are served with a salt rim.
However, salt melts ice so when I tried to be clever and dip the margarita popsicles into salt before serving, they almost immediately melted. Oops.
To add salt to your margarita pops, dip them into some sea salt then immediately take a bite.
How To Unmold Margarita Popsicles
Nothing is more frustrating than wanting to eat frozen margarita popsicles but they're stuck in the mold.
Run your mold under cool water, being very careful you don't accidentally get water into the tops of your popsicles.
Don't use hot water because you may accidentally melt your popsicles as you unmold them.
Gently pull your popsicle out. If it won't come out, run the mold under water another 10 seconds and try again. Repeat until successful.
How to store homemade popsicles
After unmolding your margarita popsicles, wrap each one in plastic wrap then place in a freezer-safe bag or container.
Assuming you don't eat all of your watermelon popsicles right away, homemade popsicles can last in the freezer for up to 6 months.
More Margarita Recipes

Now that you have a bottle of tequila in your pantry, you can make more margaritas including:
Looking for more popsicle recipes? Check out strawberry popsicles and pineapple popsicles.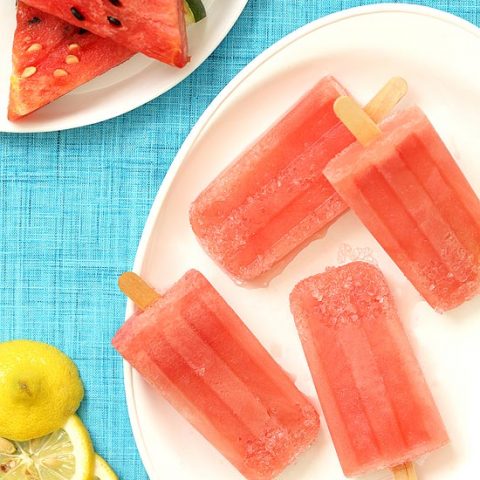 Watermelon Margarita Popsicles (Tequila and Non Alcoholic)
Total Time:
4 hours
20 minutes
Kick up your feet and unwind with Watermelon Margarita Popsicles! Recipe for both tequila and non alcoholic popsicles included.
Ingredients
3 cups cubed watermelon
1/4 cup granulated sugar
1 teaspoon lemon zest
1/4 cup lemon juice
1/4 cup (2 ounces) tequila (or substitute lemon lime soda for non alcoholic)
2 tablespoons (1 ounce) triple sec (or more lemon lime soda)
Sea salt, for serving
Instructions
In a blender, add the watermelon, sugar, lemon zest, lemon juice, tequila, and triple sec. Blend until smooth, 1-2 minutes. Pour through a fine mesh strainer into a large bowl, discarding any solids and seeds left behind.
Pour watermelon mixture into popsicle mold or paper cups then insert wooden sticks. Freeze until firm, 4 hours or up to overnight. Right before eating, dip in sea salt.

To store, wrap individually in plastic wrap then place in a freezer-safe bag or container. Freeze for up to 6 months.
Recommended Products
As an Amazon Associate and member of other affiliate programs, I earn from qualifying purchases.