No Bake Chocolate Strawberry Pie
Serve up a slice of summer at your next party with this No Bake Chocolate Strawberry Pie in an Oreo cookie pie crust.
Strawberry season was late arriving this year in Pennsylvania.
Most years Dad and I would head to the local farm to pick our own strawberries during Memorial Day weekend, but due to the weather not cooperating, they weren't ready until the second weekend in June.
Normally we would split a box and fill it to the brim with fresh berries, but this year we noticed the boxes were smaller, so we each got our own.
We weren't the only ones with the same idea because the farm was crowded due to the strawberry festival they were hosting.
After the tractor dropped us off of in one of their numerous strawberry fields, we immediately got to picking. I walked away with 4.62 pounds while Dad had closer to 4 pounds.
With all of these berries, the question I face every year is – what should I make first?
First dessert I made was my Strawberry Shortcake Layer Cake.
Next I was in the mood to make chocolate covered strawberries, but they can be a bit time consuming not to mention quite messy with me getting chocolate everywhere, including my arms.
I didn't want to bake another cake since the weather has been quite hot (and I think the air conditioning in my apartment is dying).
That's when I got the idea to make this No Bake Chocolate Covered Strawberry Pie – an Oreo cookie crust with a creamy strawberry mousse-like filling topped with a layer of chocolate ganache.
I can have my chocolate covered strawberries without being too time consuming and didn't have to turn on my oven. Total win in my book.
Strawberries are probably one of my favorite fruits to eat as is.
Lately I've been slicing up a bunch and throwing into some coconut yogurt for a quick breakfast.
I haven't quite experienced making dinner with strawberries yet, but I have plenty of experience with desserts.
This no bake pie gets its pink color from fresh strawberries; no food coloring needed.
For an additional boost in strawberry flavor, I folded in fresh chopped strawberries. The hardest part about making this pie is just waiting for it to chill before diving in.
Under normal circumstances, this pie should be ok when refrigerated.
However, if your kitchen is really warm, you may want to stick this pie in the freezer to firm up a bit before cutting. Otherwise, the filling might ooze a little when serving.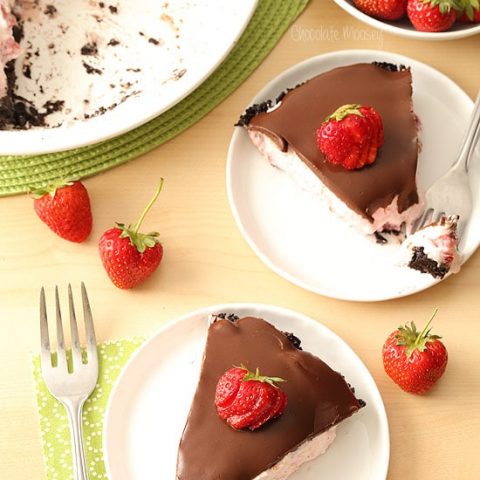 No Bake Chocolate Covered Strawberry Pie
Yield: 8-10 servings
Prep Time: 45 minutes
Chill Time: 1 hour 45 minutes
Total Time: 2 hours 30 minutes
Serve up a slice of summer at your next party with this No Bake Chocolate Covered Strawberry Pie in an Oreo cookie pie crust.
Ingredients
2 cups chocolate sandwich cookie crumbs, such as Oreo
1/4 cup (2 ounces or 4 tablespoons) unsalted butter, melted
2 cups chopped fresh strawberries
1/2 cup heavy whipping cream, cold
8 ounces full-fat cream cheese, softened
3/4 cup powdered sugar, sifted
1 teaspoon vanilla extract
Ganache
4 ounces semisweet chocolate, chopped
1/2 cup heavy whipping cream
1 tablespoon unsalted butter, softened
Pinch of salt (preferably sea salt)
Instructions
In a large bowl, mix together the cookie crumbs and melted butter. Press into the bottom of a standard 9-inch pie plate (not deep dish). Refrigerate for 30 minutes before filling.
Meanwhile, add 1 cup strawberries to a blender and blend until smooth. You should have about 1/2 cup strawberry puree. Set aside.
In a large mixing bowl (with whisk attachment if using stand mixer), beat the heavy cream on high speed until it thickens and stiff peaks form, roughly 3-4 minutes (when you pull the beaters up, peaks will form and not fall over). Transfer to another bowl and keep cold in the refrigerator.
In the same mixing bowl (no need to clean bowl - switch to paddle if using stand mixer), beat together the cream cheese and sugar until smooth and creamy, about 2-3 minutes. Beat in the strawberry puree and vanilla. Scrape down the bowl.
Fold in the whipped cream until fully incorporated then fold in the remaining 1 cup strawberries. Spread into the chilled pie crust. Refrigerate for 15 minutes.
For the ganache: In a heatproof bowl, add the chocolate. In a small saucepan, heat the cream until hot but not boiling. Pour over the chocolate and let sit for 1 minute. Add the butter and salt then stir together until everything is melted and smooth.
Remove the pie from the refrigerator and spread the ganache on top. Refrigerate at least 1 hour before serving. If your kitchen is too warm when serving, freeze for easier cutting.
Source: Adapted from
Food Network
More Summer Desserts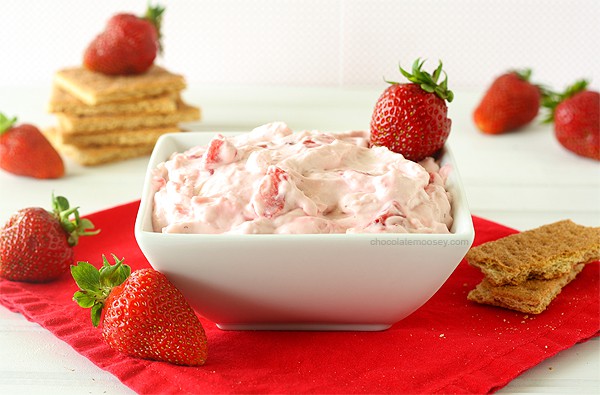 No Bake Strawberry Cheesecake Dip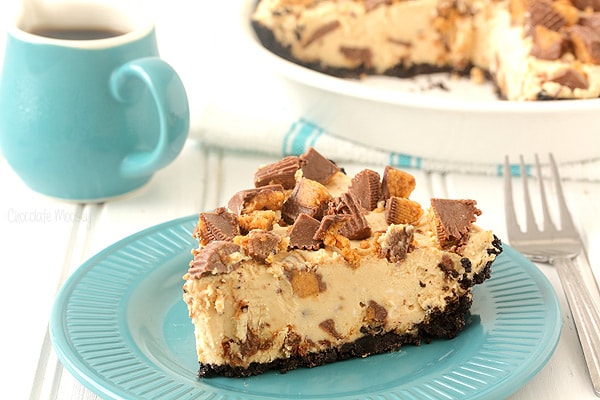 No Bake Peanut Butter Pie

No Bake Chocolate Cherry Tartlets (can sub strawberries)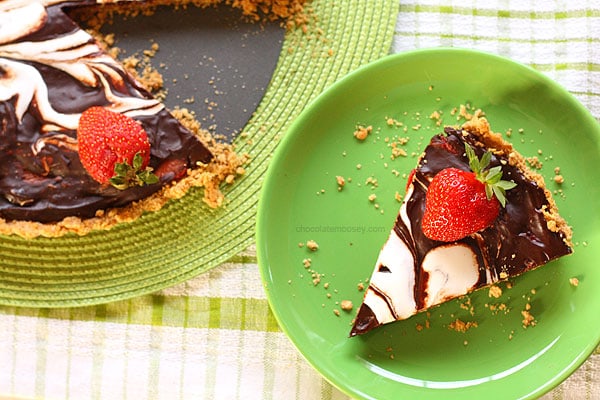 Strawberry S'mores Tart (almost no bake)

StrawberryIce Cream (no cook, egg free)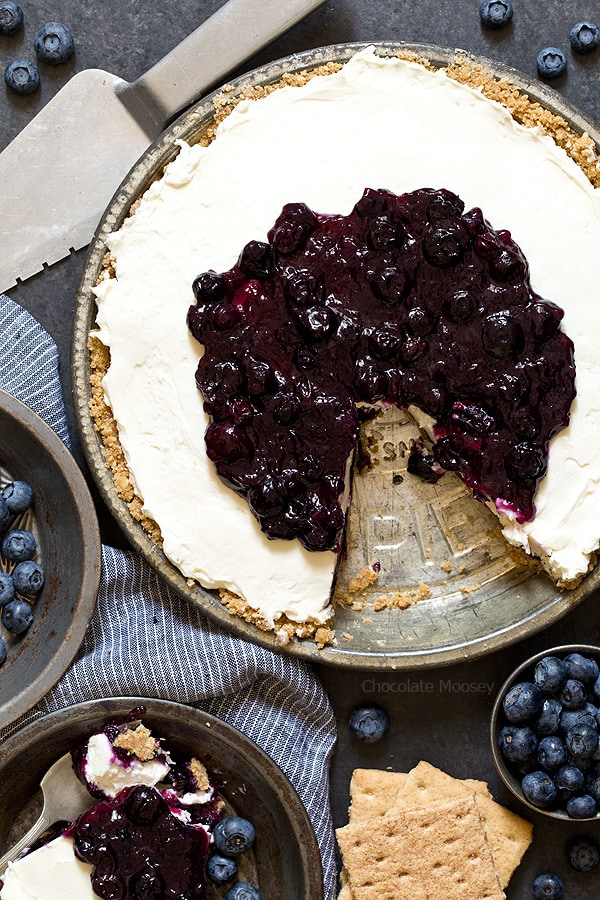 No Bake Blueberry Cheesecake
This post may contain affiliate links. As an Amazon Associate and member of other affiliate programs, I earn from qualifying purchase.