S'mores Hot Cocoa
S'mores Hot Cocoa is the ultimate hot chocolate drink with toasted marshmallows and cookie butter melted directly into the chocolate. Top it off with a s'mores marshmallow.

Now that it's finally October, the weather is staying cooler. When it's chilly outside, I like to turn to comfort food. Comfort food not only warms your soul, it also is the cure for a bad day. What better way to bring family and friends together than with comfort food? Or perhaps you're having a family night with movies or games and are enjoying the moment. You can treat everyone with a hot drink for comfort, like this S'mores Hot Cocoa. I love marshmallows and chocolate, but if you say toasted marshmallow, I'm sold. Doesn't this just scream comfort – that deep, rich cocoa. Those ooey gooey toasted marshmallows both in and on the drink, covered with melted chocolate and graham cracker crumbs. A scoop of cookie butter in the cocoa to mimic graham crackers. All that you're missing is the smell of campfire.
What does comfort food mean to you? People say you shouldn't eat based on your emotions, but sometimes you can't help it. Comfort food just makes you feel better. I haven't blogged about him in awhile, but you may remember Murray D. Cat. My baby is 12 years old and now has a tumor growing in his jaw. There's nothing we can do except make him comfortable, so you can imagine how stressed I am every day thinking about him. Nobody knows how long he has. Could be days, months, even years. My stress level caused me to actually melt toasted marshmallows into the drink as well as float them on top. Let's face it – toasted marshmallows cure misery.
The point of this S'mores Hot Cocoa is to be simple. It's not meant to use an already-made processed mix. It's not meant to have a million ingredients from scratch. It's not meant to make you buy powdered milk that you don't have (and is quite pricey for something I will hardly use if you ask me). It's meant for those nights you spent all day playing outside and want to warm up with something special. For those nights where nothing is going right and you just want to relax with a hot drink from scratch without spending much time in the kitchen. Sure this is some work involved with the toasted marshmallow, but really it takes an extra 5 minutes and is worth every sip.
Did you know there is a difference between hot chocolate and hot cocoa? It's not just a regional thing. Hot chocolate involves melting chocolate. Hot cocoa involves cocoa powder. Here I just thought it was whatever you felt like calling it, kinda like pop and soda or sub and hoagie. I tested this recipe with two types of cocoa – Dutch process cocoa and natural cocoa. Dutch process is more red in color and is treated with an alkali to neutralize its natural acidity. This means it does not react with baking soda because there is no acidity to cause a reaction. The flavor is more mellow than natural and dissolves easily into liquids. Natural cocoa powder has a more intense flavor and contains acid, which is needed to react with baking soda for the batter to rise. Because of the leavening agent in baked goods, they are not always interchangeable. I highly recommend using Dutch process because it has no acid, which results in a better tasting hot cocoa. However, most brands at the store are natural cocoa powder. Because you aren't baking anything, you can substitute natural. Just keep in mind the drink won't be as deep in flavor. I haven't seen Dutch process in most grocery stores, so I buy mine
from Penzey's Spices
. You can find a store near you or order online.

Burnt
Lesson learned. If you put marshmallows under the broiler longer than a minute, you will set off the smoke detector. You need to literally stand there and watch them toast. If you can't see with the oven door closed, leave the door open and watch. You won't be letting the heat out since the broiler only heats from above. This is one time where I would prefer using a blow torch that I don't have. Anyone want to buy me one for Christmas?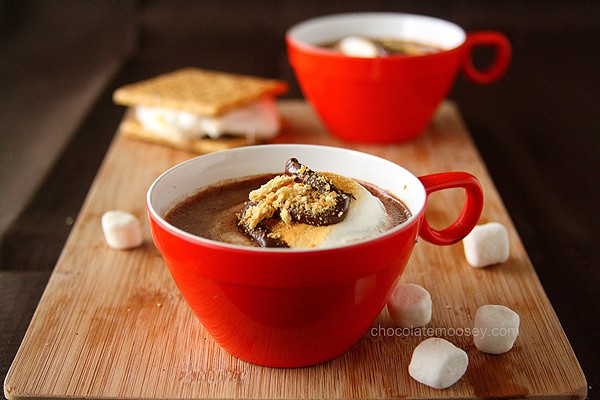 I was trying to figure out how to get the graham cracker taste into the drink. Graham cracker crumbs didn't work (please don't do this! It was gross). Next idea was to try a scoop of cookie butter since it reminds me of graham crackers. Success! For the chocolate drizzle, I melted chocolate chips in a plastic sandwich bag in the microwave then piped directly from the bag. Easy clean up too. Just toss the bag when you are done. Sprinkle on graham cracker crumbs while the piping is still hot so they will stick better.
S'mores Hot Cocoa
Yield: 2 servings
Prep Time: 20 minutes
Cook Time: 5 minutes
Total Time: 25 minutes
S'mores Hot Cocoa is the ultimate hot chocolate drink with toasted marshmallows and cookie butter melted directly into the chocolate. Top it off with a s'mores marshmallow.
Ingredients
4 regular-sized marshmallows
1 cup whole milk
2 tablespoons Dutch cocoa powder*
2 tablespoons powdered sugar
1 tablespoons cookie butter
1 tablespoon chocolate chips
1/2 teaspoon graham cracker crumbs
Instructions
Place the marshmallows onto a broiler-safe pan. Broil until toasted (keep a very close eye on them). Remove from the broiler and set aside.
In a large saucepan, heat the milk until hot but not boiling. Whisk in the cocoa and sugar until smooth. Whisk in 2 toasted marshmallows and the cookie butter until smooth. Pour into 2 mugs.
Place the chocolate chips into a plastic sandwich bag but leave the bag unsealed. Microwave until soft, roughly 30 seconds. Massage the chocolate until smooth. If needed, microwave in 10 seconds increments until completely smooth. Make a piping bag by pushing the chocolate into one corner. Cut a hole in the corner and pipe onto the 2 remaining marshmallows. Sprinkle on graham cracker crumbs. Garnish the drinks and serve immediately.
Notes
*Dutch process cocoa is highly recommended because it adds a little more depth to the drink. However, you can substitute natural cocoa in a pinch.
More Hot Chocolate Recipes

Caramel Hot Chocolate
This post may contain affiliate links. As an Amazon Associate and member of other affiliate programs, I earn from qualifying purchase.