Eggless No Bake Pumpkin Cheesecake Bars
Free up oven space for Thanksgiving by making eggless No Bake Pumpkin Cheesecake Bars with graham cracker crust and a homemade praline sauce. Made in an 8×8 square pan without Cool Whip.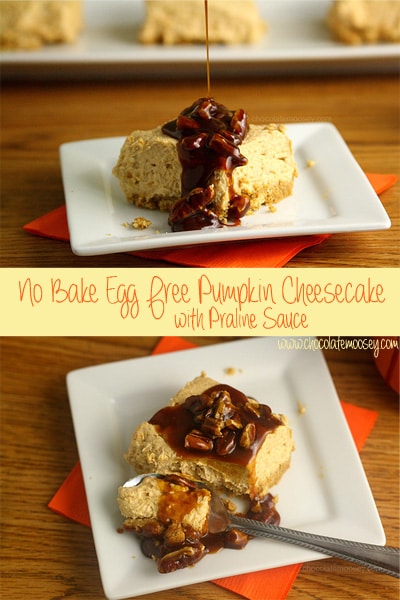 At the end of November, thousands of ovens will be cranked on high in full gear, baking succulent turkey and chicken; hearty casseroles and potatoes; fattening pie, and other holiday recipes as families gather to share the company of one another (or start fights and dress up the cat).
As ovens are shoved full of food, you have no choice but to either a) make food ahead of time or b) make food on the stove top.
Personally, I don't like to make savory food ahead of time because I want it to be fresh.
However, if there's one thing I know about holiday meals, it's you can make dessert ahead of time.
Traditionally you have pumpkin pie for Thanksgiving dessert.
However, I wanted to do something a little different. One dessert I love more than pie is cheesecake.
You can always make a traditional baked Pumpkin Cheesecake or Mini Pumpkin Cheesecakes, but they do involve eggs and the oven.
I have no problem with eggs, but based on your feedback on my eggless pumpkin pie for two recipe, having eggfree recipes makes it easier to share with those who have allergies.
Plus I go through so many eggs during holiday baking, it's nice to not need them.
I developed this easy No Bake Pumpkin Cheesecake Bars recipe specifically for Thanksgiving because you can make it ahead of time and don't need room in the oven.
All you need is room in the fridge for chilling.
This idea came to me while I was driving for 2.5 hours. Being in the car by myself with the radio turned up loud, I tend to let my mind wander.
It's actually a good exercise because your ideas and thoughts aren't forced.
I started to think about pumpkin cheesecake. Then I started thinking about no bake cheesecake bars.
Surprisingly I had energy left after the long drive, so I threw it together (which goes to show you this recipe takes little effort).
How To Make No Bake Pumpkin Cheesecake Bars
First things first – bring the cream cheese to room temperature. The cream cheese should be softened and not cold to the touch. If it is after sitting out for a bit, you can microwave it in 5-10 second increments (without the foil wrapper! Do not microwave the foil wrapper).
If the cream cheese is too cold, the batter may become lumpy. And you don't want a lumpy cheesecake.
Make sure you use full-fat cream cheese as fat free cream cheese tends to be too runny, resulting in a cheesecake that may not set up correctly.
For the pan, I used an 8×8 square pan (Amazon affiliate link) instead of a pie plate (like I used for my no bake blueberry cheesecake). This makes cheesecake bars instead of cheesecake slices.
How To Make A Graham Cracker Crust
The easiest way to make graham cracker crumbs is to use a food processor (Amazon affiliate link).
However, if you don't have a food processor, you can place the graham crackers into a freezer bag and crush them with a rolling pin.
Next, mix the crumbs with melted butter. Make sure everything is coated and sticking together.
Press the crumbs into the bottom and up the sides of your 8×8 square pan.
You don't need to prebake the graham cracker crust for cheesecake, but let it chill in the refrigerator as you make the no bake cheesecake filling.
This helps firm it up so you don't tear up the crust as you spread around the filling.
How To Make No Bake Cheesecake Filling
Since you're not baking a no bake cheesecake, how does it set up and stay firm?
By folding in whipped cream.
Most recipes call for Cool Whip, which is premade whipped topping you can find in your grocery store's freezer section.
Personally I'd rather make homemade whipped cream. Not only do I always have heavy cream on hand, I like to make what I can from scratch.
The key to making whipped cream is cold heavy cream. Warm cream won't whip as well, which means your filling won't be as firm.
Want more tips on making successful whipped cream? Check out my homemade whipped cream recipe.
Once the whipped cream is done, you fold it into your cream cheese mixture. Spread it into your pan then refrigerate it for a minimum of 4 hours before slicing.
Chilling No Bake Cheesecake
No Bake Pumpkin Cheesecake Bars need to be refrigerated for at least 4 hours for two reasons.
One – the filling needs time to firm up before cutting. Otherwise it's going to be a mess.
Two – the flavors will continue to develop as your cheesecake chills. Don't believe me? Taste your batter right after you make it. Then taste it again after 4 hours. I bet you'll notice the difference.
You can certainly chill it for longer, especially if you're making dessert the day before. Make sure you cover it in plastic wrap so the top doesn't dry out (and also help keep weird fridge odors out).
Making Homemade Praline Sauce
Although no bake pumpkin cheesecake tastes great on its own, I wanted to serve it with sauce. What goes better with pumpkin than pralines?
If you're not familiar with pralines, they are pretty much candied pecans. I remember having my first praline down in Savannah, GA. So sweet but so good.
As I was researching recipes, I noticed most called for evaporated milk. Some used corn syrup
I wanted something with ingredients most people have on hand, so I took my homemade caramel sauce, substituted brown sugar for the white, and stirred in pecans at the end.
The entire apartment smelled like caramel (or is it now butterscotch?).
The caramel pecan sauce only takes a few minutes, but you can make it ahead of time since Thanksgiving is a busy day in the kitchen.
Store it in the refrigerator then heat it up in a small saucepan before serving.
What To Do With Leftover Canned Pumpkin

You won't use a whole can of pumpkin for cheesecake, so here are more recipes to use up leftover pumpkin:
Eggless No Bake Pumpkin Cheesecake Bars
Yield: 12 bars
Prep Time: 30 minutes
Cook Time: 10 minutes
Chill Time: 4 hours
Total Time: 4 hours 40 minutes
Free up oven space for Thanksgiving by making eggless No Bake Pumpkin Cheesecake Bars with graham cracker crust and a homemade praline sauce. Made in an 8×8 square pan without Cool Whip.
Ingredients
1 1/2 cups graham cracker crumbs
1/4 cup (2 ounces or 4 tablespoons) unsalted butter, melted
1/2 cup heavy whipping cream, cold
1 tablespoon powdered sugar
1 teaspoon vanilla extract
16 ounces (two 8-ounce packages) full-fat cream cheese, softened
3/4 cup granulated sugar
1 cup canned pumpkin puree
1 teaspoon ground cinnamon
1/2 teaspoon ground nutmeg
1/2 teaspoon ground ginger
Praline Sauce*
1/2 cup packed brown sugar
3 tablespoons unsalted butter, cut into 3 pieces
1/4 cup heavy whipping cream, room temperature
1/2 teaspoon vanilla extract
1/8 teaspoon salt
1/2 cup chopped pecans
Instructions
In a medium bowl, mix together the graham cracker crumbs and melted butter. Press into the bottom of an 8x8 pan. Refrigerate while you prepare the batter.
In a large cold mixing bowl on medium-high speed (with whisk attachment if using a 5 quart stand mixer), beat the cold heavy cream until it starts to thicken, about 1 minute.
Gradually beat in the powdered sugar and vanilla then continue beating until stiff peaks form (when you pull the beater up, peaks will form and not fall over), about 3-4 minutes.
Transfer the whipped cream to another bowl and keep cold in the refrigerator.
In the same mixing bowl (no need to clean bowl - switch to paddle if using stand mixer), beat the cream cheese and granulated sugar until smooth and creamy, about 1-2 minutes. Scrape down the bowl.
Beat in the pumpkin, cinnamon, nutmeg, and ginger until smooth.
Fold the whipped cream into the cream cheese mixture until fully incorporated.
Transfer the filling to the pan then refrigerate for at least 4 hours before serving.
For the praline sauce: In a large saucepan over medium heat, heat brown sugar. As the sugar melts, start whisking. Once completely melted, carefully add the butter and whisk until smooth.
Remove from the heat and slowly add the cream (careful as it'll bubble up). Once it settles down, whisk until smooth then whisk in the vanilla and salt. Stir in pecans. Serve over cheesecake.
Notes
*You can make the praline sauce ahead of time. Cool to room temperature then store it in the refrigerator. Reheat it in a small saucepan before serving.
This post may contain affiliate links. As an Amazon Associate and member of other affiliate programs, I earn from qualifying purchase.