Lemon Coconut Cinnamon Rolls
Lemon Coconut Cinnamon Rolls – I love lemons so much, I've always wanted a lemon tree. My parents barely have good soil for tomatoes and peppers let alone a tree. At my apartment, well my landlord does have peach and apple trees, but no lemon. I love being able to go pick fresh produce straight from the plant, and I almost always have lemons in my fridge. But for now, I guess I'll have to settle for lemons from the store. So not the same. Did you know today is National Orange and Lemon Day? #SundaySupper decided to capitalize on the occasion and bring to you wonderful citrus recipes, including my Lemon Coconut Cinnamon Rolls – classic cinnamon rolls with a springtime twist!
I love cinnamon rolls. Maybe it's because I don't make nor eat them that often, deeming them to be a special treat. I'm also not very good at rolling the dough tightly, mainly because I almost always overfill them. Will I ever learn? Probably not.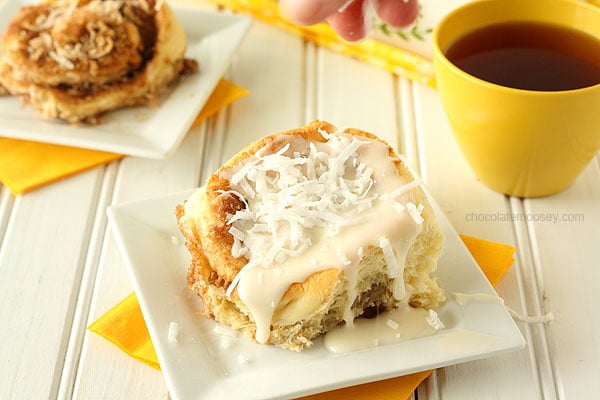 Lemon and coconut is one of my favorite pairings. Lemon goes with a lot of flavors actually, but I like the idea of shredded coconut for the filling and topping. The dough has lemon juice in it as well as the glaze on top.
Are cinnamon rolls considered breakfast or dessert? I would say breakfast but I never get up that early, so I eat them like dessert. Then you eat the leftovers the next day for breakfast. I guess it's like a two for? Both breakfast and dessert in one recipe.
Lemon Coconut Cinnamon Rolls
If you want to make the rolls ahead of time, make the rolls all the way through assembly. For the second rise time, cover with plastic wrap and store in the refrigerator. Bring the rolls to room temperature before baking.
Ingredients
1 teaspoon lemon zest
2 tablespoons sugar
2 tablespoons butter
1/2 cup milk (between 110°F-115°F)
1/2 teaspoon salt
1 egg, room temperature
1 2/3 cups flour
1 1/4 teaspoon yeast
Filling
1/4 cup brown sugar
2 teaspoons cinnamon
1 cup shredded coconut
1/2 cup pecans, chopped
Glaze
3/4 cup powdered sugar
1 tablespoon lemon juice
Few drops of vanilla extract
Coconut to garnish
Instructions
In a small bowl, rub the lemon zest into the sugar. Set aside.
In a microwavable measuring cup or small saucepan, melt the butter. Remove from the heat and whisk in milk, lemon sugar, and salt. Whisk in the egg.
In a large mixing bowl, add the flour and yeast. Pour in the butter mixture. Beat on low speed, until the dough forms a soft mass and starts the pull from the side of the bowl, about 5 minutes.
Remove the dough from the bowl and place on a lightly floured surface. Knead the dough until smooth and elastic, about 4-6 minutes. Alternatively, you can use the dough hook on a stand mixer (you may need to add 1-2 tablespoons flour if too sticky).
Place the dough into a greased bowl and cover with a dish towel. Let rise in a warm place until doubled, about 45-60 minutes.
For the filling
In a medium bowl, whisk together the brown sugar, cinnamon, coconut, and pecans.
Assembly
In a 9x9 pan, spread 1 tablespoon butter (or grease generously with cooking spray). Set aside.
Roll the dough into a 8x10 rectangle. Spread remaining 1 tablespoon butter onto the dough. Sprinkle with the filling. Starting with one of the short ends, roll up the dough into a tight cylinder. Cut into 9 pieces and place each one cut side up into the buttered pan. Cover with a towel and let rise until doubled, about 45-60 minutes.
Preheat oven to 350F. Bake for 15-17 minutes or until lightly browned on top. Let cool 15 minutes.
For the glaze
In a medium bowl, whisk together the sugar, lemon juice, and vanilla. Spread on top of the rolls. Sprinkle with coconut.
Source: Adapted from
I Love Cinnamon Rolls
This post may contain affiliate links. As an Amazon Associate and member of other affiliate programs, I earn from qualifying purchase.