Lemon Meringue Cheesecake
Forget the pie! Satisfy your lemon craving with Lemon Meringue Cheesecake with toasted meringue and a buttery shortbread cookie crust.
Confession – I have a slight irrational fear of working with propane.
I'm always afraid it's going to explode into a giant fireball when I light it up then I would have to explain to my landlord why the building is no longer standing.
When I light the grill, I can't walk away. So it makes total sense I would…buy a blowtorch to toast things.
The things we do in the name of good food.
I have an electric oven, which means I can't mimic fire like I could with my parent's gas broiler. Buying a torch was the next best thing (AND the apartment is still standing).
Why did I go against my fear? Because I love toasted meringue that much.
I remember falling in love when I first made Baked Alaska back during my middle school cooking class.
Its crisp, toasted exterior was a lovely contrast to the frozen ice cream below. That same concept applies to this Lemon Meringue Cheesecake with its cold creamy cheesecake base, crunchy shortbread cookie crust, and toasted meringue topping.
It's reminiscent of my mini lemon meringue pie with its puckery lemony filling and buttery cookie crust.
It's like pie but for cheesecake lovers.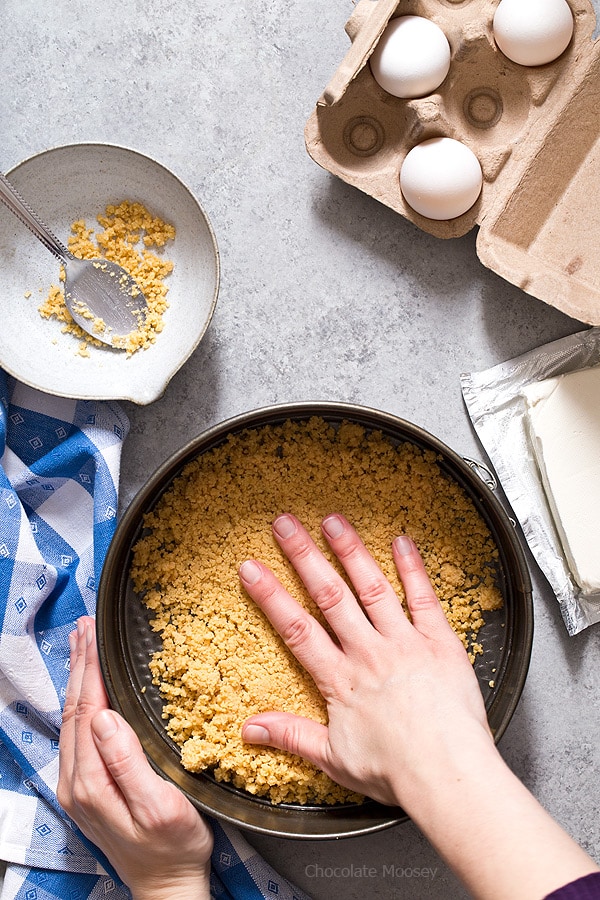 Instead of pie crust, I made a shortbread cookie crust. Still buttery like pie plus shortbread and lemon go SO well together.
However, you can easily substitute graham cracker crumbs.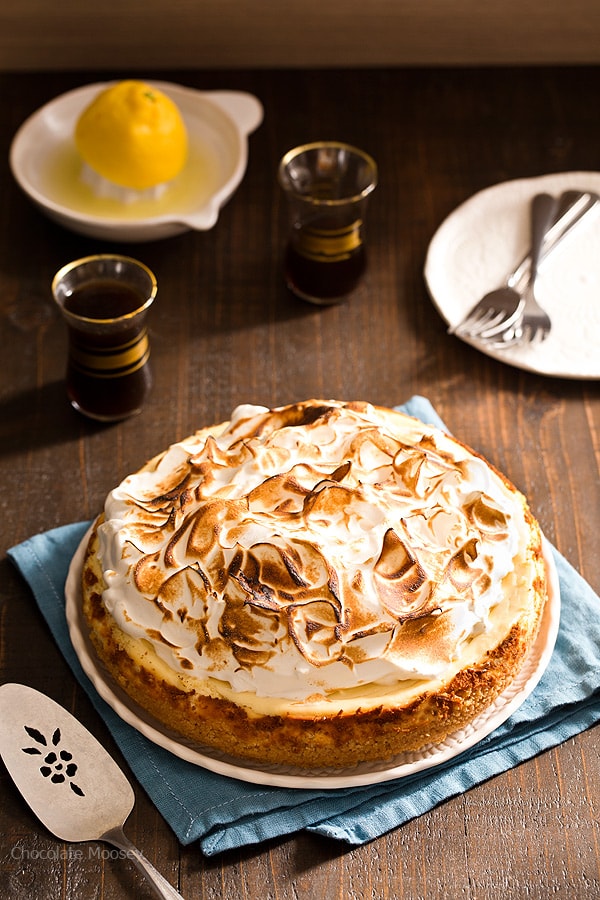 There are two ways you can toast the meringue. The first way is with a blowtorch. I bought a
heavy duty blowtorch
from the hardware store because I've been told time and again the culinary blowtorches you buy at kitchen stores don't do a good job and are overpriced.
If you don't have a blowtorch, the second way is with the oven.
You'll want to leave the springform pan intact to protect the sides of the cheesecake.
Spread the meringue over the top, fully sealing without any holes. The meringue acts like an insulator, preventing the heat from getting in.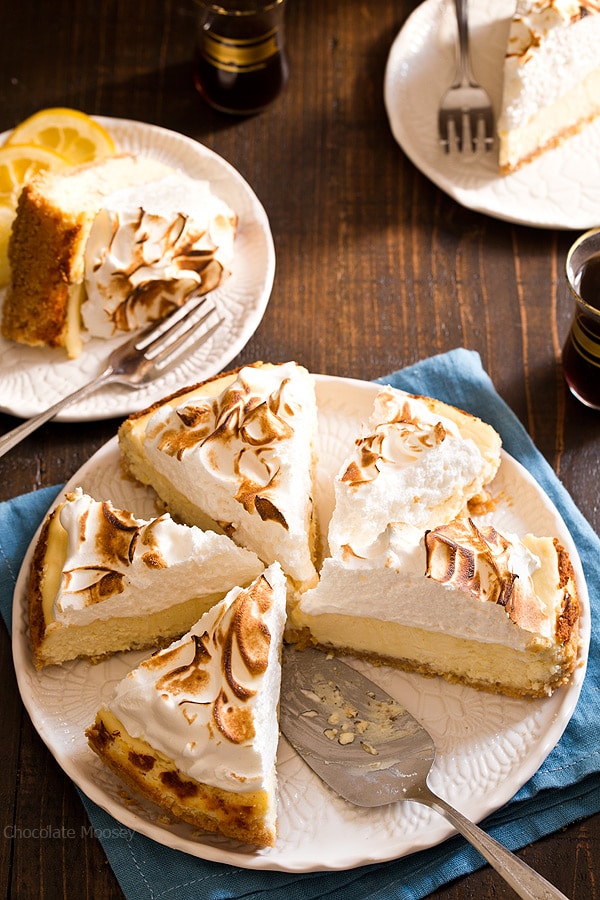 My
S'mores Baked Alaska
is proof because the ice cream stays frozen while the meringue is baking.
Although the cheesecake won't melt, it could potentially overbake if there are holes. That's why it's best to use a blowtorch, but I know not everyone has one.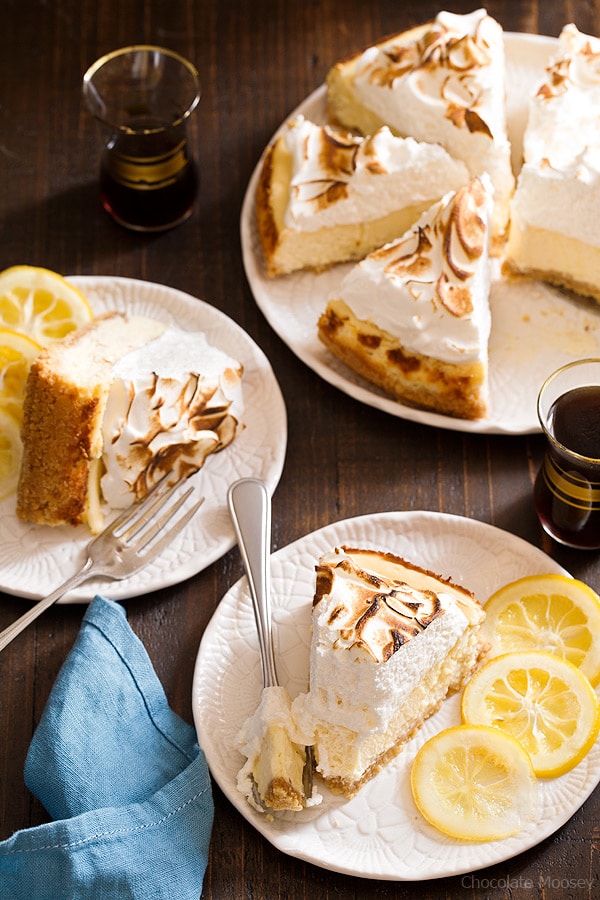 It's best to toast the meringue right before serving as it won't hold its toastiness in the fridge.
Don't worry – you can still refrigerate leftovers with meringue for up to 2 days and still taste good (just not as cripsy).
However, the cheesecake itself is good for up to 1 week, so you can easily scrape off the meringue and replace it with homemade whipped cream (I may or may not have done this).
Lemon Meringue Cheesecake
Forget the pie! Satisfy your lemon craving with Lemon Meringue Cheesecake with toasted meringue and a buttery shortbread cookie crust.
Ingredients
2 1/2 cups shortbread cookie or graham cracker crumbs
6 tablespoons unsalted butter, melted
24 ounces full-fat cream cheese, softened (do not sub fat free)
1 cup granulated sugar
1 tablespoon lemon zest
3 eggs, room temperature
1/4 cup freshly squeezed lemon juice
1 teaspoon vanilla extract
Meringue
3 egg whites, room temperature
1/4 teaspoon cream of tartar
6 tablespoons granulated sugar
1/2 teaspoon vanilla
Instructions
Preheat oven to 350F. Have an 8.5 inch or 9 inch springform pan ready.
In a large bowl, mix together the crumbs and melted butter. Pat into the bottom and roughly 2 inches up the side of the pan.
In a large mixing bowl, beat together the cream cheese, sugar, and lemon zest until light and fluffy, about 3-4 minutes. Beat in the eggs, one at a time, for 1 minute each. Add the lemon juice and vanilla then beat for an additional 1-2 minutes.
Pour the batter into the crust then bake 40-45 minutes or until the center is almost set (it'll move when the pan is shaken, but the top should be firm when you touch it). Remove from the oven and cool 1 hour in the pan.
Carefully run a knife along the edge to loosen the cheesecake. Cover and refrigerate for at least 4 hours or overnight.
Right before serving, make the meringue: In a clean mixing bowl, on medium speed beat the egg whites and cream of tartar until foamy. Increase the speed to high and gradually beat in the sugar and vanilla until stiff peaks form (when you pull the beaters straight up, the peaks won't fall over).
Remove the pan side then wipe up any condensation from the top of the cheesecake. Top with meringue and toast with a blowtorch until golden brown. Serve immediately. Store leftovers in the refrigerator for up to 2 days with meringue or up to 1 week without meringue.
Alternately, you can bake the meringue. Leave the pan side on the cheesecake and top with meringue, completely sealing without holes. Bake at 350F for 10-15 minutes or until the meringue is golden brown.
Source: Adapted from
Taste Of Home
Disclosure: This post contains Amazon affiliate links.
This post may contain affiliate links. As an Amazon Associate and member of other affiliate programs, I earn from qualifying purchase.