Apple Butter Palmiers
These 4 ingredient Apple Butter Palmiers made with puff pastry are easy breakfast pastries to whip up for a party yet elegant enough to impress.
Happy May! I can't believe it's already May 2.
May is my favorite month, not only because my birthday is coming up but also because I usually go on vacation this time of year.
A time for me to take a week off work, get out of Pittsburgh, and explore another destination.
This year I'm going on a road trip to St. Louis, Indianapolis, and Louisville. I'd love to hear your suggestions of things to do and places to eat as I'm still finalizing the itinerary.
Before I leave on vacation though, I'm going over to my parents to celebrate Mother's Day. You may be planning brunch for Mom.
I'm actually making Mom dinner with my pork wonton soup, but that doesn't mean brunch is out of the question.
I'm personally a sweet brunch girl; I'd rather have puff pastry Danish and doughnuts than frittatas or a spring salad.
Let's be honest – how can you possibly choose a salad when these Apple Butter Palmiers are staring right at you?
Warm, flakey bites of heaven made with puff pastry dough then stuffed with apple butter, cinnamon, and sugar.
Palmiers are such an easy pastry to prepare with only 4 ingredients, yet they taste anything but simple.
They start out with puff pastry dough, an ingredient I'm ok with buying because homemade puff pastry takes an entire day to make and chill before using it in a recipe.
Then after slathering on some spiced apple butter and sprinkling with a generous dusting of cinnamon sugar, they are rolled up for an elegant presentation.
They may not even make it to the table once you bite into one straight from the oven. One thing is for sure – Mom is going to love these.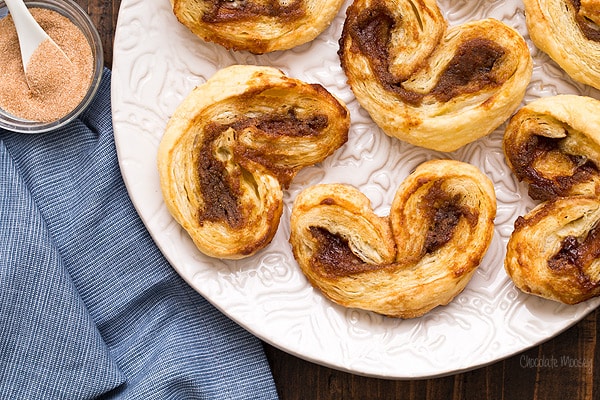 Palmiers are French pastries made with puff pastry dough folded and rolled up to look like, well, that's the thing. People say they look like elephant ears or palm leaves, but I disagree.
How do palmiers look like elephant ears? Have you seen an actual elephant's ear? I think they look like butterfly wings. What do you call them?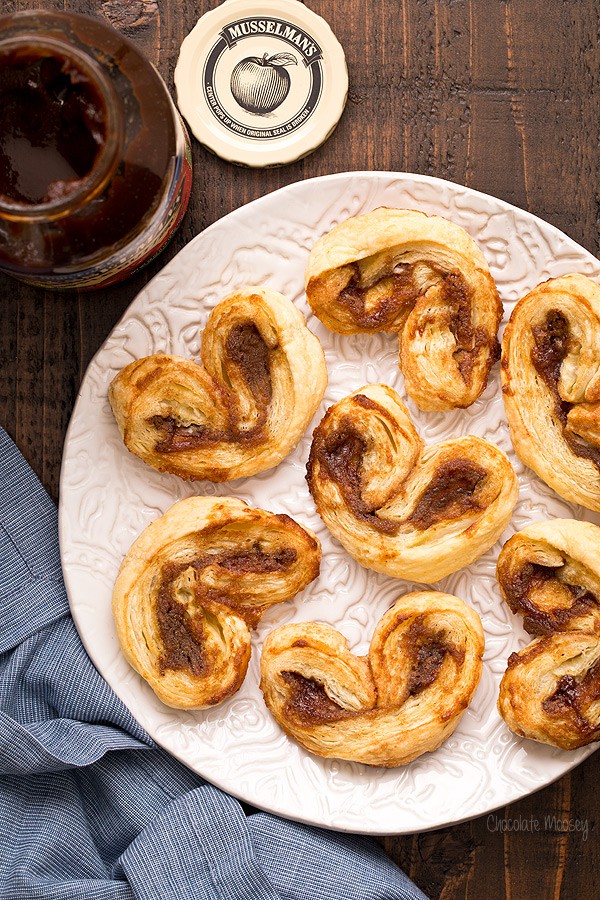 To sweeten up these palmiers, I used apple butter for the filling along with cinnamon sugar sprinkled on top.
It's a great way to get your apple fix all year round when it's not quite apple season (at least not in PA).
You can either buy a jar or make small batch apple butter.
For more apple butter recipes, check out my guide on
what to do with apple butter
.
Apple Butter Palmiers
Yield: 10 palmiers
Prep Time: 1 hour
Cook Time: 20 minutes
Total Time: 1 hour 20 minutes
Ingredients
1 sheet puff pastry, thawed according to package directions
1/4 cup Musselman's apple butter
1/4 cup granulated sugar
1 teaspoon ground cinnamon
Instructions
On a lightly floured surface, unfold the puff pastry sheet. Evenly spread apple butter on top.
In a small bowl, mix together the sugar and cinnamon. Sprinkle 1 tablespoon on top of the apple butter.
Fold both short sides inward until they are touching in the center. Sprinkle another 1 tablespoon of cinnamon sugar on top. Fold one side over the other side, closing like a book. Cover and refrigerate for 30 minutes.
Preheat oven to 400F. Line one baking sheet with parchment paper.
Slice the dough into 3/4-inch pieces. Toss each piece in the remaining cinnamon sugar and place on the baking sheet 2 inches apart, laying them cut side up.
Bake for 18-20 minutes or until puffed and golden. Cool for 2 minutes then transfer to a cooling rack to cool completely. Serve warm or at room temperature. Best eaten the day they are made but can be stored in an airtight container for up to 2 days.
Notes
Baking For Two Tip: Most puff pastry boxes contain two sheets, but luckily they freeze well! Seal the remaining sheet so it doesn't get freezer burn until ready to use. Not sure what to make with your remaining puff pastry? Check out these other puff pastry recipes for inspiration.
More Apple Butter Recipes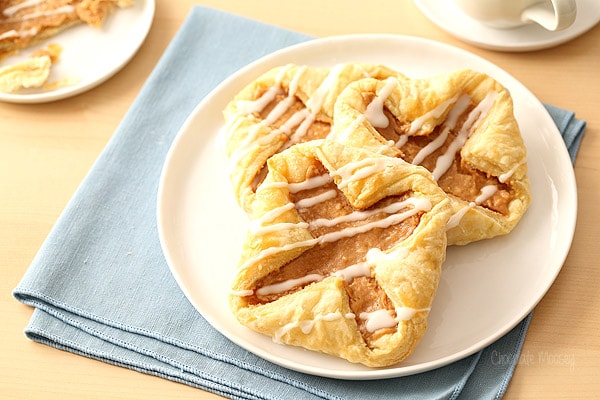 Apple Butter Cream Cheese Danishes

Apple Butter Crumb Cake

Apple Butter Baked Doughnut Holes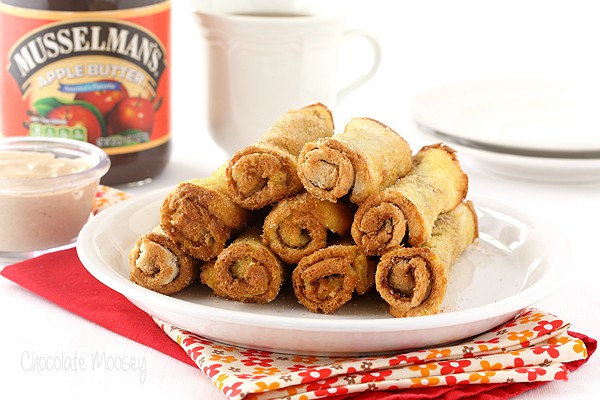 Apple Butter French Toast Roll Ups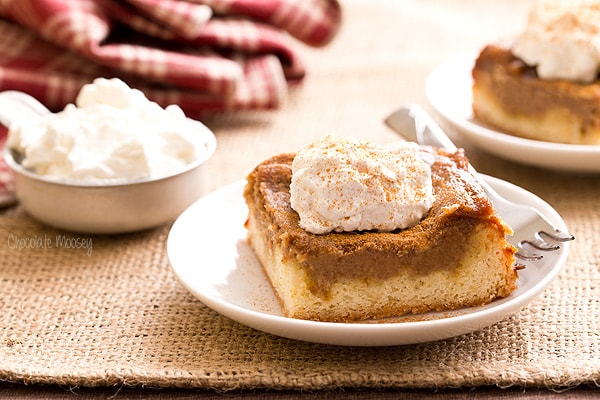 Apple Butter Gooey Butter Cake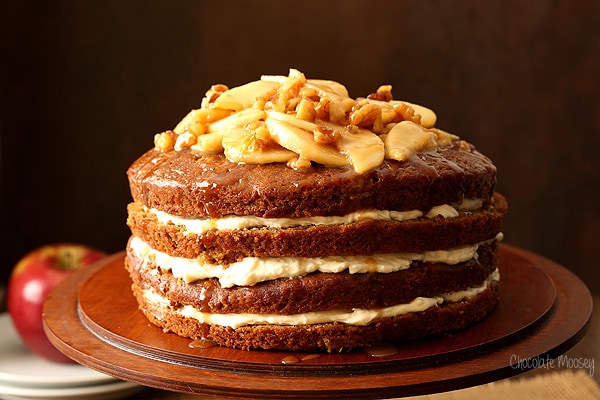 Caramel Apple Butter Layer Cake
This post may contain affiliate links. As an Amazon Associate and member of other affiliate programs, I earn from qualifying purchase.