Salami Wrapped Pepperoncini
This easy three ingredient Salami Wrapped Pepperoncini makes the ideal holiday appetizer! Serve it as a snack on cheeseboards for Christmas and New Year's Eve.
Food bloggers are often known for their elaborate recipes and cooking, but I'll let you in on a little secret.
Believe it or not, when I have family visit I'm usually too tired to make dinner because we're often running around Pittsburgh doing one activity after another. A lot of the time we eat out or make a frozen pizza.
I try to have dessert ready, but sometimes I'm too busy that week (and/or too tired) to make anything extra.
I always feel guilty because I know they love my cooking, but when you work full time (especially if you cook and bake for a living like I do), sometimes it's hard to make anything extra outside of that.
Sometimes I do manage to throw together some snacks. Sometimes it's my nacho cheese dip. Other times it's buffalo chicken dip.
Another stupid easy snack recipe to add to the list is Salami Wrapped Pepperoncini. It's only three ingredients – salami, provolone cheese, and pepperoncini peppers.
It's ideal for the holidays especially Christmas and New Year's Eve because let's face it – we're all running around dealing with busy holiday schedules.
Family coming in to visit, attending Christmas parties, catching up with friends at holiday pop up bars.
And when you're hosting a get together, it's much easier to throw together snacks on Charcuterie Board For Two than to cook a large dinner.
How do you make salami roll ups?
Sometimes Salami Wrapped Pepperoncini is referred to as salami roll ups. I find the salami doesn't quite roll up around the larger peppers, but close enough, right?
First, you drain and dry the peppers. Then you take a slice of salami and a slice of provolone cheese and wrap them around the pepper. Secure with a toothpick and done!
How easy was that (as I channel my inner Ina Garten)?!
What is a pepperoncini?
A pepperoncini is an Italian chili pepper which is often pickled. It's similar to a banana pepper but has a slightly wrinklier and thinner pepper skin.
It is a very mild pepper and low on spice. It's not much spicier than a bell pepper (which has zero spice on the Scoville hotness scale).
I used whole golden pepperoncini for the peppers, which are pickled whole and ready to eat. That means you can easily make these pepperoncini appetizers in only a few minutes!
To finish building the cheese board, I also used giardiniera, sliced banana peppers, manzanilla olives, and kalamata olives.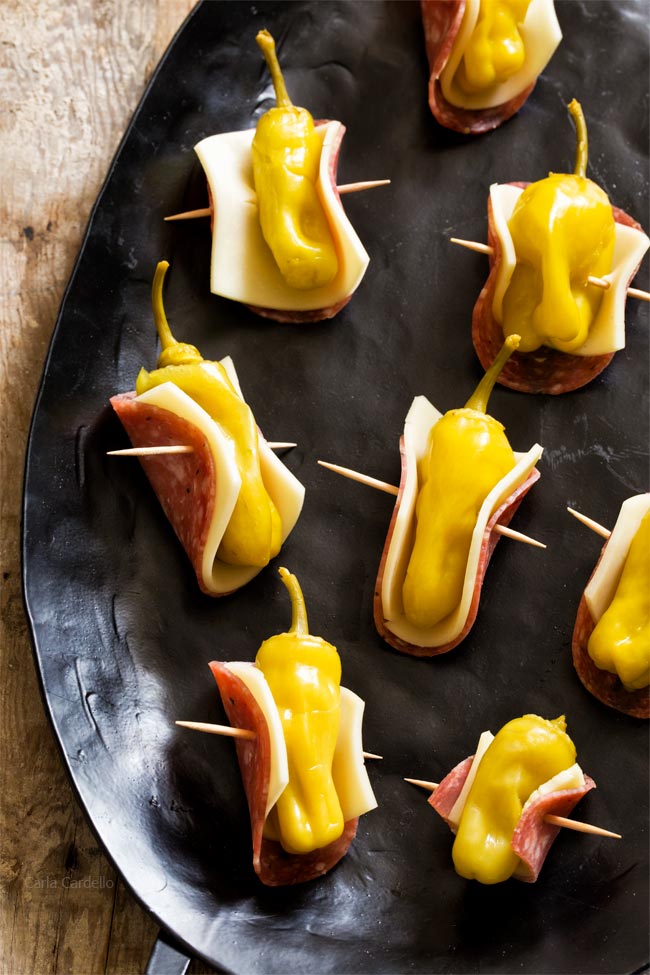 What cheese goes best with salami?
To pair with the salami, I used provolone. You can also use mozzarella cheese.
Depending on the size of your pepperoncini, you may need to cut your salami and cheese to fit. I found I didn't have to cut much of the salami, but I did have to cut the provolone in half or even thirds.
What should I put on my cheese board?
Although you can easily serve these Salami Wrapped Pepperoncini on a plate by themselves, you can also bulk it up by building a cheese board around them.
I always make sure I have something from each of these categories:
Cheese – It certainly wouldn't be a cheeseboard without the cheese! The best part about get-togethers is you can experiment with new flavors and recipes, such as Olive Baked Brie. Because everyone's palate differs, always have a fail-safe cheese like cheddar and pepper jack for those who may not be adventurous.You can save money by buying blocks of cheese and cutting your own cubes and slices.
Something meaty – No cheeseboard is complete without meat! Salami, pepperoni, and prosciutto complement cheese very well.
Something pickled or marinated – Olives are often popular on cheeseboards, especially if they are stuffed with garlic or cheese.My salami wrapped pepperoncini recipe adds a nice crunch and spice. I also used giardiniera, which are pickled vegetables, and sliced banana peppers.
Something salty – Nuts add some much needed salt and crunchiness. Use crowd favorites such as pistachios, almonds and cashews.
Something sweet – Fruit is another must-have, not only for a healthier option but to help balance all the meats and cheeses. The best way to plan is to browse the produce section and buy what's in season, such as grapes and pomegranate for winter.You can also add dried fruit, such as dried apricots and dried cranberries, to fill in the gaps.
Something crunchy – Texture is important when planning a cheeseboard, not to mention you need some kind of vessel for all of that cheese! Use a variety of shapes and flavors, such as round butter crackers, square wheat crackers, and crostini made from a French baguette.
Got leftover salami? Check out my Antipasto Pasta Salad!
Salami Wrapped Pepperoncini
Yield: 1 dozen
Prep Time: 15 minutes
Total Time: 15 minutes
This easy three ingredient Salami Wrapped Pepperoncini makes the ideal holiday appetizer! Serve it as a snack on cheeseboards for Christmas and New Year's Eve.
Ingredients
12 slices salami
6 slices provolone cheese, cut in half
12 whole golden pepperoncini, drained and patted dry
Instructions
Wrap one slice of salami and one half of cheese around each pepper. Secure with a toothpick.
This post may contain affiliate links. As an Amazon Associate and member of other affiliate programs, I earn from qualifying purchase.