Only baking for one or two people? This egg free pumpkin pie recipe makes two servings of pie in ramekins so you can have your Thanksgiving dessert without breaking your waistline.
Small batch cooking and baking is something I know well because of experience. Truth is I've been cooking for myself for about six years now (minus when my parents and brother visit). I never thought much of it until I started my big girl job where everyone out here has a family to feed. Coworkers have mentioned to me time and again about how they couldn't do what I do, that they couldn't just make mashed potatoes for one person and would get bored with too many leftovers (not to mention they think I drive 2.5 hours home to my parents every single weekend like I'm back in college). Funny how lifestyles can vary so much. I knew when November rolled around, I wanted to make Pumpkin Pie For Two so those who do cook for one or two people can still enjoy the flavors of Thanksgiving without trying to pawn the extra pie on others. And I'm not forgetting about you, the person who cooks for a crowd. Maybe you're the only one in the family who enjoys pumpkin pie. Or if everyone loves pie, you can easily double or even triple the recipe so there will be pie for all.
I was debating on whether I could even officially call these pies because there is no pie crust involved. Just pumpkin pie filling cut down to two servings and baked in ramekins. If you can forgive me for that technicality, I promise you won't miss the crust.
Because I'm making such a small batch, I had to find a way to make the filling without the egg. That's where my friend the cornstarch comes into play. Used as a thickener, you still get the consistency of pumpkin pie without having to cut an egg in half. Who has time for half an egg, anyway?
As I said earlier, you can easily do some math and make this recipe for a crowd. I can imagine after Thanksgiving dinner is over, bringing out a tray of these ramekins for an elegant ending. Or maybe you are having company over and don't have time to mess with a pie crust. However you eat your pie, you're just one spoonful away from deliciousness.
Equipment you may need (Amazon affiliate links):

Ingredients
1/2 cup canned pumpkin puree
1/4 cup granulated sugar
1/4 teaspoon ground cinnamon
1/8 teaspoon ground nutmeg
1/8 teaspoon ground ginger
1/3 cup evaporated milk
2 teaspoons cornstarch
Whipped cream, for serving
Instructions
Preheat oven to 350F. Have two ramekins ready.
In a medium saucepan, whisk together the pumpkin, sugar, cinnamon, nutmeg, ginger, milk, and cornstarch. Bring to a boil; boil until the mixture thickens, stirring constantly.
Divide the mixture between the two ramekins. Bake 30-35 minutes or until a toothpick comes out clean. Cool completely then refrigerate until ready to serve. Serve with whipped cream.
7.6.3
3218
https://www.chocolatemoosey.com/2013/11/25/pumpkin-pie-for-two-egg-free/
Source: Adapted from
From The Burbs To The Boonies
—-
If you liked Egg Free Pumpkin Pie For Two, you may also like these recipes:
From me: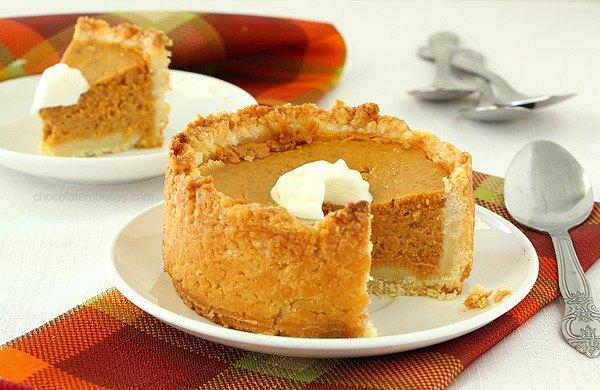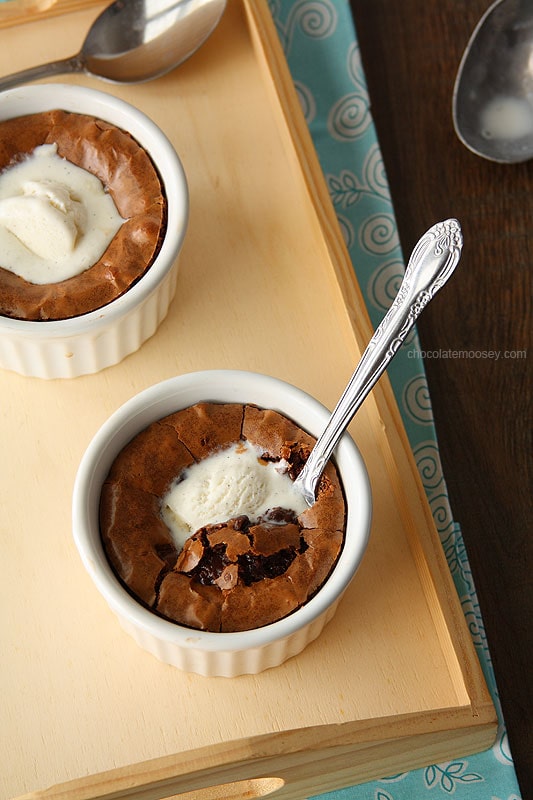 From other bloggers: