Carrot Cake Cheesecake
Two favorite classic desserts come together with this easy Carrot Cake Cheesecake! The recipe combines both moist carrot cake and creamy classic cheesecake into one irresistible Easter dessert.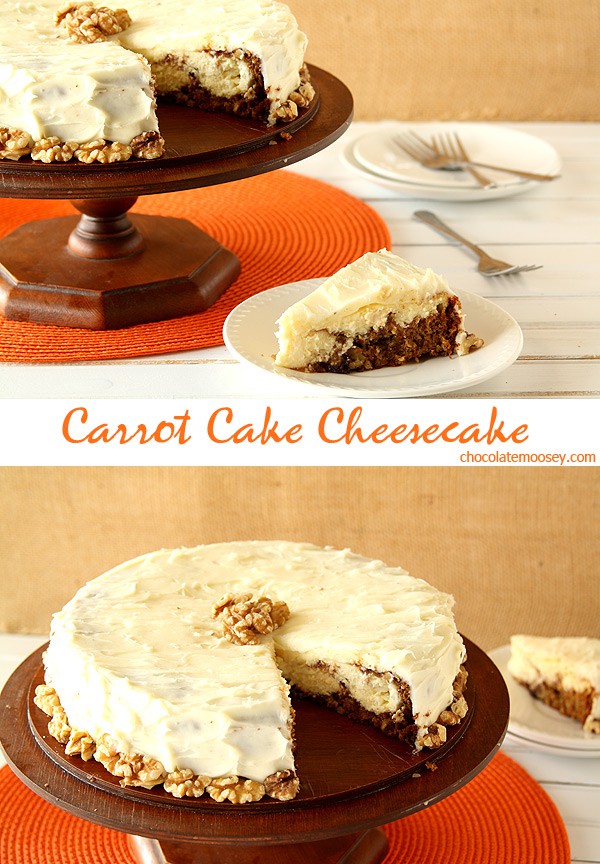 This Carrot Cake Cheesecake is the perfect example of expectation vs. reality – ever hear of the saying?
It's where you have what you think will happen then you have what actually happens. It's a pretty popular meme around the internet and I think of it all the time when something unexpected happens.
Like how this Carrot Cake Cheesecake was supposed to be two layers, combining my carrot cake recipe and my classic cheesecake recipe into one dessert.
However, the cheesecake layer sunk into the carrot cake, making it cheesecake with a carrot cake crust. Or a cheesecake-stuffed carrot cake.
Whatever you call it, it combines the delicious flavors of sweet and nutty carrot cake with creamy and luscious cheesecake.
Normally I would scrap it and try again, but really there was nothing actually wrong with my cheesecake cake. Just like life, I had to adapt and roll with what happened.
I like to serve this Carrot Cake Cheesecake for Easter dessert because Easter involves bunnies and bunnies love carrots.
Is that a stretch? Probably, but hey it's a great excuse to make it. But if you don't want to make it for Easter, it makes an excellent birthday cake.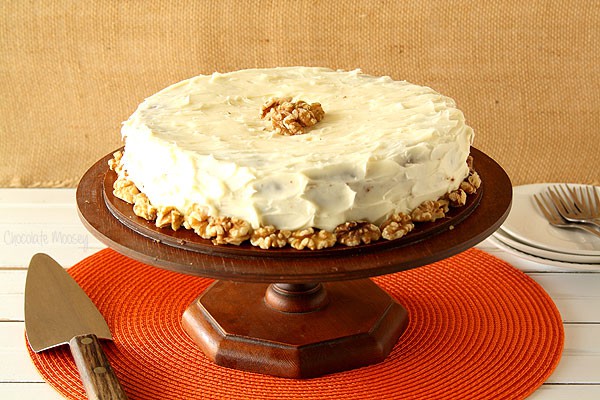 What pan do I need for carrot cake cheesecake?
Because cheesecake is delicate to remove from the pan, you'll need a 9 inch springform pan (affiliate link) so you can remove the sides.
This recipe will not work in a 9 inch round cake pan because it'll be too hard to remove plus likely won't be deep enough for both batters.
How many does a carrot cake cheesecake feed?
You can cut this cheesecake into 8-10 slices, which is equivalent to 8-10 servings.
It's bigger than most of my small batch desserts, but I also originally posted this recipe back in 2013 when I didn't have a POV.
Rather than rework it for a smaller pan, I kept it as is. You never know when you need a larger dessert for holiday dinners or office parties.
You can still serve it as dessert for your Easter Dinner For Two. You'll just have a few extra slices to last you all week.
How To Make A Carrot Cake Cheesecake
To make carrot cake cheesecake, first you have to make the carrot cake batter.
Carrot cake batter is easier to make than most because you don't have to worry about creaming the butter and sugar. You can even make the batter by hand so you can free your mixer for the cheesecake layer.
Beat together the sugar and liquid ingredients together until smooth. Then you gradually add your dry ingredients along with the shredded carrot, pineapple, coconut, raisins, and chopped walnuts.
Once the batter is made, pour it into your springform pan then let it sit while you make the cheesecake batter.
Next, make the cheesecake batter. Beat the cream cheese and sugar until super smooth, scraping down the bowl as needed.
Then beat in the eggs one a time, being careful not to overbeat the batter.
Finally, add the pineapple juice and vanilla for flavor.
Now transfer your cheesecake batter on top of your carrot cake batter. I find it best to drop spoonfuls on top because it'll sink and not spread too well.
Bake at 350F for 35-40 minutes or until the internal temperature is 150F. The cheesecake may still jiggle a little when shaken but shouldn't be too loose.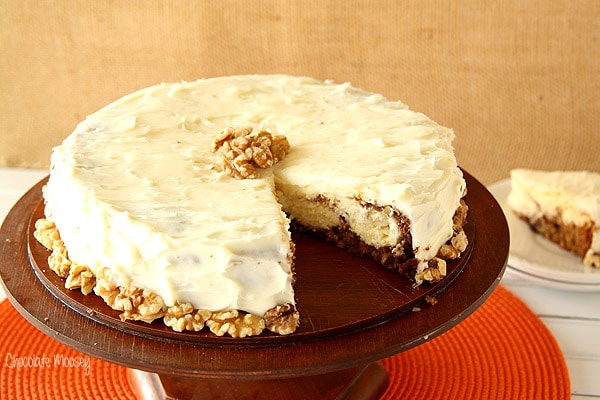 How do you make carrot cake cheesecake moist?
The carrot cake layer stays incredibly moist thanks to the vegetable oil, brown sugar, buttermilk, and pineapple.
The best oil to use in carrot cake is either vegetable or canola, which are both neutral oils.
Can I use butter instead of oil in carrot cake?
Don't have vegetable oil? Use an equal amount of melted butter. With all of the different flavors going on, the difference of using melted butter is negligible.
Can I substitute milk for the buttermilk?
Buttermilk is used so its acidity can react with the baking soda.
However, if you don't have any, you can substitute whole milk as long as you add acid to it. Otherwise, the cake won't rise properly.
Add 1 teaspoon lemon juice or vinegar to 1/4 cup whole milk. Let sit for 5 minutes or until the milk curdles.
Do I need a water bath for carrot cake cheesecake?
No, you don't need a water bath for carrot cake cheesecake! Because it's in a 9 inch springform pan, it'll bake evenly in both the middle and on top.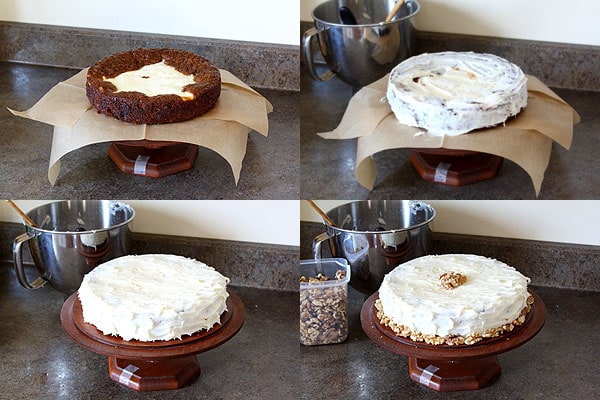 What frosting goes with carrot cake cheesecake?
Because of the cake element, I opted to cover it with my cream cheese frosting.
After all, nothing beats the classic pairing of carrot cake with cream cheese frosting.
However, you can serve it with a dollop of homemade whipped cream or plain without frosting.
More Carrot Cake Recipes

Looking for more? You may also like these similar recipes:
For more cheesecake recipes, check out my Pecan Pie Cheesecake.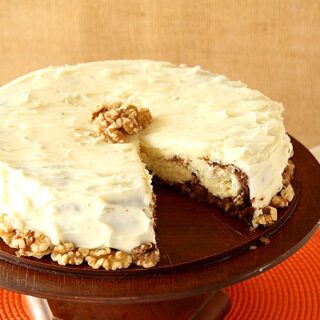 Carrot Cake Cheesecake
Yield: 8-10 servings
Prep Time: 1 hour
Cook Time: 40 minutes
Chill Time: 5 hours
Total Time: 6 hours 40 minutes
Two favorite desserts come together with this easy Carrot Cake Cheesecake! Recipe combines both carrot cake and cheesecake into a tasty Easter dessert.
Ingredients
1 cup all-purpose flour, sifted
1 teaspoon baking soda
1 teaspoon ground cinnamon
1/2 teaspoon ground nutmeg
1/4 teaspoon ground clove
1/4 teaspoon salt
2/3 cup granulated sugar
1/4 cup vegetable oil
1 egg, room temperature
1 teaspoon vanilla
1/4 cup buttermilk or whole milk with 1 teaspoon lemon juice or white distilled vinegar added, room temperature
2/3 cup grated carrot
1/3 cup shredded coconut
1/3 cup chopped walnuts
1/3 cup raisins, plumped
2 tablespoons crushed pineapple, drained (reserve juice for cheesecake filling)
Cheesecake
16 ounces (2 blocks or 16 tablespoons) full-fat cream cheese, softened and not cold to the touch (do not sub fat free)
2/3 cup granulated sugar
2 eggs, room temperature
2 teaspoons pineapple juice (from crushed pineapple)
1 teaspoon vanilla
1 recipe Small Batch Cream Cheese Frosting (get recipe here)
Instructions
Preheat the oven to 350F. Cover the outside of a 9 inch springform pan with foil to prevent batter from leaking then place on a baking sheet.
In a medium bowl, whisk together the flour, baking soda, cinnamon, nutmeg, clove, and salt.
In a large mixing bowl by hand with a whisk or an electric mixer, beat together the sugar, oil, egg, and vanilla until pale and creamy, about 1-2 minutes.
Switch to a rubber spatula and add the flour mixture alternately with the buttermilk, adding the flour in 3 additions and the milk in 2 additions (begin and end with dry ingredients).
Stir in the carrots, pineapple, coconut, walnuts, and raisins. Pour into the pan and set aside.
For the cheesecake: In a second large mixing bowl (with paddle attachment if using a stand mixer), beat together the cream cheese and sugar until smooth, about 2-3 minutes.
Add the eggs, one at a time, and beat until fluffy and smooth. Beat in the pineapple juice and vanilla.
Drop spoonfuls of filling on top of the cake layer in an even circle in the middle (the filling will sink, so it will be difficult to spread around). Bake 35-40 minutes or until the internal temperature reaches 150F and the middle is firm when touched (it may still wiggle slightly when shaken). Remove from the oven and cool 1 hour in the pan.
Carefully run a knife along the edge to loosen the cheesecake. Cover and refrigerate for at least 4 hours or overnight.
Make the cream cheese frosting (get the instructions here) and decorate as desired.

Store leftovers in an airtight container in the refrigerator for up to 1 week.
Recommended Products
As an Amazon Associate and member of other affiliate programs, I earn from qualifying purchases.
Source: Adapted from
Southern Living
This post may contain affiliate links. As an Amazon Associate and member of other affiliate programs, I earn from qualifying purchase.