No more canned pie filling! Learn how to make homemade cherry pie filling from scratch using fresh sour cherries. Use it to make cherry pie, chocolate cake filling, or stuffed cupcakes.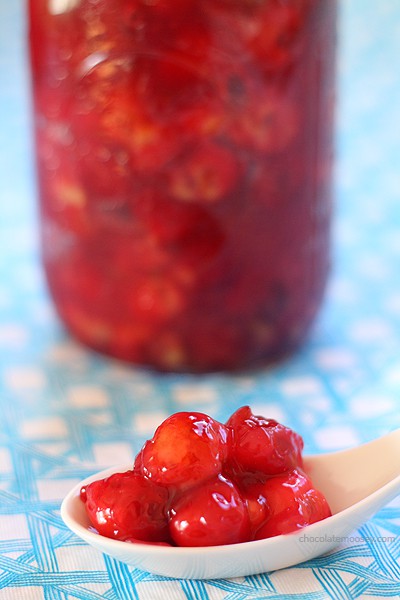 Sometimes I can be really overambitious in the kitchen. I went through a phase where I insisted on making everything from scratch, even condiments and tortillas.
As I grew up and started working full time in the real world, I realized how limited my time and energy were. I gave myself permission to buy a few of these items to help with kitchen prep.
However, that part of me hasn't died; I still find myself wanting to make everything from scratch, especially desserts. If it comes in a package or a mix, I make it homemade.
One of the easiest ingredients I've made from scratch is canned pie filling, such as my apple pie filling and peach pie filling.
Today I'm bringing you the best Homemade Cherry Pie Filling made from scratch using sour cherries (also known as tart cherries) without corn syrup or preservatives.
I personally don't care about those last two items, but I know others do. Whatever you believe, this recipe is easy and delicious.
In fact, it'll take you longer to pit the cherries than to actually cook the filling. How easy is that?!
Don't have sour cherries? No worries! I explain how you can easily substitute sweet cherries for pie.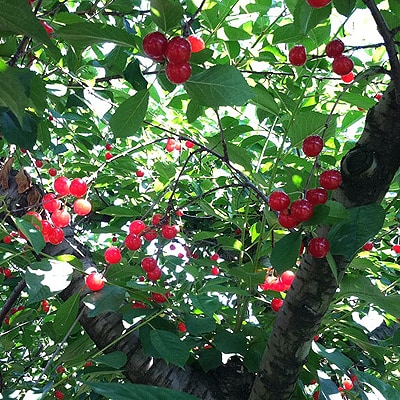 I first went cherry picking in 2012. The sweet cherry crops were hit badly from the frost, but the tart cherries were fine. I ended up picking 6.81 pounds.
As the name suggests, tart cherries are sour and hard to eat as a snack. However, they are ideal for baking because the sugar balances the tartness.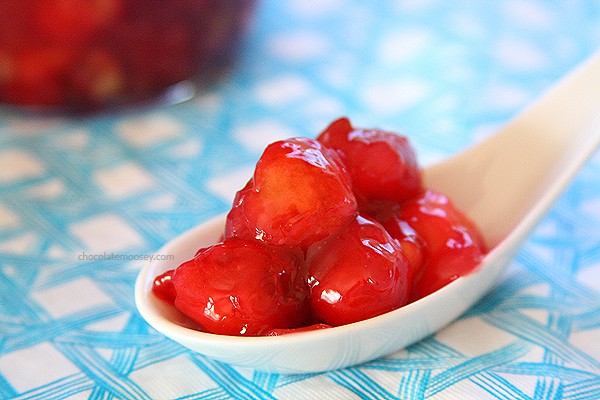 Can you substitute sweet cherries for sour cherries?
Since tart cherries have a short harvesting window and are hard to find, yes you can substitute sweet cherries for sour cherries.
As the name implies, sour cherries are very tart, so I didn't add any lemon juice to the filling.
However, if you substitute sweet cherries, you want to add about a tablespoon of lemon juice. This helps balance the sweetness in the filling.
You may also want to cut back on how much sugar you use. I recommend starting at 3/4 cup sugar then adjust from there.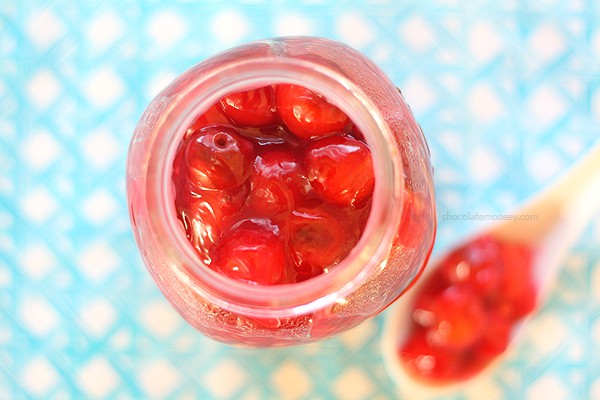 How To Pit Cherries
The easiest way to pit cherries is with a cherry pitter (affiliate link). Although it's not an absolute necessity, it helps make the process go faster. You can also use it to pit olives.
If you don't have a cherry pitter, there are several ways to pit cherries with tools you already have on hand.
You can use a pastry tip by placing it tip-side up then push the cherry firmly onto it until the pit comes out.
You can also use a chopstick or straw. Insert into the stem side and pop out the pit. If the pit isn't completely centered, you may have to dig for a bit.
How to make cherry pie filling
This recipe is as easy as boiling water, mostly because that's exactly what you're doing to make homemade cherry pie filling.
First, whisk together water, sugar, and cornstarch then bring to a boil. Once boiling, stir until the sugar dissolves and the mixture thickens thanks to the cornstarch.
Once thickened, remove from the heat and stir in the cherries and almond extract.
Because the cherries are soft (unlike apples, for example), you don't need to cook it any further. Cool the filling to room temperature before using.
Can you can homemade cherry pie filling?
I've had people ask if my fresh cherry pie filling is suitable for canning.
The answer is no because of the cornstarch. Cornstarch breaks down after awhile, which affects bacteria growth.
Keep this pie filling stored in the refrigerator for 2 weeks. You can also freeze it for future baking.
How to freeze cherry pie filling
Much like cherry pie itself, you can freeze cherry pie filling. There are two ways to freeze cherry pie filling:
Line a freezable pie plate (not glass as it may shatter when baked at a cold temperature) with pie dough. Fill the dough with the peach pie filling then cover the top with another piece of pie dough. Fully cover with plastic wrap then place in a freezer-safe plastic bag.
Transfer the pie filling to a freezer-safe plastic bag. Place the bag inside an empty pie plate and spread out so it takes the shape of the plate. Freeze until firm. Because it's the shape of the plate, it should be easy to transfer and bake when ready.
Whichever method you choose, freeze for up to 3 months. When ready to bake, cut three slits into the top of the crust and bake at 400F for 45-60 minutes or until the crust is golden brown.
What To Do With Cherry Pie Filling

Now you made a jar of cherry pie filling, what should you make with it? Here are some cherry pie filling recipe ideas: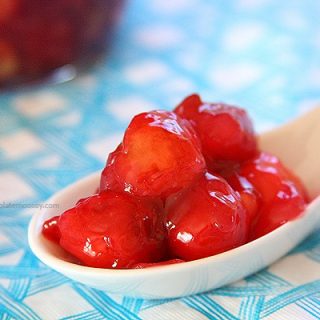 Homemade Cherry Pie Filling
No more canned pie filling! Learn how to make homemade cherry pie filling from scratch using fresh tart cherries. Use it to make cherry pie, chocolate cake filling, or stuffed cupcakes.
Ingredients
1 cup granulated sugar
1 cup water
1/4 cup cornstarch
1 teaspoon almond or vanilla extract
2-3 drops red food coloring (optional)
5 cups pitted sour cherries*
Instructions
In a large saucepan, whisk together sugar, water, and cornstarch. Bring to a boil over medium heat, stirring often. Cook until thickened, about 1-2 minutes.
Remove from the heat and stir in almond extract and food coloring if using. Stir in cherries. Cool to room temperature then use as desired or store in the refrigerator for up to 2 weeks**.
Notes
*If using sweet cherries, add 1 tablespoon lemon juice.
**The filling will separate when stored in the refrigerator. Reheat everything back up in a saucepan until smooth again.
Recommended Products
As an Amazon Associate and member of other affiliate programs, I earn from qualifying purchases.