Homemade cherry pie topped with a cinnamon pecan streusel, all made from scratch.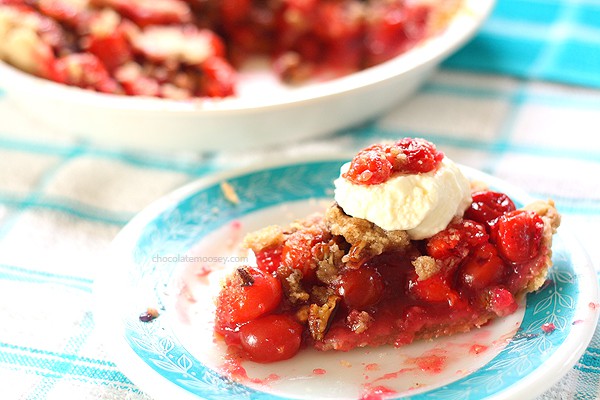 What is the one item that no matter how many times you try, you seem to fail at one aspect? Mine is pie. Most of you are probably agreeing right now, admitting you have failed or are too scared at pie crust. Me? I'm fine at pie crust. Ok, I can't roll it into a circle and make pretty edges, but I can at least make and roll one out. However, it's the filling that kills me. A lot of you are probably laughing right now, saying the filling is the least of your worries. I have failed at lemon meringue pie (filling too thin), graham cracker pie (meringue left puddle of egg whites), and coconut cream pie (filling didn't stabilize). Notice all three involved pudding. I promised
Jen
and
Jen
and I'm sure a few more Jens that I would make and blog about a successful pie. Instead of being overambitious with yet another pudding pie, I made Cinnamon Pecan Cherry Pie. Fresh sour cherries are cooked then put into a flaky pie crust and topped with cinnamon pecan streusel.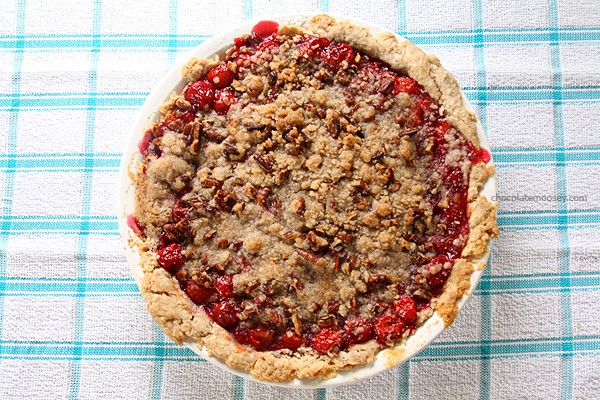 If you've been following my blog for some time, you probably know that pie is my least favorite dessert. Maybe because I've never actually had a good piece of pie. If you gave me a slice right now, chances are I eat the filling and leave the crust. It's why I make pot pie with puff pastry and not pie crust. It's why I'd rather make a graham cracker crust and not pie crust. It's why I made Coconut Cream Pudding and not Coconut Cream Pie (I actually did make that pie for Easter, but it failed). It's why you rarely see pie recipes on this blog. The reason I have Cinnamon Pecan Cherry Pie today is because
Jen of Juanita's Cocina
made me. That's ok – she now owes me a cheesecake.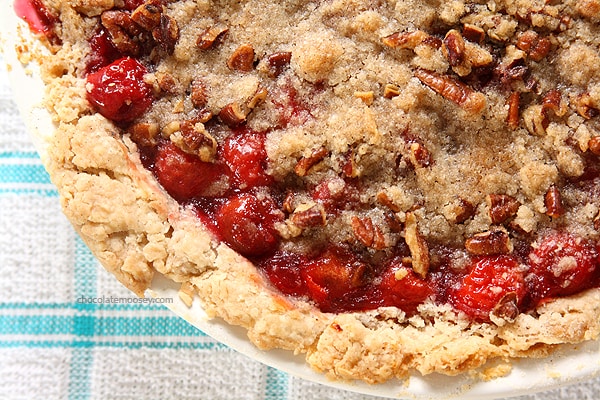 I posted about making
Homemade Cherry Pie Filling
last month. It is just liked the canned version except fresher and you can pronounce everything. You can make the filling ahead of time and store in the refrigerator. However, the filling does separate a little, so when you are ready to use it, pour it back into a saucepan and heat until boiling. It will thicken back up, promise! You can also make and use the filling right away. In fact, the original recipe has you make the filling then use it shortly afterwards.
I was toying with the idea about doing a lattice crust (where you criss-cross dough strips on top), but I already fought with the bottom layer of pie crust when rolling it and decided a streusel is much easier and quicker to make. The streusel is versatile in flavor. I chose pecans, cinnamon, and clove, but you can do your favorite nut (walnuts or almonds would be great substitutes) and your favorite baking spices (nutmeg or cardamon perhaps).
I bet you're wondering if I approve of my pie. Yes, I approve. Granted I didn't eat much of it, but if I'm going to eat pie, this is it. My coworkers and family gobbled it all up. Problem is I now have to make it again. If that's my biggest problem, life must be pretty good.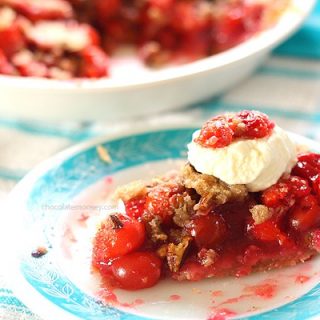 Cinnamon Pecan Cherry Pie
Homemade cherry pie topped with a cinnamon pecan streusel, all made from scratch.
Ingredients
Pie Crust
1 3/4 cup flour
1/2 tsp ground cinnamon
1/2 tsp ground clove
1/2 cup butter, unsalted, cold, and cut into tablespoons
3-4 Tbsp cold water
Cherry pie filling for one 9-inch pie ([url href="https://www.chocolatemoosey.com/2012/06/28/homemade-cherry-pie-filling/" target="_blank" title="Homemade Cherry Pie Filling"]homemade[/url] or store bought)
Streusel
1/3 cup flour
1/4 cup sugar
1/2 tsp ground cinnamon
1/2 tsp ground clove
Pinch of salt
1/4 cup butter, unsalted, cold, and cut into tablespoons
1/3 cup pecans, chopped
Instructions
In a large bowl, combine the flour, cinnamon, and clove; cut in the butter. Sprinkle 3 Tbsp water evenly over the flour mixture, stir until moistened. If it seems a little dry, add the extra Tbsp of water. Shape the dough into a ball, wrap in plastic wrap, and chill in the refrigerator for 30 minutes.
For the streusel: In a medium bowl, stir together the flour, sugar, cinnamon, clove, and salt. With a pastry blender, cut in the butter. Stir in the pecans. Set aside.
Preheat oven to 375F. On a lightly floured surface, roll out the dough into a 12-inch circle. Place it into a 9-inch pie plate. Fold under any extra pastry and crimp the edges. Fill the pie with the cherry filling then sprinkle on the topping.
Cover the edge of the pie with foil to prevent overbrowning. Bake 25 minutes. Remove the foil then bake an additional 15-20 minutes or until top is golden. Let cool on wire rack. When serving, top with whipped cream.
Source: Adapted from
Cherry Marketing Institute
—-
If you liked my Cinnamon Pecan Cherry Pie recipe, you may also like these recipes from me: