Cherry Cheesecake Baked Wontons with Chocolate Dipping Sauce
Crispy baked wontons stuffed with cheesecake and homemade cherry pie filling then dunked into chocolate dipping sauce
Remember the
Cherry Cheesecake Stuffed Cupcakes
from last week?
I ended up having both pie filling and cheesecake leftover, more than a spoonful and enough to create another recipe.
I had no intention of going to the store nor did I have anyone to send, so I looked around. No puff pastry, so I couldn't make turnovers.
Should I make pie dough? Parfaits? I had Food Network on in the background, and I heard one of the contestants on a competition show mention how she was going to use wonton wrappers.
Wonton wrappers! I have those in the freezer.
Whipped up a quick chocolate dipping sauce and boom – Cherry Cheesecake Wontons. The best part is they are crispy even after baking them.
I don't use wonton wrappers as often as I should. I mean they are so versatile – dumplings for
wonton soup
, mini cups to fill, stuffed for appetizers, just to name a few ideas.
A long long time ago, I made baked wontons stuffed with butternut squash. This time around, I'm going sweet.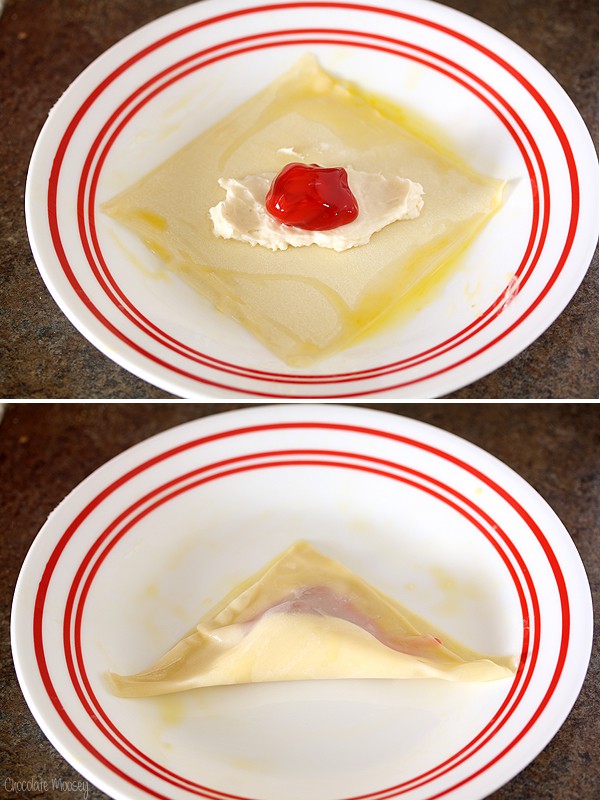 The hardest part is not overstuffing the wonton. There's a fine line between having enough filling and having too much where it spills out. You'll know after the first one or two wontons how much filling to use. If you've never bought wonton wrappers before, check your store's produce section. They are kept refrigerated by the eggroll wrappers and tofu.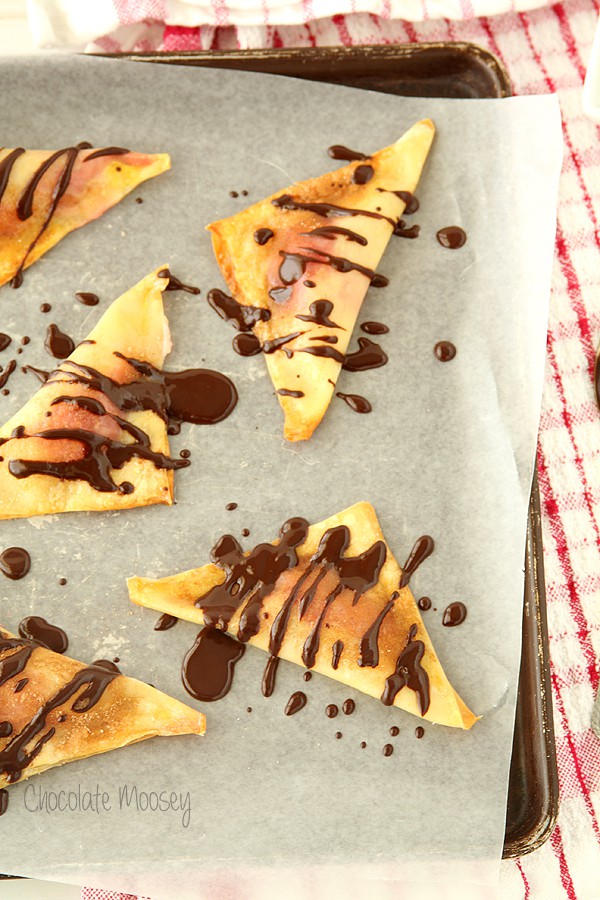 Of course no cherry cheesecake dessert is complete without chocolate of some sort. The dipping sauce gives you an excuse to play with your food. Much more fun (and much more chocolate) when you dip.
Not sure what to do with leftover cherry pie filling? I have a list of 10+
Cherry Pie Filling Desserts
you can make.
Don't want to make cherry? Substitute peach pie filling or apple pie filling.
More Cherry Pie Filling Recipes
Baked Cherry Cheesecake Wontons with Chocolate Dipping Sauce
The chocolate dipping sauce will thicken as it cools, so make the sauce right before serving the wontons.
Ingredients
Wontons
2 tablespoons heavy whipping cream
3 tablespoons granulated sugar
4 ounces cream cheese, softened
Few drops of vanilla extract
1/2 teaspoon ground cinnamon
12 wonton wrappers
1/4 cup cherry pie filling (homemade or canned)
1 teaspoon water
1 egg, lightly beaten with a fork
Chocolate Dipping Sauce
2 ounces semisweet chocolate, chopped
1/4 cup heavy whipping cream
Instructions
Preheat the oven to 375F. Line one cookie sheet with parchment paper.
In a small bowl, beat the cream until it thickens and stiff peaks form (when you pull the beaters straight up, peaks will form but not fall over). Set aside.
In a large mixing bowl, beat together the cream cheese and 2 tablespoons sugar until smooth and creamy, about 2-3 minutes. Scrape down the bowl as needed. Beat in the vanilla. Fold the whipped cream into the cream cheese mixture. Set aside.
In one small bowl, whisk together water and egg. In another small bowl, combine the remaining 1 tablespoon sugar and cinnamon.
Lay one wonton wrapper on a plate. Spoon about 2 teaspoons of the cheesecake mixture into the middle then add 1 teaspoon cherry pie filling on top. Brush the edge of the wrapper with some of the egg mixture. Take one corner and fold it diagonally to form a triangle. Press down to seal and place onto the cookie sheet. Repeat with remaining wontons.
Brush the wontons with the remaining egg mixture then sprinkle cinnamon sugar on top.. Bake for 15-18 minutes or until golden and crisp.
While the wontons are baking, make the chocolate dipping sauce. In a small heatproof bowl, add the chopped chocolate.
In a small saucepan, warm the heavy cream (but do not boil). Pour the cream over the chocolate. Let sit 1 minute then stir until melted and smooth. Serve immediately with the wontons. If it cools down and thickens too much, reheat.
This post may contain affiliate links. As an Amazon Associate and member of other affiliate programs, I earn from qualifying purchase.