No picnic is complete without Amish Macaroni Salad! This recipe is similar to Walmart's Amish Macaroni Salad with a dressing made of mayonnaise, mustard, vinegar, sugar, and smoked paprika.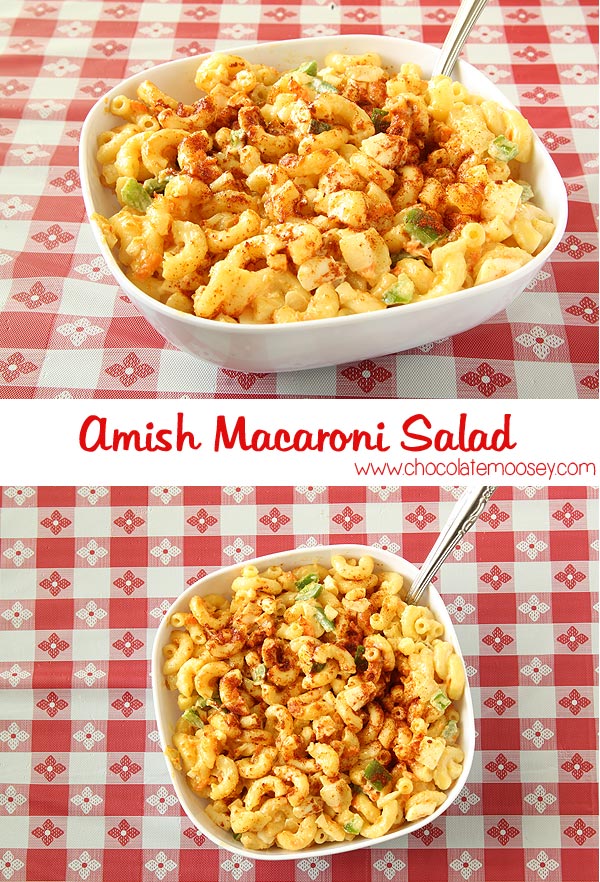 When I was in Ireland, I learned the first thing people think of when I tell them I'm from Pennsylvania is the Amish. Even when I was at
Kate Voegele's concert
, her opening act was amazed that she saw Amish people.
Now, Pittsburgh's side of the state isn't really Amish country; it's more towards the Lancaster area. However, I have seen Pennsylvania Dutch (dress like the Amish but believe in technology) near where I went to school and at the zoo on the carousel.
If there is one thing I'm glad they invented, it's their macaroni salad.
Amish macaroni salad? What is that, you ask. I have grown up eating this from the Walmart deli. Yes, I said Walmart deli. I have no clue if it's only our Walmarts or if all Walmarts sell it, but their macaroni salad is based off of an Amish recipe.
Additionally you can make Amish Potato Salad, also inspired by Walmart.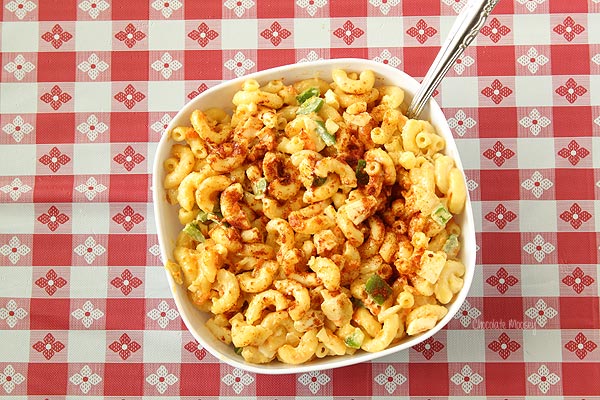 What is Amish Macaroni Salad?
Amish Macaroni Salad is similar to regular macaroni salad, but the dressing is made up of mayonnaise, mustard, vinegar, and sugar then dusted with some smoked paprika on top.
When I first posted this recipe, I talked about hating mayo. Truth was I hated Miracle Whip, which has less vegetable oil and isn't qualified to be called mayonnaise (hence it's called salad dressing).
I highly recommend using real mayonnaise instead of a substitute, but if you prefer the taste of Miracle Whip, you can use that instead.
The sugar in the dressing makes it sweet, so some people thought it was the right amount while others said I should cut back next time. It really comes down to how sweet your mayonnaise/Miracle Whip is and how much of a sweet tooth you have.
As always if you're unsure, start with a small amount, taste, and add more as necessary.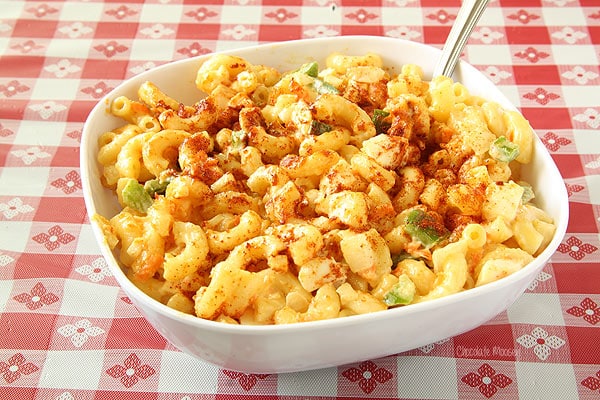 How To Make Amish Macaroni Salad
Making Amish Macaroni Salad is easy! While you wait for the pasta water to boil, chop the vegetables and whip up the dressing. By the time you add and cook the pasta, everything is ready to assemble.
Make sure you leave enough time to chill! Refrigerating it for at least an hour minimum (24 hours is preferred) before serving allows to flavors to develop. Plus who wants to eat warm pasta salad at a picnic?
More Macaroni Salad Recipes
Yields 4 servings
Amish Macaroni Salad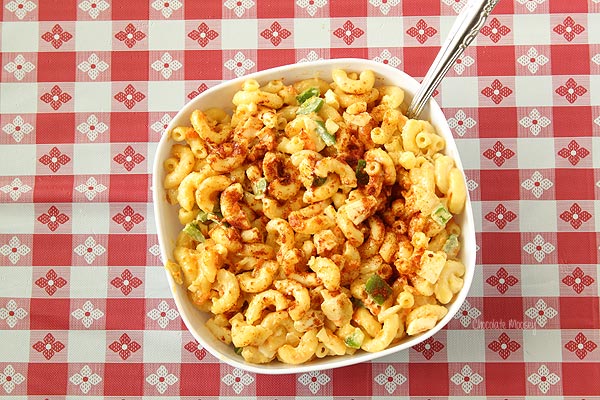 Ingredients
1/2 pound (8 ounces) uncooked elbow macaroni
1 cup mayonnaise
2 tablespoons granulated sugar
2 tablespoons yellow mustard
2 tablespoons white distilled vinegar
1 teaspoon smoked paprika
3 hard boiled eggs, chopped
1 large carrot, peeled and grated
1/4 cup chopped green bell pepper
1/4 cup chopped onion
Instructions
Bring a large pot of water to a boil. Once boiling, add a big pinch of salt and macaroni. Cook as directed on the package until al dente, roughly 10 minutes. Drain into a colander.
Meanwhile, in a large bowl, whisk together the mayonnaise, sugar, mustard, vinegar, and paprika.
Add the cooked macaroni to a large bowl. Mix in the eggs, carrot, green pepper, onion, and dressing. Dust with additional paprika on top, if desired.
Cover and refrigerate at 1 hour or until cold (24 hours is preferred).
7.8.1.1
3080
https://www.chocolatemoosey.com/2009/07/11/amish-macaroni-salad/