Stuffed Cabbage Soup
Love cabbage rolls but hate making them? Stuffed Cabbage Soup has the same ingredients as stuffed cabbage rolls – ground beef, rice, tomatoes, and cabbage – minus the extra time and effort to assemble them.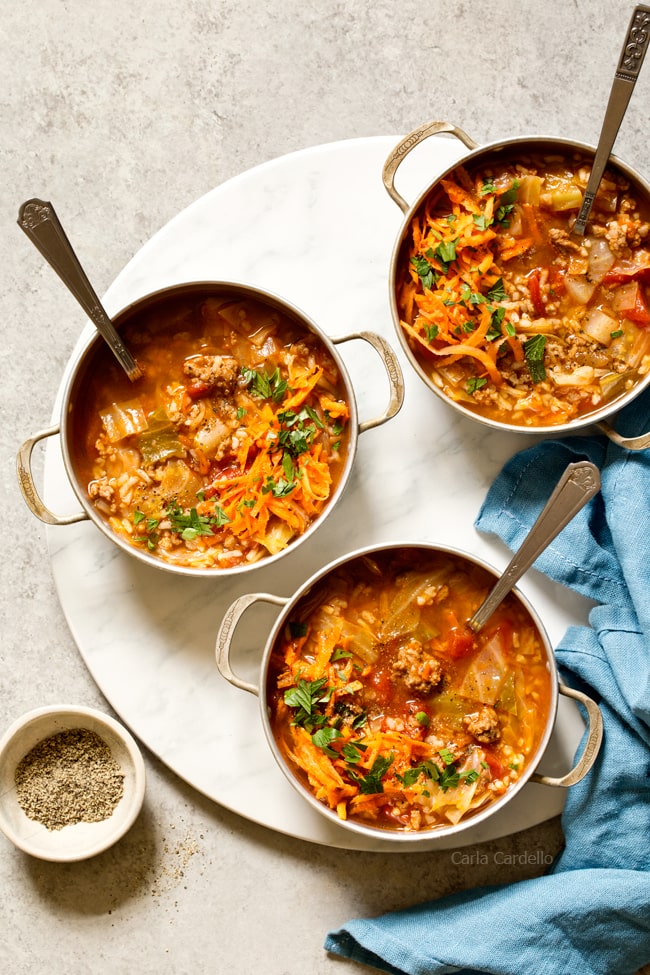 Considering how much everyone loves my haluski (
cabbage and noodles
), I'm hoping I have some stuffed cabbage lovers today.
I wasn't a big fan of stuffed green peppers growing up, but I loved cabbage rolls. Same concept, different vegetable. However, I hate making them.
I'm going to make a big assumption about you feeling the same way. Love eating them. Hate making them.
You need to make sure you have enough large, unripped cabbage leaves. Then you have to roll said leaves without tearing.
It may be fine for Sunday dinner, but not during the week when you're home from work and rushing around for your evening activities.
Or maybe you had a long day in general and don't want to work any harder than you have to. Is that too much to ask for?
That's why I love making this Stuffed Cabbage Soup. Throw everything into a pot and let it cook without attending to it.
All of the components are there – cabbage, ground beef, rice, and tomatoes. I added shredded carrots because every soup needs carrot.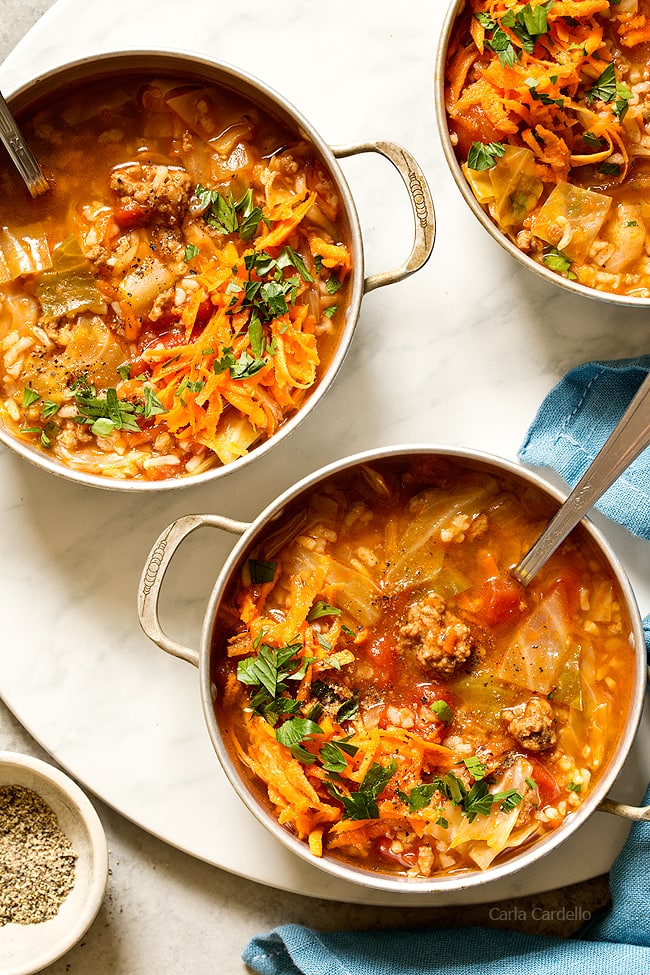 After launching my reader survey last month, I asked about frustrations you have in the kitchen.
One answer I read over and over is having a small kitchen with limited counter space. I wish I knew this before I moved because I, too, had a tiny kitchen. Just look at how much room I did (not) have for cutting up a watermelon: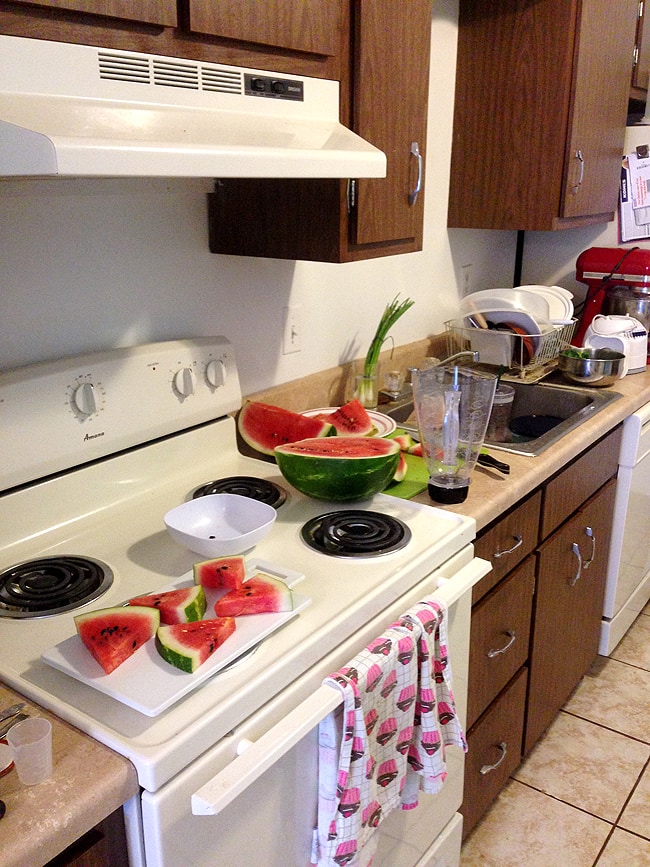 That counter in the middle is pretty much the only room I had for both prepping food and for stacking dirty dishes. I washed dishes at least 4-5 times a day because I had to keep making room. That meant the less dishes I used in the first place, the more space I had on my counter.
That's why this cabbage soup is made in one pot.
You don't need to cook the ground beef or cabbage separately. Even the rice can be cooked directly into the soup.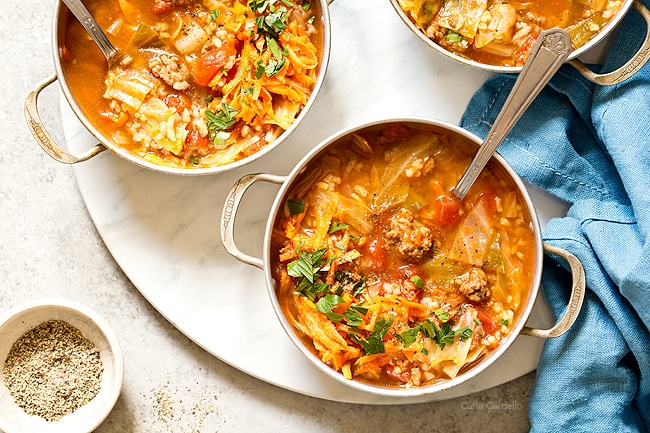 Speaking of cabbage, if you're cooking for 1-2 people, then you know how annoying it is to buy cabbage because they're huge; even the smallest head weighs about 2 pounds. Sometimes I find half a head of cabbage wrapped and sold, which is helpful for small batch cooking.
However, not every store does this. That's why when I do buy cabbage, I have at least 2-3 lefotver cabbage recipes on my menu plan.
Usually I make Haluski and Shrimp with Cabbage Noodles. When it's March, I make Stove Top Corned Beef and Cabbage.
Now I can add this cabbage soup to my rotation.
When I cut cabbage, I chop it up all at once then portion them into food containers. This is helpful for two reasons:
1 – You only need to use the cutting board and knife once, cutting down on future dishes. I do this for onions too, so there are meals where I don't have to cut anything at all.
2 – You save future prep time. The prep time on this soup recipe is a lot mainly because you have to cut the cabbage, but if it's ready to go, you save probably 20-30 minutes.
Not sure how to chop cabbage? Check out my step by step photo process on how to cut cabbage.
Want more soup recipes? Check out my Kohlrabi Soup and One Pot Lasagna Soup.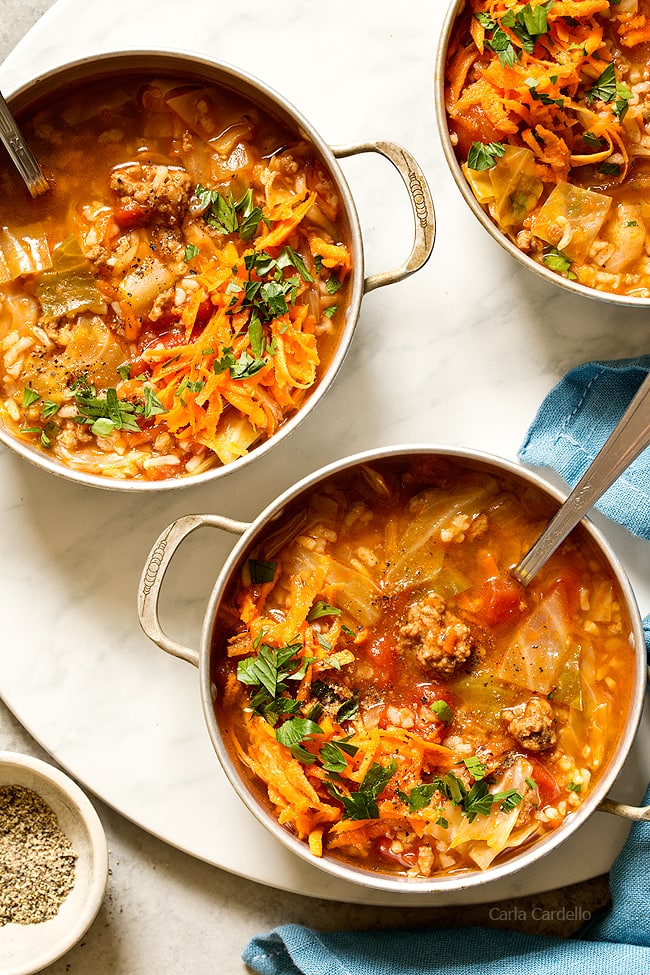 Stuffed Cabbage Soup
Yield: 4 servings
Prep Time: 45 minutes
Cook Time: 45 minutes
Total Time: 1 hour 30 minutes
Love cabbage rolls but hate making them? Stuffed Cabbage Soup has the same ingredients as stuffed cabbage rolls – ground beef, rice, tomatoes, and cabbage – minus the extra time and effort to assemble them.
Ingredients
1/2 pound ground beef
1/2 cup chopped onion
Salt
1 garlic clove, minced
1 (15 ounce) can diced tomatoes with juices
1 (8 ounce) can tomato sauce (roughly 3/4 cup)
3 cups beef broth or stock, room temperature (plus more for serving - see Note)
2 cups chopped green cabbage (roughly 1/2 pound)
1 cup uncooked white rice
1 large carrot, shredded
1 tablespoon brown sugar
1 tablespoon Worcestershire sauce
1/2 teaspoon ground black pepper
1 bay leaf
Chopped parsley, for garnish
Instructions
Heat a Dutch oven or large pot until hot. Add the beef, onion, and a pinch of salt. Cook until the beef is no longer pink, breaking it into pieces with a wooden spoon as it cooks. Drain off any excess grease.
Add the garlic and cook 60 seconds.
Stir in the tomatoes with juices, sauce, and broth/stock. Bring to a boil.
Once boiling, turn the heat down to simmer then stir in the cabbage, rice, carrots, brown sugar, Worcestershire sauce, black pepper, and bay leaf. Simmer uncovered for 15-20 minutes or until the cabbage is cooked and rice is soft, stirring occasionally.
Remove the bay leaf and taste the soup. Depending on the broth, you may need to add up to 1 teaspoon salt.
Remove from the heat and serve garnished with parsley.

As the soup sits, it'll absorb the broth/stock. If it's too thick for serving, add a little more liquid.
Notes
Have leftover cabbage? Check out my other cabbage recipes to use up the leftovers.
This post may contain affiliate links. As an Amazon Associate and member of other affiliate programs, I earn from qualifying purchase.