Chicken Parmesan Meatball Soup is a classic Italian dish in soup form – tomato soup with chicken meatballs and mozzarella cheese.
When you have a dream, do you think much of it?
I do. I believe our dreams are an extension of our subconscious.
Sometimes if a dream really sticks out, I'll look up the meaning. Other times, dreams can be pretty literal.
Take this Chicken Parmesan Meatball Soup for example. Want to know how I came up with the idea? I dreamed about making this soup.
That's right – I was developing recipes even while sleeping.
Earlier that same day, I made chicken parmesan meatballs for dinner. In my dream, I put them into tomato soup. Genius, right?
Once awake, I knew I had to make it, especially with the wind howling and snow piling high outside.
After working on it in the kitchen, I came up with a homemade tomato soup with chicken parmesan meatballs. Italian comfort food in a bowl.
Even though eating meatballs for dinner prompted this dream, I was curious and looked up its meaning.
Dreaming about soup means I'm longing for emotional hunger or nourishment, for comfort and healing.
Without getting into much private detail, that sounds pretty accurate. Plus it's been ridiculously cold out to the point where I want to eat soup every day, just to warm up.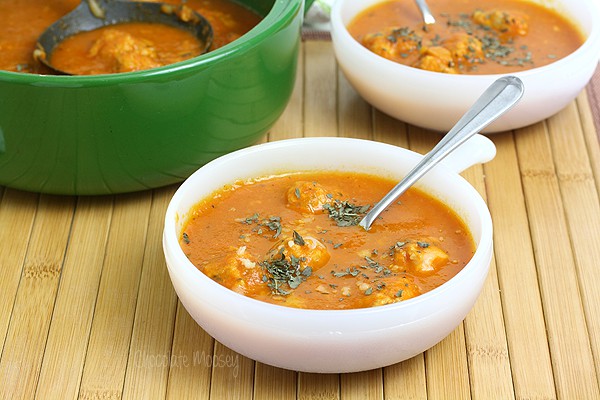 Since fresh tomatoes are hard to come by in the winter months (and yes I can absolutely taste the difference between grocery store and farm fresh), I opted for canned tomatoes.
As long as you use a high-quality canned version you enjoy, the soup still turns out great.
If you do have access to fresh tomatoes, even better.
To save time, I cooked the meatballs directly in the soup, just like I did with my
Italian Wedding Soup
.
That also means you can make the meatballs ahead of time and freeze raw. Just add a few extra minutes to the cooking time.
Chicken Parmesan Meatball Soup
Total Time:
1 hour
30 minutes
Chicken Parmesan Meatball Soup is a classic Italian dish in soup form – tomato soup with chicken meatballs and mozzarella cheese.
Ingredients
Meatballs
1/2 pound ground chicken, thawed
1/4 cup Panko breadcrumbs or crushed cornflakes
1/4 cup finely chopped onion
1 clove garlic, minced
2 tablespoons parmesan cheese
1/2 teaspoon salt
1/2 teaspoon dried basil
1/2 teaspoon dried parsley
Soup
1 tablespoon olive oil
1 tablespoon butter
1/2 cup chopped onion
2 garlic cloves, minced
2 tablespoons tomato paste
3 cups chicken broth
14 ounces canned tomatoes with juice
1 teaspoon granulated sugar
1/2 teaspoon dried basil
1/2 teaspoon dried oregano
1/2 teaspoon dried thyme
1/4 teaspoon paprika
1/2 teaspoon salt
1/4 cup shredded mozzarella cheese (plus more to garnish)
Instructions
For the meatballs: In a large bowl, mix together the chicken, breadcrumbs, onion, garlic, parmesan cheese, salt, basil, and parsley. Make 1-inch meatballs then place on a plate or tray. Keep refrigerated while you make the soup.*
For the soup: In a large Dutch oven, heat up the oil and butter until melted. Add the onion and cook until soft, 5-8 minutes. Add the garlic and tomato paste and cook 30 seconds. Slowly whisk in the chicken broth then stir in tomatoes, sugar, basil, oregano, thyme, paprika, and salt. Bring a boil then turn down to a simmer and cook 30 minutes.
Add the soup mixture to a blender and puree until smooth. Be careful - because the mixture is hot, it will expand greatly in the blender when you turn it on. If needed, puree in two batches. Add back to the pot and bring to a boil.
Once boiling, add the meatballs. Cook 7-10 minutes or until the meatballs are fully cooked. Stir in the cheese until melted. Serve in bowls and garnish with extra mozzarella cheese.
Notes
*If you are making the meatballs ahead of time, freeze individually on baking sheets (or plates that fit in your freezer). Once frozen, place in a freezer bag. Add an extra 5 minutes to the cooking time.
If you enjoyed this Chicken Parmesan Meatball Soup, you may also enjoy these recipes:
From me: