Stove Top Corned Beef and Cabbage with carrots and potatoes is a hearty St. Patrick's Day dinner using the boiling method.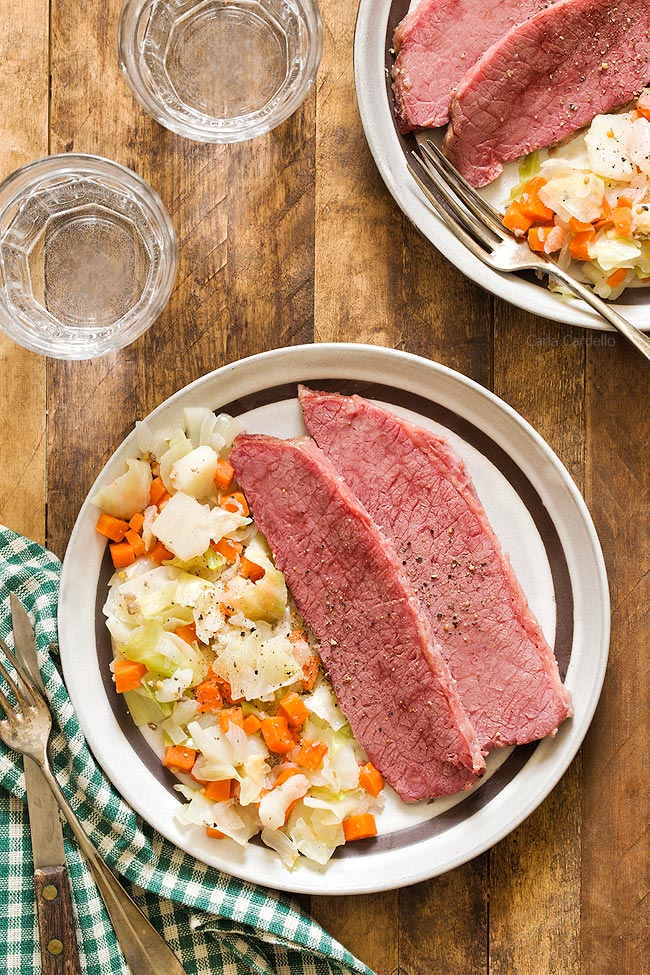 It never fails.
Every March, I get a message from my parents asking when they can come over so I can make them stove top corned beef and cabbage for St. Patrick's Day.
We usually pick the Saturday closest to St. Paddy's Day.
Corned beef and cabbage on the stove top is a once a year meal for me, mostly because it takes forever to cook.
Then I started thinking about how it's usually a large meal and not friendly for small families. That's why I wanted to make a small Corned Beef and Cabbage For Two.
It really is possible to have it for St. Patrick's Day without feeding an army!
This corned beef and cabbage recipe is what I make every March except I scaled down the ingredients including the potatoes, carrots, and cabbage to make it more dinner for two friendly.
Serving sizes will heavily depend on the smallest size of corned beef you can find. I included what to do with leftover corned beef if your brisket happens to make too much.
Don't want corned beef? You can also cook Shepherd's Pie For Two or Baked Fish And Chips for St. Patrick's Day.
Do they really eat corned beef and cabbage in Ireland for St. Patrick's Day?
No, surprisingly corned beef and cabbage is not an authentic Irish dish.
When the Irish first immigrated to the US, they couldn't afford much so they bought the cheapest cut available: beef brisket. It was paired with cabbage because it was the cheapest vegetable around.
We eat it for St. Patty's Day because of its Irish American origins.
What is corned beef?
Corned beef is beef brisket which has been cured in corn-sized pieces of salt.
Because making your own corned beef takes a long time to make, you can easily buy already cured corned beef at the store to save time.
What is the best cut of corned beef to buy?
When you buy a small corned beef, you'll see two types of cuts – flat cut and point cut.
Flat cut brisket is when the meat is mostly flat with a layer of fat on one side. It's leaner than point cut, making it ideal for slicing. You want to buy flat cut brisket for your corned beef and cabbage.
Point cut brisket is when the meat comes to a point at the end. It has a lot of fat running through it, making it nice and juicy after cooking. This cut is ideal for shredding, which you don't want for this particular recipe.
You'll see flat cut more available than point cut, so that should make shopping for this recipe easier.
How much corned beef per person?
Buying corned beef is a big challenge when cooking dinner for two. It'll heavily depend on what is available at the store.
Ideally you want a 2 pound brisket, 2 1/2 pounds at the most when serving two people. Corned beef will shrink after cooking, so don't freak out about the size when you buy it.
If you cannot find corned beef small enough, buy the smallest one you can then refer to my list of leftover ideas below.
Do you rinse corned beef before cooking?
If you buy already-cured corned beef, you don't have to rinse it before cooking.
However, if you make homemade corned beef then you may want to rinse off the extra salt.
Do you leave the fat on corned beef?
Leave the fat cap on for cooking as the fat adds flavor. However, for serving you may trim it off.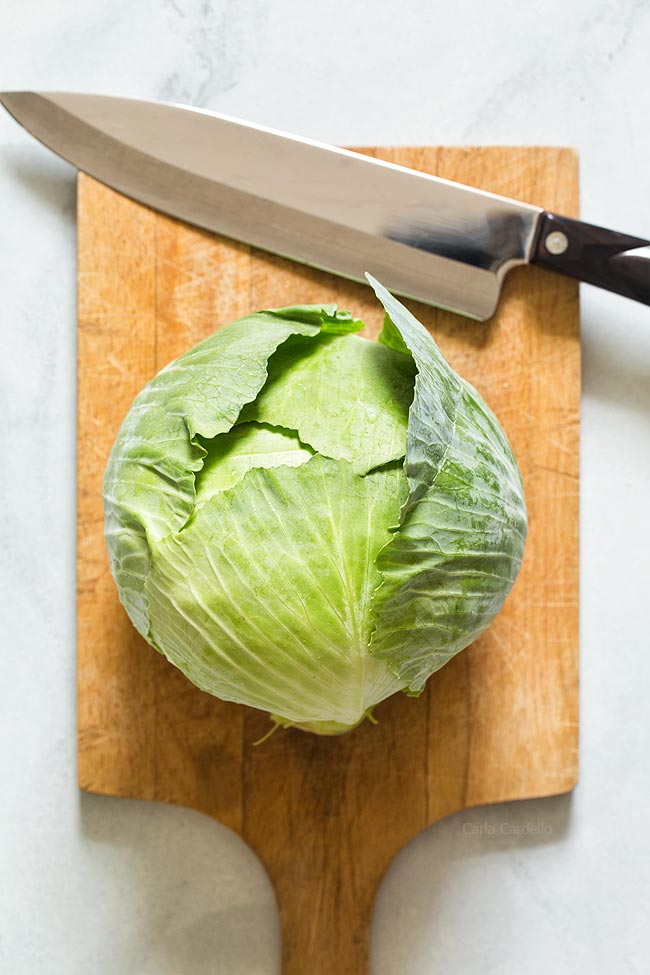 How To Cut Cabbage For Corned Beef
You can't serve corned beef without cabbage! Make sure your knife is sharpened since you'll need to use some force to cut through.
Not entirely sure how to prep your cabbage? The steps of cutting cabbage for corned beef are:
Cut your cabbage in half.
Cut each half into half, resulting in 4 quarters.
Remove the core from each quarter.
Cut each quarter into slices then cut the slices into squares.
I wrote a step by step guide on how to cut cabbage with photos included.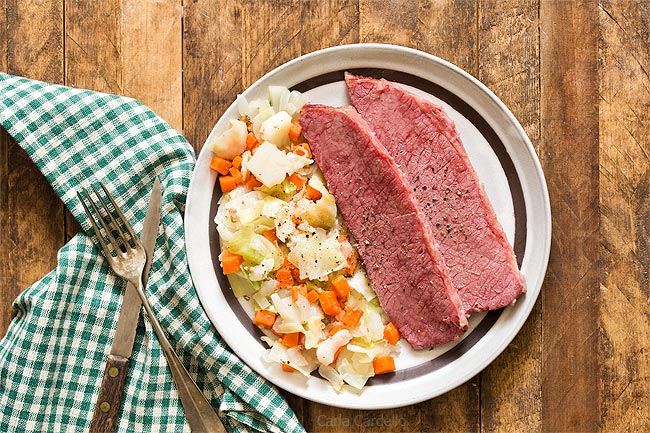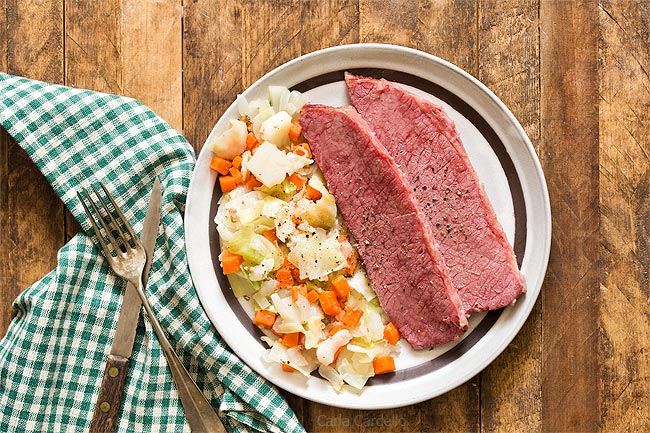 How To Make Stove Top Corned Beef and Cabbage
One way to cook corned beef and cabbage is on the stove top in gently boiling water.
Some people do frown upon boiling the meat, but I've used this method for years. As long as your water is flavorful from salt and spices, it won't be bland.
You also want to make sure you don't overboil the meat. You can ensure this by turning the heat down to low.
Don't speed up the process; it's going to take 3 hours. No way around that (except maybe a pressure cooker).
First, you need a giant pot with a lid to hold both your small corned beef and vegetables. I personally use a 5.5 quart Dutch oven (Amazon affiliate link).
Add the meat to your pot then cover with water. It may still float a little, but you want to submerge it as much as possible.
If you bought already-cured corned beef, it should come with a small packet of spices. Make sure you add those along with some bay leaves.
Bring the meat to a boil. Once boiling, turn the heat down to low and cover with a lid. Simmer for 2 1/2 hours, flipping the meat occasionally if the top is peeking out.
Keep an eye on the water level. If it gets too low, add more water to cover.
After 2 1/2 hours, add the vegetables. Bring back to a boil and cook uncovered until the vegetables are tender, about 15-20 minutes.
Drain into a colander then serve, discarding the bay leaves.
What do you serve with corned beef and cabbage?
Sticking with the St. Paddy's Day theme, serve your stove top corned beef and cabbage with mini Irish Soda Bread or Irish Soda Bread Muffins.
For dessert, serve it with Chocolate Guinness Cake or Chocolate Guinness Mousse For Two.
How do I use up extra cabbage?
Cabbage is one of those vegetables where you simply can't buy a small size; usually the smallest is around 2 pounds.
That's too much for one recipe, so here are recipes using leftover cabbage.
What To Do With Leftover Corned Beef

Because you're at the mercy of whatever size cut the store sells, you may or may not have leftover corned beef. Here are some recipes using leftover corned beef:
Stove Top Corned Beef and Cabbage
Total Time:
3 hours
30 minutes
Stove Top Corned Beef and Cabbage with carrots and potatoes is a hearty St. Patrick's Day dinner using the boiling method.
Ingredients
2 - 2.5 pounds flat cut corned beef brisket
1 packet of spices (should be included with corned beef)
2 bay leaves
1 teaspoon kosher salt
1 teaspoon coarsely cracked black pepper
1/2 pound Russet potatoes, peeled and diced (roughly 1-2 potatoes)
2 cups chopped cabbage (roughly 4 ounces) (read How To Cut Cabbage for help)
1 cup diced carrots (1-2 large carrots)
1/2 cup diced onion (roughly half small onion)
Instructions
Place the corned beef, packet of spices, bay leaves, black pepper, and salt in a pot large enough to hold the meat and vegetables. Add enough water to submerge the meat (it may float and peek out on top). Bring to a boil.
Once boiling, turn the heat down to low and cover with a lid. Cook the meat for 2 1/2 hours, flipping occasionally if the meat is peeking out. The water should be simmering the whole time. If the water gets low, add more water.
Remove the lid and add the potatoes, cabbage, carrots and onion. Bring back to a boil. Once boiling, cook uncovered 15-20 minutes or until the vegetables are fork tender.
Drain and remove the bay leaves. Slice the corned beef against the grain and serve with vegetables.

Recommended Products
As an Amazon Associate and member of other affiliate programs, I earn from qualifying purchases.
Recipe adapted from
Alton Brown
Originally published March 5, 2020