Chicken Pot Pie Soup with Cheddar Biscuits
Craving chicken pot pie but don't have time to make it? This Chicken Pot Pie Soup recipe with cheddar biscuits has all of your favorite ingredients in one bite without having to make a pie crust. Ideal comfort food as the weather gets colder!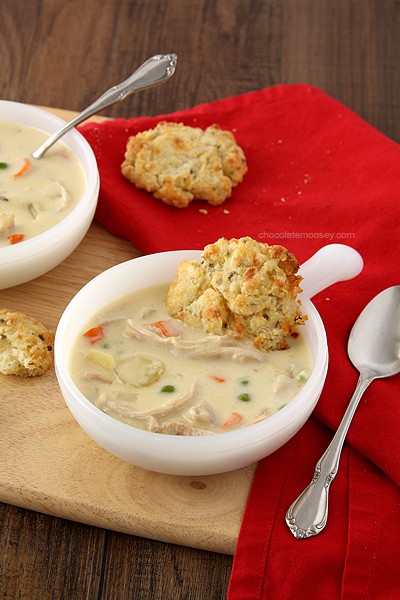 It's funny; Growing up, I never considered soup a meal. When I started cooking for myself in college, I only ate soup if I wasn't feeling well. Most of the time, it was the cheap 20 cent ramen noodle soup.
Fast forward to now where all I crave for dinner is soup. As soon as there is a chill in the air, I'm making one pot lasagna soup at least once a week. Have a bunch of ingredients but don't know what to make? Throw it into a soup and call it good.
I even eat Homemade Tomato Soup in the summer after I come home from the farmer's markets with tomatoes galore. If you haven't tried it with heirloom tomatoes, you're missing out big time.
Soup is also an excellent way to eat your favorite comfort meals when you don't have time to make the real thing. Take chicken pot pie for example. You have to make not one but two pie crusts, chill them, then roll them out in addition to making the actual filling.
When you had a long day at work, you're tempted to make the filling and skip the whole pie part altogether. But then you can't help but miss the crust.
That's where this Chicken Pot Pie Soup For Two with Cheddar Biscuits comes into play. It may not be authentic, but the cheddar biscuits more than make up for the lack of crust. Who cares when it tastes this good, right?
As an adult, I get cravings for food I was never fond of as a kid. I tend to crave chicken pot pie. A lot.
As a kid, my parents served me those frozen mini pot pies in the famous red box. I claimed I hated pot pie, but that wasn't true; I just never had a good one until my dad and I visited Philadelphia.
For some reason, the waiter convinced me to try the turkey pot pie with a puff pastry crust. And I haven't stopped craving pot pie since.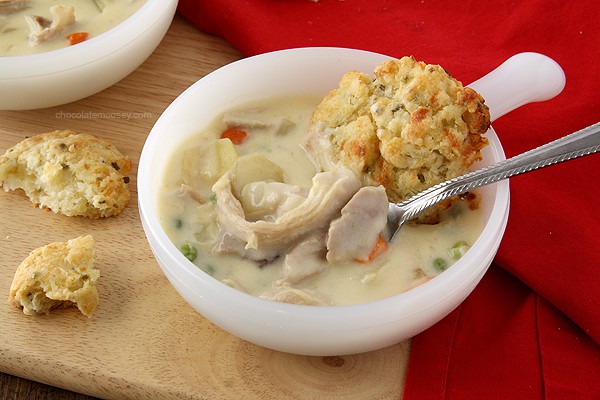 What vegetables should I put in my chicken pot pie?
Traditionally you add carrots, onion, garlic, potatoes, and peas. I'm not a big celery fan, but if you are, slice one celery rib and cook it with the carrots.
How should I cook the chicken for pot pie?
When I first published this recipe, I made it by separately cooking chicken quarters first, shredding them, then adding to the soup at the end. I updated the recipe and reduced the time by cooking chicken breast directly into the pot. Bonus – less dishes to wash!
However, you can speed the cooking time up even more by using leftover chicken from another meal, rotisserie chicken, or even leftover Thanksgiving turkey.
Other Ways To Eat Chicken Pot Pie:
Chicken Pot Pie Soup
Yield: 4 servings
Prep Time: 30 minutes
Cook Time: 30 minutes
Total Time: 1 hour
Craving chicken pot pie but don't have time to make it? This Chicken Pot Pie Soup For Two recipe with cheddar biscuits has all of your favorite ingredients in one bite without having to make a pie crust.
Ingredients
2 tablespoons vegetable or olive oil
1 small boneless skinless chicken breast patted dry, cut into 1/2 inch pieces, and lightly salted
1/2 cup diced onion
1 large carrot, peeled and diced
1 garlic clove, minced
1/4 cup all purpose flour
3 cups chicken stock or broth
1 large Russet potato, peeled and cubed
1/2 cup frozen peas
1/2 cup whole milk
Salt to taste, preferably kosher
Biscuits
2 tablespoons cold unsalted butter, cut into 4 pieces
1/2 cup all purpose flour
1/2 teaspoon baking powder
1/4 teaspoon salt
1/4 cup shredded cheddar cheese
1/4 cup heavy whipping cream
1 tablespoon chopped fresh chives or green onion
Instructions
Preheat oven to 425F and line a baking sheet with parchment paper. You will be making the biscuits while the soup is cooking.
In a Dutch oven or large pot, heat 1 tablespoon oil. Once hot, add the chicken in a single layer. Cook for 3-4 minutes or until brown then flip and cook until no longer pink in the middle, another 3-5 minutes. Transfer the chicken to a bowl and keep warm.
Add the remaining 1 tablespoon oil to any meat drippings left in the pan. Once hot, add onion, carrots, and a big pinch of salt. Cook until softened, about 5 minutes. Add the garlic and cook 30 seconds.
Stir in the flour until everything is coated and a roux (paste) is formed. Slowly whisk in the broth, scraping up any brown bits left on the bottom of the pan. Bring to a boil.
Once boiling, turn the heat down to a simmer and add the potatoes and a big pinch of salt. Cook until the potatoes are soft, about 10-12 minutes.
Stir in the cooked chicken, peas, and milk. Heat until hot. Taste and add salt as necessary. Depending on how salty the broth is, you may need to add up to 1/2 teaspoon.
While the soup is cooking, make the biscuits: In a large bowl, combine the butter, flour, baking powder, and salt. Cut with a pastry cutter until the mixture is crumbly and looks like small pebbles. Stir in the cheese, chives, and cream until moistened.
Divide the dough into four pieces and freeform shape into biscuits.
Bake for 10-12 minutes or until golden brown. Cool for 5 minutes then serve warm with soup.
Source: Adapted from
Food Network
Recipe updated 1/15/18
This post may contain affiliate links. As an Amazon Associate and member of other affiliate programs, I earn from qualifying purchase.