New to canning? This Small Batch Strawberry Jam is the perfect recipe for beginners. No pectin added and only makes one 6-ounce jar.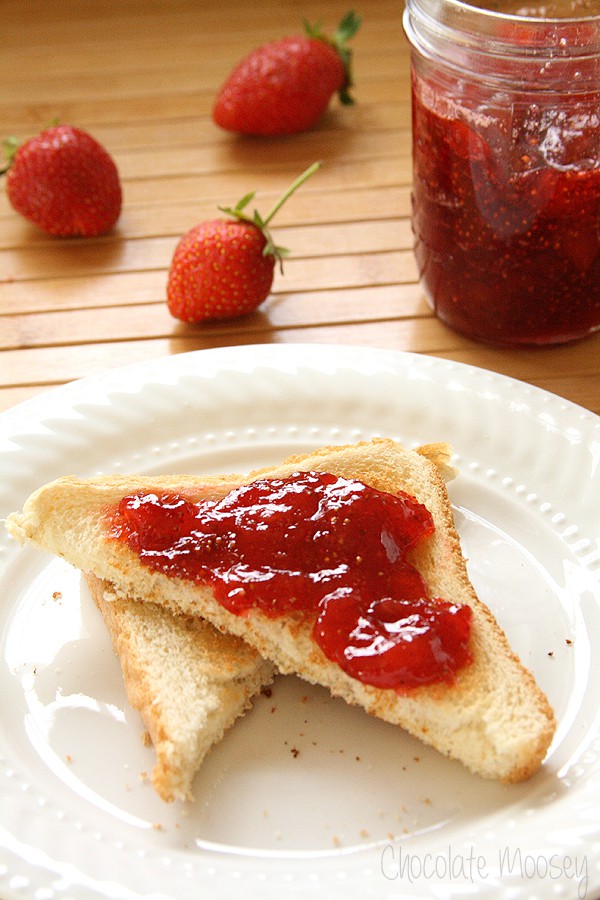 As I continue celebrating Strawberry Week at Chocolate Moosey, I made some Small-Batch Strawberry Jam. My first official Holiday Recipe Club post (update: group no longer around). But it's June 5, you ask. What are we celebrating? The Queen's Diamond Jubilee, which is the celebration of the Queen and her country in the UK. What better way to celebrate England than with jam? I've been making this strawberry jam for several years now and wanted to share it. This recipe is perfect for those new to canning because it is a very easy technique and no pectin added.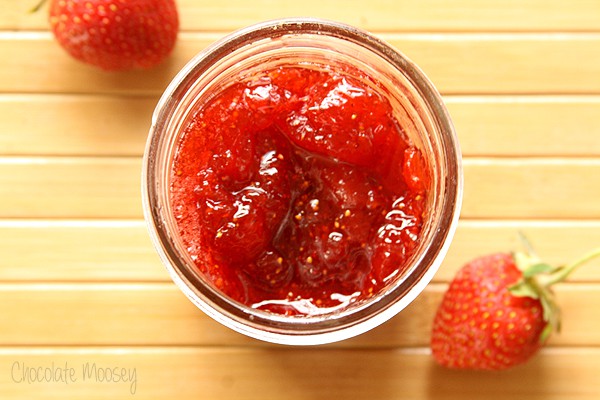 This was my first recipe where I learned how to seal jars. It can be a scary concept because there are possibilities of cross-contamination and jars not sealing properly, leading to possible food-borne illnesses. You need to sterilize anything that comes in contact with the inside of the jar (lids, jar, tongs, funnel). Although there is fancy equipment, I just use a big pot of boiling water and kitchen tongs. When in doubt, refrigerate your finished product. If you have no desire to can, just make the jam as directed and store in a heat-proof container. Let cool to room temperature before putting it in the fridge.
Most jam recipes make tons and tons of jars to keep and give away, but sometimes you don't feel like dealing with the hassle. This recipe makes one small 6-ounce jar. That's it. Enough to last this moose all week for breakfast. You don't need to add pectin because strawberries have natural pectin in them. Just make sure you add a few not-quite-ripe ones because they have a bit more pectin. About two or three big ones should do.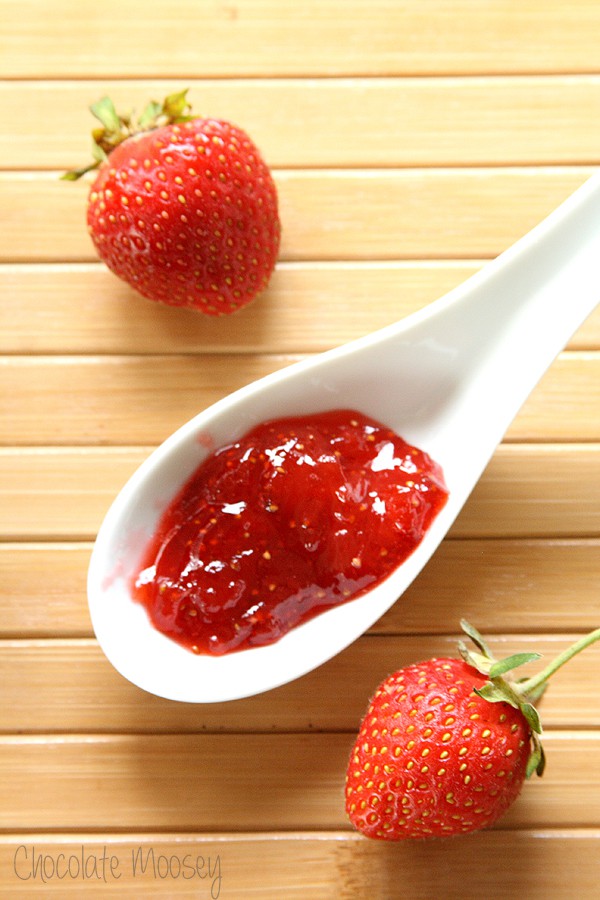 Keep the proportion of the ingredients as I have written. Even if the berries are a little sweet, you need the sugar to ensure the jam thickens. It's more than just a sweetener; the sugar is a preservative. When the strawberries are cooked, they release water. The sugar bonds with the water and helps prevent the growth of microorganisms. The acid from the lemon juice also helps with the gelling process.
Now before you run out and spend your paycheck on jars, check your local flea markets and thrift stores first. I've gotten jars anywhere from 25 cents to $1.00 each. Jars can be reused indefinitely, as long as there are no cracks. However, you do have to replace the lids every so often. I highly recommend if you buy used jars, throw away all of the lids and buy new ones. Lids can be found in the kitchen section of Walmart and Target.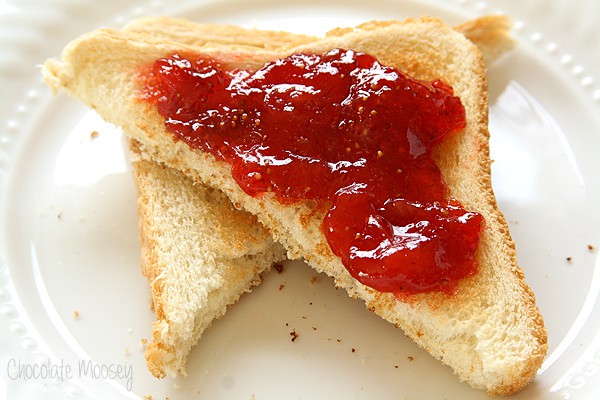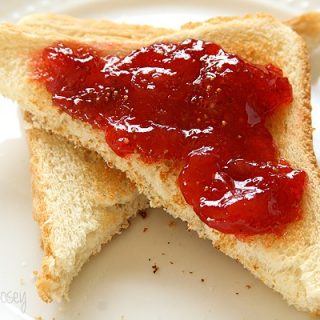 Small-Batch Strawberry Jam
Yield: 6 ounces

Prep Time: 15 minutes

Cook Time: 15 minutes

Total Time: 30 minutes

New to canning? This Small Batch Strawberry Jam is the perfect recipe for beginners. No pectin added and only makes one 6-ounce jar.
Ingredients
2 cups sliced strawberries
3/4 cup sugar
1 tablespoon lemon juice
One 6-ounce glass mason jar with two-piece lid, washed with soap and hot water
Instructions
Place jar and lid pieces into a large pot of boiling water deep enough for the jar to be completely submerged in water. Once the water is boiling, leave the jar in there until ready to use.
Place a small dish into the freezer to use for testing the jam.
In a large deep skillet, add strawberries, sugar, and lemon juice. Heat and stir until it reaches a rolling boil. Boil and stir until it thickens, 10 minutes. When it seems like it is gelling, take your plate out of the freezer. Put a small spoonful of the jam onto the plate and let sit for 30 seconds. Tilt it. If it slides too fast, keep cooking. If it moves slow, it is done. Test every minute or two and do not overcook it.
Remove the jar and lids from water and drain out all of the water from the jar. Keep the water boiling. Spoon the jam into the jar. Wipe excess jam off the rim of the jar so it will seal properly. Add the lid. You may want to use an oven mitt so you can hold the jar still.
Place sealed jar back into the boiling water and boil for 15 minutes. Make sure it is submerged in the water. Remove from the water and let dry on a heat-resistant surface for 18-24 hours. Once cool, press down on the lid. If it stays down, it is sealed. If it pops back up, put in the refrigerator and use within two weeks.

Source: YouTube video
—-
Want more strawberry recipes? Then you will want to make these soon:

Peach Honey Jam

Vegan Strawberry Curd

Strawberry Swirl Cheesecake (can use jam)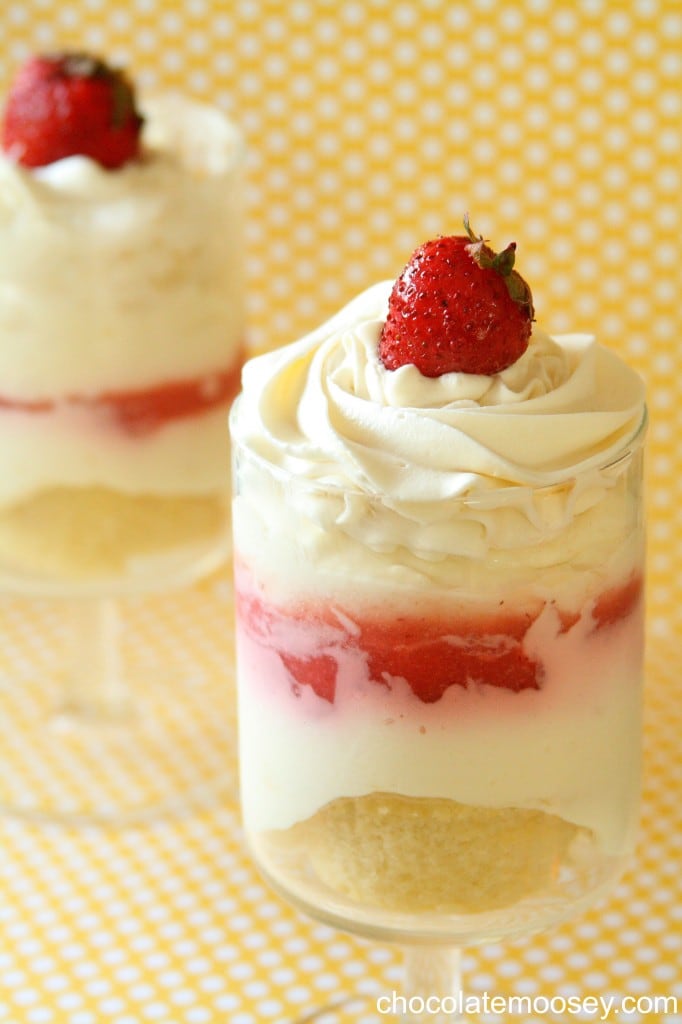 Strawberry Cheesecake Parfaits (can use jam)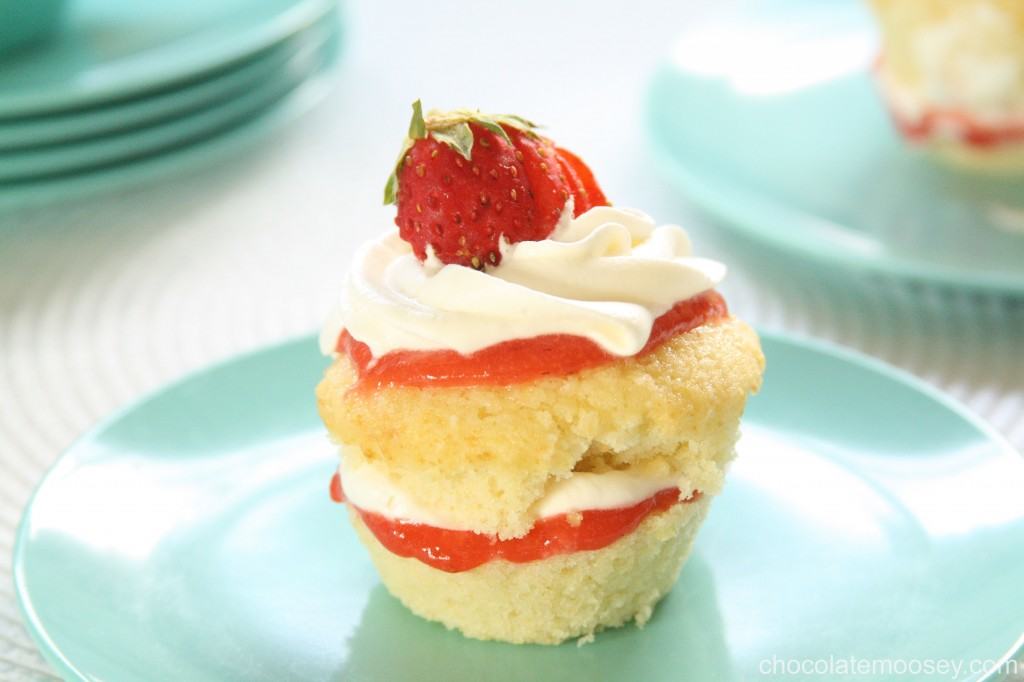 Strawberry Shortcake Cupcakes (can use jam)

Strawberry Lemonade Cupcakes