Cranberry Apple Crisp
Stuck with extra cranberries and tired of cranberry sauce? Throw together this easy small batch Cranberry Apple Crisp with pecans. Warm and comforting in every bite!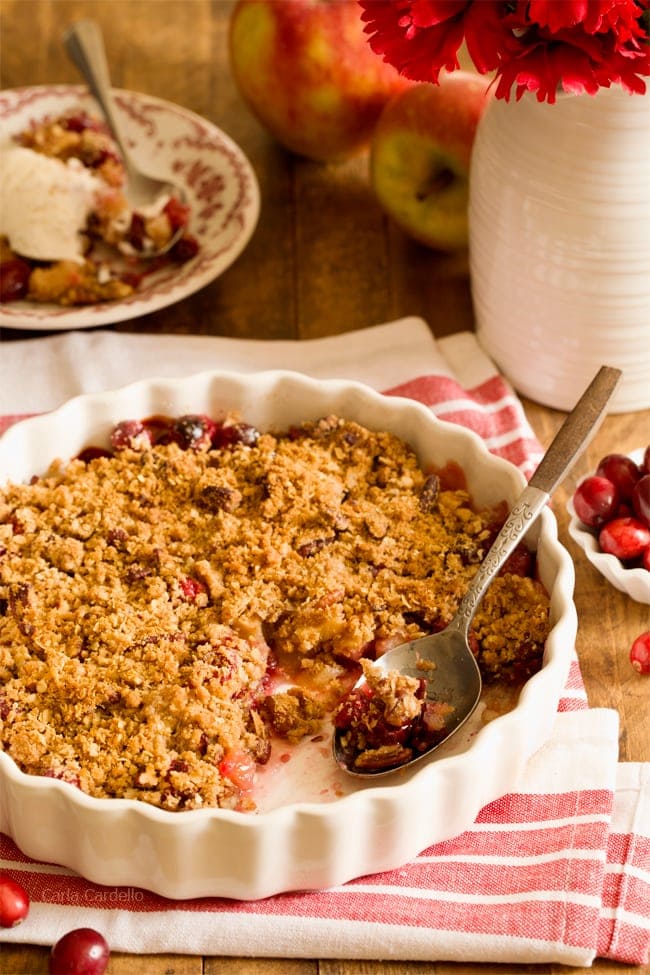 Every
Thanksgiving
, this scenario happens.
I buy a big bag of cranberries to make homemade cranberry sauce.
I end up with a ton of cranberries leftover. Sure I could freeze them, but then I end up throwing them out 6 months later anyway.
I can always make more cranberry sauce and use on top of Cranberry Baked Brie. That's usually a good dinner, er I mean snack option you're supposed to share with other people.
But with Thanksgiving coming up soon, I wanted to make a cranberry dessert as a sigh of relief from the traditional pumpkin pie.
Not that there's anything wrong with pumpkin pie, but sometimes you want to break up the monotony.
This Cranberry Apple Crisp has all the flavors of fall in one bite. The sweetness from the apples helps balance out the tartness from the cranberries. Then you have crunchy pecans on top. Warm and comforting at its finest.
The recipe makes a small batch, about 4 servings or so. It's ideal when you don't want too much leftover but at the same time want more than one bowlful.
You can also serve it with your Thanksgiving Dinner For Two or even Christmas For Two.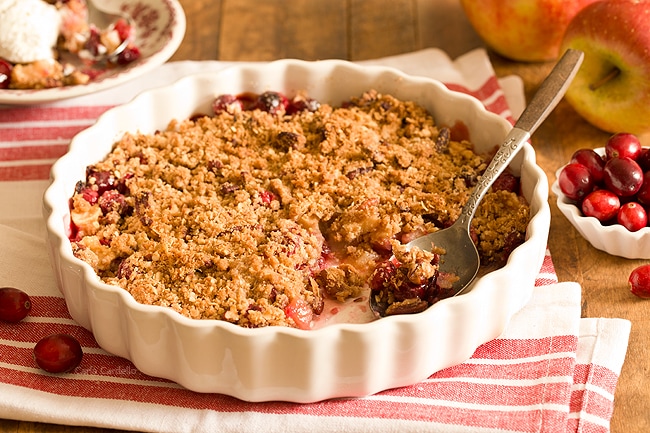 What makes a crisp a crisp and not a cobbler or a crumble or a grunt or a…?
A crisp is a cooked fruit filling with a streusel topping, like my pear crisp. The difference between a crisp and a crumble is crisps have oats.
Fruit crisps are one of the easiest desserts to throw together when you don't have a lot of time. I won't say it's the quickest recipe because it takes almost an hour to bake, but prepping is fast. Toss everything together then bake. No need to cook the filling separately.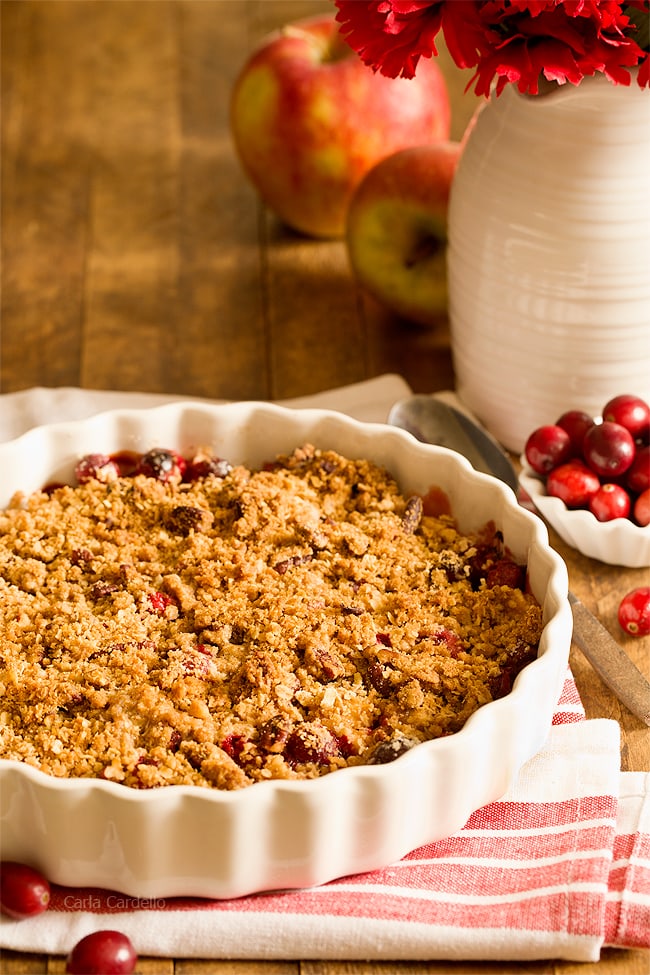 Fresh cranberries are in season from roughly October until December and can found in the berry section of your grocery store (which makes sense because they're calling cran-BERRIES).
If you are having trouble finding them – out of season, sold out, whatever – you can use frozen cranberries. Make sure they are completely thawed, drained, and patted dry as much as possible.
Don't have cranberries? Check out my apple crisp for two.
Cranberry Apple Crisp
Yield: 4 servings
Prep Time: 30 minutes
Cook Time: 1 hour
Total Time: 1 hour 30 minutes
Ingredients
2 cups fresh cranberries
2 cups peeled and chopped apple
1/2 cup granulated sugar
1 tablespoon cornstarch
1 teaspoon vanilla extract
Crisp Topping
1/4 cup packed brown sugar
1/4 cup all-purpose flour
1/4 cup rolled oats
1/4 cup chopped pecans
1/2 teaspoon ground cinnamon
2 tablespoons cold unsalted butter, cut into 2 pieces
Instructions
Preheat oven to 350F. Have 1 quart casserole dish, 8x8 pan, or 9 inch pie plate ready.
In a large bowl, mix together the cranberries, apple, sugar, cornstarch, and vanilla.
In another bowl, make the topping by mixing together the brown sugar, flour, oats, pecans, and cinnamon. Using a pastry blender or two knives, cut in the cold butter until the mixture resembles small pebbles.
Transfer the cranberry mixture to the pan. Top with crisp topping.
Bake for 50-60 minutes or until the mixture is bubbly and the topping is golden brown. Cool for 15 minutes then serve warm or at room temperature.
This post may contain affiliate links. As an Amazon Associate and member of other affiliate programs, I earn from qualifying purchase.