S'mores Blossom Cookies
Are you ready for some football (and some Smores Blossom Cookies)? Today is the big Super Bowl here in the US. Honestly, I'm not sure if I'm even going to watch it. First, the Steelers didn't make it. Then the Ravens are playing (boo). Nobody is coming over for the game. But that's not going to stop me from eating delicious game day food. Need a quick dessert? These S'mores Blossom Cookies take little effort and make four dozen cookies. I took the classic peanut butter blossom cookies, used cookie butter, and toasted some marshmallows.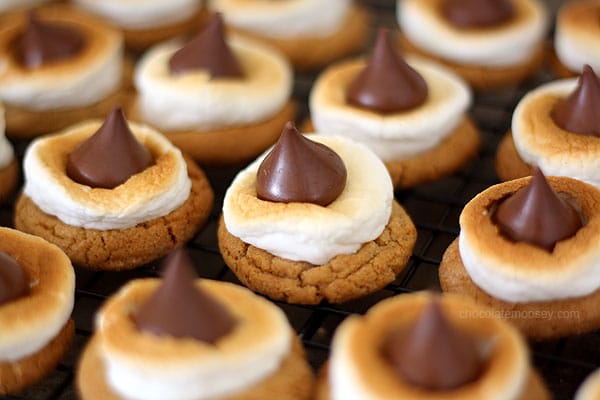 How popular are these cookies? I took almost all four dozen cookies to my parents last week because I didn't have time to divide who gets what. I came back to my place with half. Then that half disappeared in only one day at work. Then I made them again for my work's Super Bowl potluck and quickly vanished. Very popular indeed.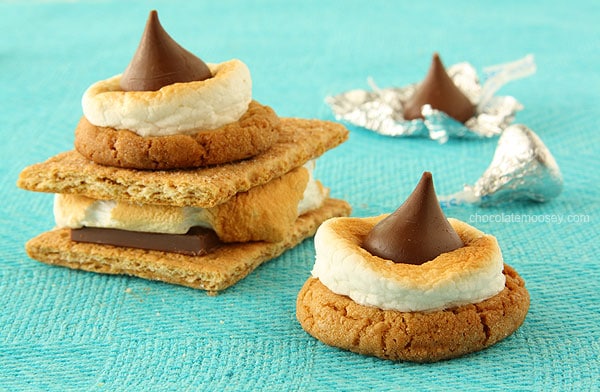 Cookie butter is still a new concept to most. If you're wondering what it is, it has the consistency of peanut butter but tastes like a cross between graham crackers and gingersnap cookies. Trader Joe's has their own brand and refer to it as Speculoos Cookie Butter. Other stores like Walmart have the brand name Biscoff located in the peanut butter aisle. There is a slight difference in consistency between TJ and Biscoff because they are made with slightly different cookies, but for the sake of this recipe, both work just as well.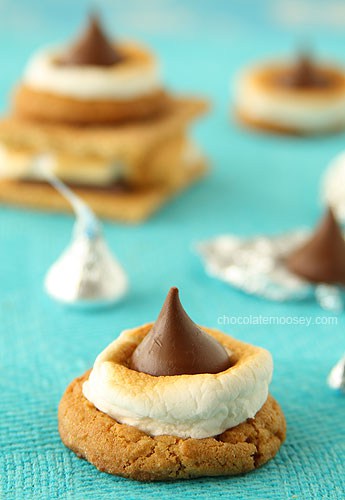 And if you cannot find or don't want to use cookie butter, you can use peanut butter. It won't have the graham cracker taste like a true smores, but it will still be pretty darn tasty.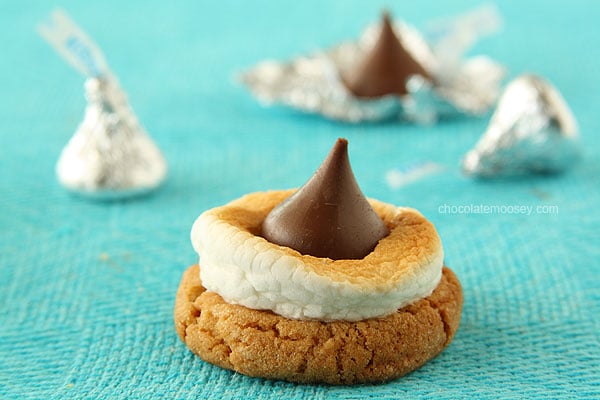 Smores Blossom Cookies
S'mores Blossom Cookies made with cookie butter, marshmallow, and Hershey kiss
Ingredients
1 1/2 cups flour
1 teaspoon baking soda
1/2 teaspoon salt
1/2 cup unsalted butter
3/4 cup cookie butter*
1/3 cup granulated sugar (plus more for rolling)
1/3 cup brown sugar
1 egg
2 Tablespoons milk
1 teaspoon vanilla extract
24 large marshmallows, cut in half
48 chocolate kisses, unwrapped
Instructions
In a small bowl, whisk together the flour, baking soda, and salt. Set aside.
In a large bowl, beat together the butter and both sugars until light and creamy, about 2-3 minutes. Beat in the egg, milk, and vanilla. Gradually add in flour mixture. Refrigerate for 1 hour or until firm.
Preheat oven to 375F degrees. Line 2-4 baking sheets with parchment paper.
Pour some sugar into a small bowl. Shape the dough into 1-inch balls, roll them in the sugar, then place them on the trays. Bake 8-10 minutes or until lightly browned. Immediately press one marshmallow half cut-side down onto each cookie, gently pressing down. Wait a few minutes then place the cookies onto a cooling rack. Repeat until all of the cookies are baked.
Turn the oven to broil. Place the cookies back onto the cookie sheets and broil until toasted. This process may happen quickly, so do not leave them unattended. If your oven has hot spots, you may need to rotate the trays until all of the marshmallows are toasted. Once toasted, press a chocolate kiss into each one. Let cool completely.
Notes
*If you cannot find cookie butter, substitute peanut butter
This post may contain affiliate links. As an Amazon Associate and member of other affiliate programs, I earn from qualifying purchase.