Smores Ice Cream
Want s'mores? This S'mores Ice Cream is a toasted marshmallow ice cream with graham cracker pieces and fudge sauce.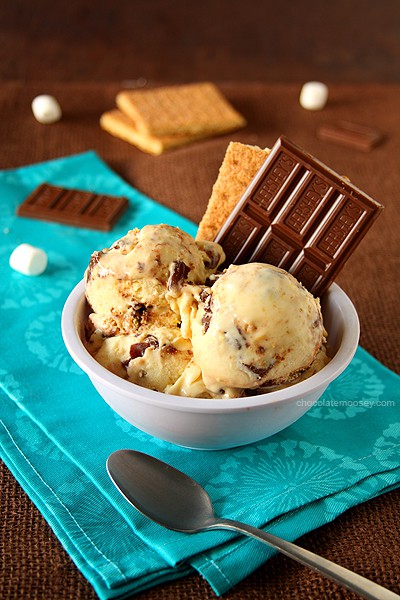 Are you outdoorsy? I'm not.
Don't get me wrong – I enjoy the sun, the landscape, the fresh air, the bonfires.
What keeps me from enjoying it as much are bugs. I hate bugs. A few weeks ago, I was grilling hot dogs. I thought, why don't I grill more often? Then came the bugs.
A bumblebee wouldn't leave me alone. A spider crawled up the leg of the table. Some unknown thing threatened my hot dogs.
Ah yes, this is why I don't like being outdoors.
I'm that girl who locks herself up in the air conditioner while watching Master Chef eating ice cream. Smores Ice Cream, to be exact.
A few weeks ago, I made Toasted Marshmallow Ice Cream Cookie Sandwiches.
This time, I made S'mores Ice Cream with a toasted marshmallow ice cream base with graham cracker pieces and fudge sauce swirled in.
Summer in a bowl without all of the creepy crawlers.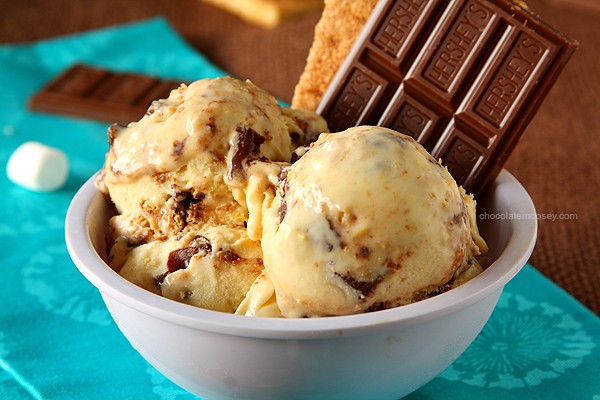 You know, I envisioned Smores Ice Cream to be white, like marshmallows. Instead, it's brown.
I guess that makes sense because technically toasted marshmallows *are* brown.
Brown or white, just close your eyes and imagine yourself sitting around a campfire telling ghost stories.
Actually, I never sat around a campfire telling ghost stories, but hey they did on tv.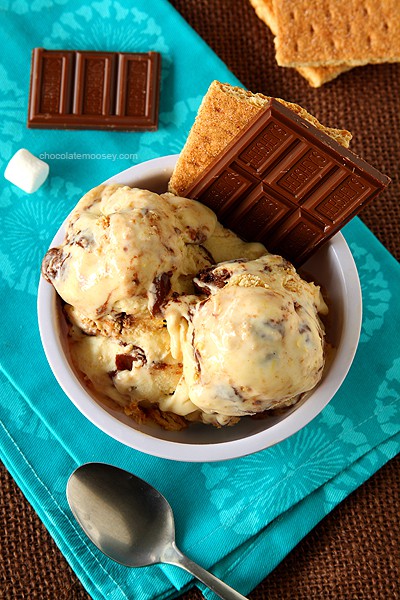 I was debating on chopping up the iconic Hershey bar to mix in, but I chose fudge sauce to represent the melted chocolate after adding the toasted marshmallow.
The graham cracker pieces do get soft from the ice cream, but I actually liked the texture.
Some of you may not like that, so one suggestion is not mixing them into the ice cream but rather crumble up the crackers and use as a topping after scooping.
For another ice cream flavor from your childhood, check out Cotton Candy Ice Cream from Boston Girl Bakes.
Speaking of eating a bowl in front of the tv, who all is watching Master Chef and Next Food Network Star this summer?
I've been watching NFNS every summer since season 3 (where Amy Finnely won. I have yet to track down Guy's season).
Master Chef I saw two years ago but got caught up in other things, so this summer I am watching again.
Enjoyed this recipe? Check out my other Small Batch Ice Cream Recipes you can make.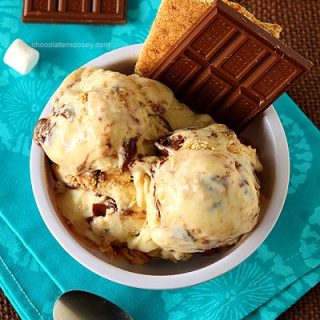 Smores Ice Cream
Yield: 1 pint
Prep Time: 15 minutes
Cook Time: 20 minutes
Chill Time: 4 hours
Total Time: 4 hours 35 minutes
Toasted marshmallow ice cream with chocolate and graham crackers
Ingredients
12 regular-sized marshmallows
1 cup heavy cream
1/2 cup whole milk
1/3 cup granulated sugar
1/8 teaspoon salt
2 egg yolks, room temperature
1/2 teaspoon vanilla
1/2 cup graham crackers, chopped
Fudge Sauce
1/2 cup water
1/4 cup unsweetened Dutch cocoa powder
1/4 cup corn syrup
1 ounce semisweet chocolate, chopped
Instructions
Toast the marshmallows under a broiler or with a chef torch.
Make an ice bath in a large bowl. Place a smaller freezer-safe bowl inside and add 1/2 cup cream. Set aside.
In a medium saucepan, whisk together the remaining 1/2 cup cream, milk, sugar, and salt. Bring to a boil.
In a small bowl, lightly beat the egg yolks then whisk in some of the hot milk mixture. Pour it all back into the sauce pan and cook until thickened, whisking often.
Once thickened, whisk in the toasted marshmallows until melted. Remove from the heat and pour the mixture into the reserved 1/2 cup cream. Whisk in the vanilla. Let cool in the ice bath until room temperature then chill in the refrigerator until cold.
Once cold, freeze according to your ice cream maker. If freezing by hand, place in the freezer and whisk every 30-45 minutes or until the ice cream is almost solid. Stir in the graham cracker pieces.
For the fudge sauce
In a medium saucepan, bring the water, cocoa powder, and corn syrup to a boil. Reduce the heat then simmer for 3 minutes, stirring frequently.
Remove from the heat and add the chopped chocolate. Stir until completely melted. Cool to room temperature then store in the fridge until ready to assemble the ice cream.
To assemble
Place half of the ice cream into the bottom of a container. Pour the fudge sauce on top then add the remaining ice cream. Freeze at least 30 minutes before serving.
Source: Adapted from
The Perfect Scoop
—-
If you enjoyed this Smores Ice Cream, you may also enjoy these recipes:
From me: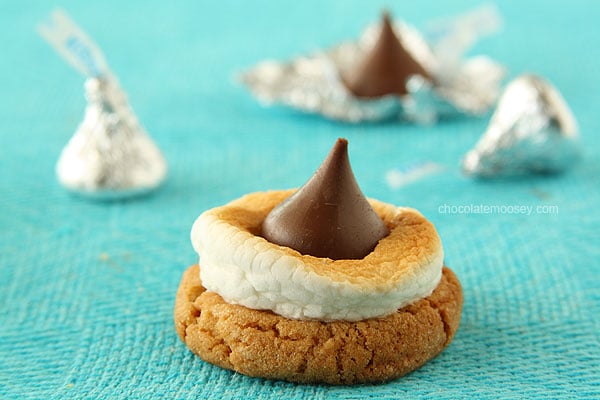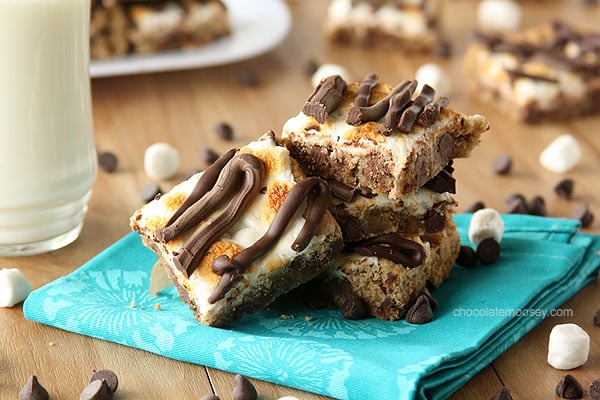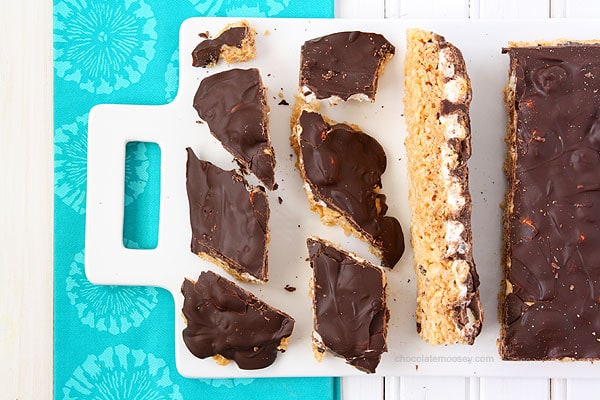 From others:
This post may contain affiliate links. As an Amazon Associate and member of other affiliate programs, I earn from qualifying purchase.