Kielbasa and Beer Mac and Cheese
What's for dinner? Nothing says comfort food more than this stove top beer mac and cheese with kielbasa and sauerkraut.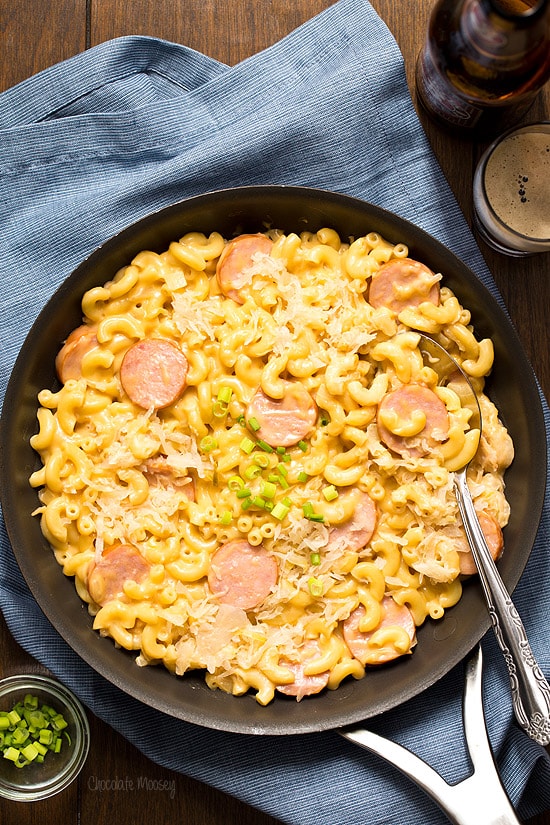 I love macaroni and cheese as it's such a simple yet very versatile meal. Boil the pasta. Make the sauce. Put the two together with any mix ins you want and boom – dinner ready in 30 minutes. If I don't know what to make for dinner, chances are I make mac and cheese (assuming I have enough cheese to make it). I always make it on the stove top because I don't understand baked pasta. Yes, I get that baking it gives it the crunchy bits everyone loves, but I'd rather eat my dinner now while it's still saucy rather than wait another 30 minutes for it to bake. What can I say? I'm impatient when I'm hungry.
When I was telling a friend about how I made Kielbasa and Beer Mac and Cheese, she told me it sounded very Pittsburgh of me. All that was missing was a pierogie on top. Pittsburgh definitely has a reputation for Polish food, including but not limited to pierogies, haluski, and kielbasa. We even have a neighborhood called Polish Hill. We love our beer too. I'm sure all cities love their beer, but we really love it here. It's hard to say where the inspiration for this dish came from. One minute I'm struggling to come up with another savory recipe to post in December. The next minute, I'm wanting to make beer mac and cheese and somehow ended up adding kielbasa to it. I love adding kielbasa to dinner because it's already fully cooked; all you need to do is warm it up. Throw in a little sauerkraut, and you have a very Pittsburgh Oktoberfest dinner you can eat any day of the year.
The beer is a pretty prominent flavor in the recipe, so the key to a good sauce is using a beer you'd actually drink. Don't use a cheap beer you wouldn't drink on its own (especially since you'll still have half a bottle leftover to drink). Ideally you'd want to use a pale ale, but I used a brown ale since that's what I had in the fridge.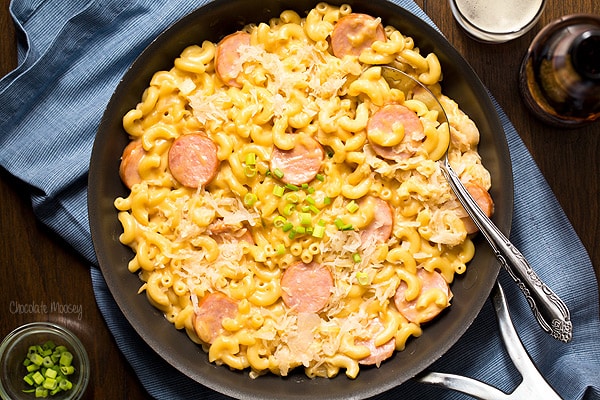 I was debating on whether I should add sauerkraut to the mac and cheese. After all, you can't have kielbasa without sauerkraut! Since I absolutely love it, I had no problem adding it in. However, if you're one of the few crazy people who hates it, feel free to leave it out.
Kielbasa and Beer Mac and Cheese
Yield: 4 servings
Prep Time: 15 minutes
Cook Time: 15 minutes
Total Time: 30 minutes
Nothing says comfort food more than this stove top beer mac and cheese with kielbasa and sauerkraut.
Ingredients
1/2 pound (8 ounces) uncooked elbow macaroni
Salt, to taste (preferably kosher salt)
2 tablespoons unsalted butter
1/4 cup chopped onion
2 tablespoons all-purpose flour
3/4 cup whole milk
1/2 cup beer (preferably pale ale but most types will work)
1 cup shredded cheddar cheese
1 cup kielbasa slices*
1/2 cup sauerkraut, drained
Sliced green onion, for garnish
Instructions
Bring a large pot of water to a boil. Once boiling, add a big handful of salt then add the macaroni. Cook as directed on the package until al dente, about 9-11 minutes. Drain into colander.
While the pasta is cooking, make the sauce. In a large skillet over medium heat, melt the butter. Add the onion and a big pinch of salt. Cook until softened, about 5 minutes.
Stir in the flour to coat and make a roux (paste). Slowly whisk in the milk, beer, and 1/4 teaspoon salt. Bring to a boil.
Once boiling, turn the heat down to a simmer. Cook until thickened, about 3-5 minutes. Remove from the heat and stir in the cheese until melted. Taste and adjust for salt if necessary.
Mix together the pasta, cheese sauce, kielbasa, and sauerkraut. Top with green onion for garnish.
More Mac and Cheese Recipes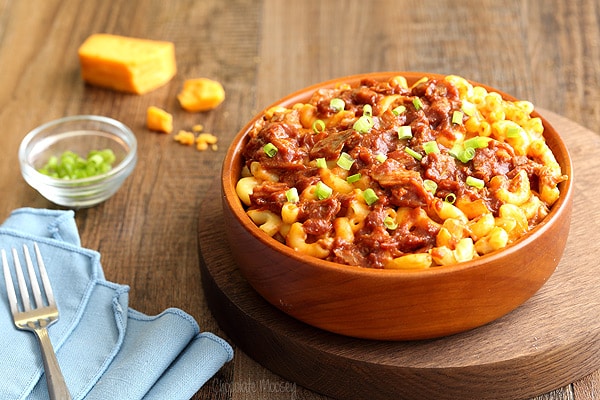 Pulled Pork Macaroni and Cheese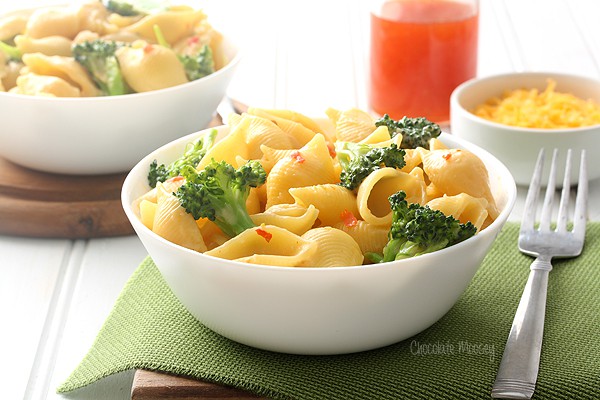 Sweet Chili Mac and Cheese Shells

Buffalo Chicken Macaroni and Cheese

Bacon and Pesto Macaroni and Cheese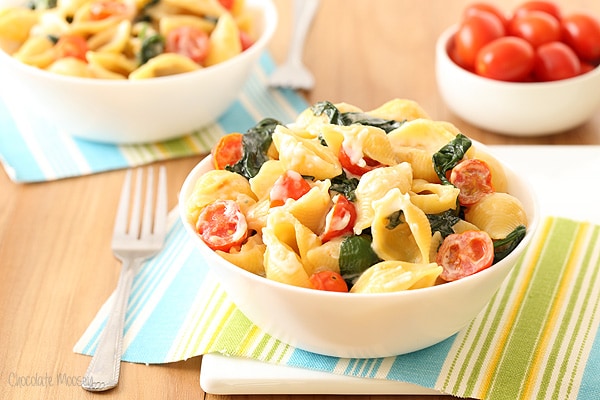 Tomato, Spinach, and Goat Cheese Pasta
This post may contain affiliate links. As an Amazon Associate and member of other affiliate programs, I earn from qualifying purchase.