Peanut Butter Cheesecake Brownies
Have the best of both worlds in one bite with these Peanut Butter Cheesecake Brownies – one layer of homemade fudgy brownies with peanut butter cups topped with a creamy, decadent layer of peanut butter cheesecake. Bring on the chocolate peanut butter goodness.
I'm back with another cheesecake recipe! That shouldn't be a surprise to anybody who reads this blog as
I mean, I have peanut butter cheesecake and peanut butter cheesecake bars. Why not add some peanut butter brownies to the mix?
These Peanut Butter Cheesecake Brownies were meant to be cheesecake swirled brownies, but after making the cheesecake batter, I realized there was too much batter to swirl.
I rolled with it and made an entire peanut butter cheesecake layer, which I think worked out better anyway. More cheesecake in every bite.
Homemade fudgy brownies on the bottom with peanut butter cups and a creamy, decadent layer of peanut butter cheesecake on top.
Put a plate of these out on the table, and they will disappear faster than you can say peanut butter.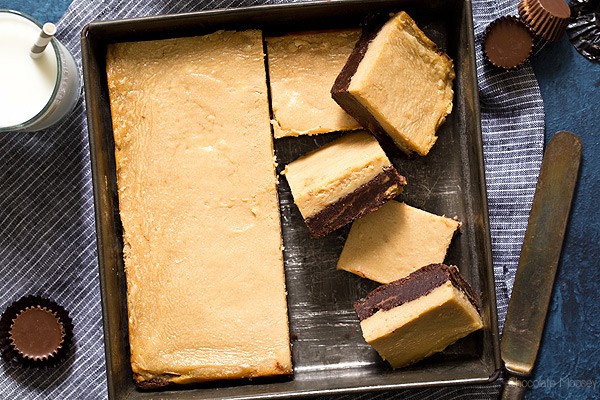 There are times when I can't decide on which dessert to bake up next. Do I make cookies or brownies? Brownies or cheesecake?
I find the best kind of dessert is when you combine both into one bite. That way you don't have to choose which one to make now and which one to make later.
Although cold peanut butter cups aren't mandatory, it's helpful because they'll start melting once you stir them into the hot brownie batter.
Don't have any peanut butter cups on hand? Use an equal amount of peanut butter chips.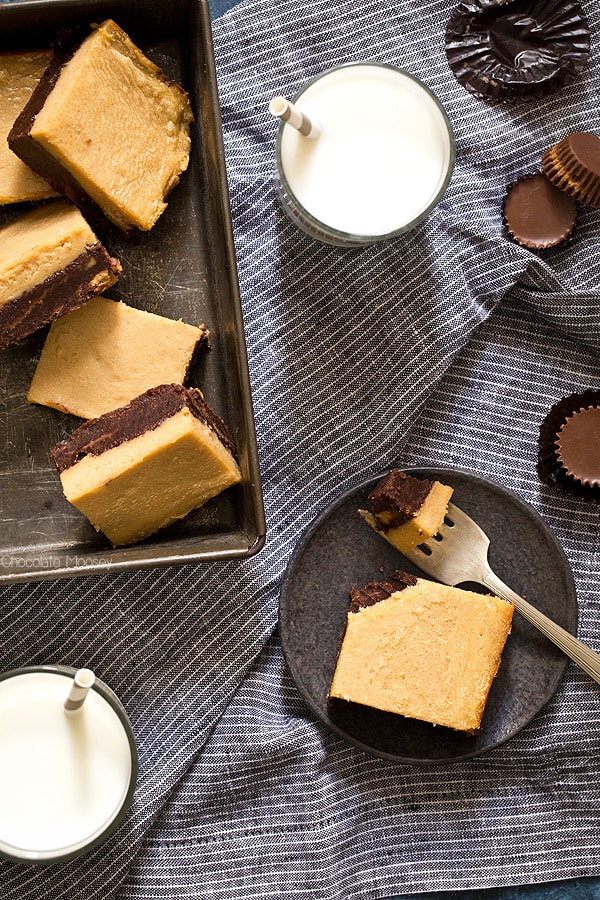 More Brownie Recipes
Peanut Butter Cheesecake Brownies
Yield: 16 brownies
Prep Time: 40 minutes
Cook Time: 30 minutes
Total Time: 1 hour 10 minutes
Ingredients
Brownie
6 tablespoons unsalted butter
1/4 cup smooth peanut butter
2 ounces unsweetened chocolate, chopped
1/4 cup unsweetened cocoa powder
1 1/4 cup granulated sugar
1/4 teaspoon salt
1 teaspoon vanilla extract
1 egg, room temperature
3/4 cup all-purpose flour
1 cup chopped peanut butter cups, cold
Peanut Butter Cheesecake
8 ounces cream cheese, softened
1/2 cup smooth peanut butter
1/2 cup granulated sugar
1 egg, room temperature
1 teaspoon vanilla extract
Instructions
Preheat the oven to 350°F. Line an 8x8 pan with parchment paper or grease with cooking spray.
For the brownie layer: In a medium saucepan, melt together the butter, peanut butter, and chocolate until smooth. Remove from the heat and whisk in the cocoa powder, sugar, and salt (the batter will be really thick and grainy – keep going). Beat in the vanilla and egg. Whisk in the flour. Stir in the peanut butter cups. Scrape the batter into the baking pan and smooth the top with a spatula.
For the cheesecake layer: In a large mixing bowl, beat together the cream cheese, peanut butter, and sugar until smooth, about 2-3 minutes. Beat in the egg and vanilla.
Spread the cheesecake on top of the brownie layer, smoothing it out. Bake 25-30 minutes or until the top is firm and the edges pull away from the sides of the pan. Cool completely to room temperature then refrigerate at least 4 hours to allow the flavors to develop. Store in an airtight container in the refrigerator for up to 1 week.
Sources: Adapted from
Katie Workman
and
Taste of Home
This post may contain affiliate links. As an Amazon Associate and member of other affiliate programs, I earn from qualifying purchase.