Kit Kat Cheesecake Brownies
Do you love fudgy brownies? Do you love cream cheese? Now you can have the best of both worlds with these Kit Kat Cheesecake Brownies made from scratch.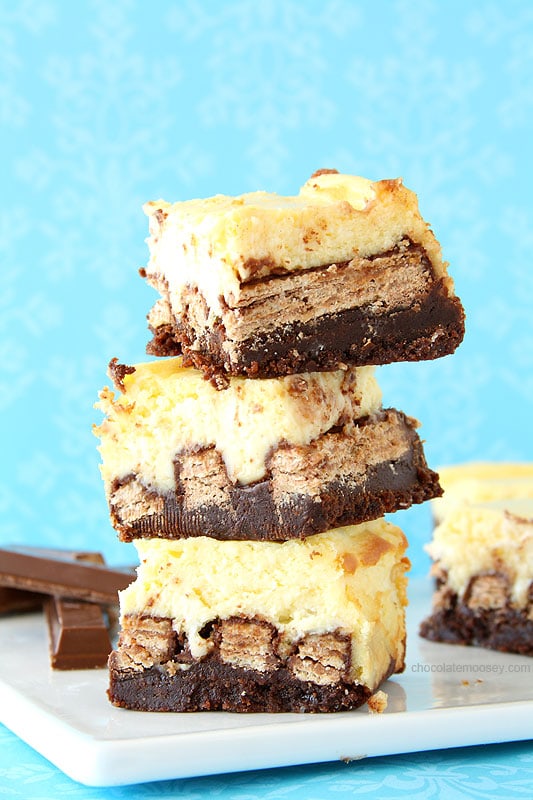 What's fudgy, layered, and cheesecake all over? Would you like to take a break? A break of these Kit Kat Cheesecake Brownies, that is.
Here's a real sinful treat, enjoyed by both kids and adults alike. There is chocolate. There is candy. And most importantly, there is cheesecake.
Put them altogether in one treat and stand back as people freak out (no, really. My coworkers got super excited when they heard cheesecake and brownie in the same sentence).

I love cheesecake so much that I have a huge category dedicated to it.
Round, square, large, mini, baked, no bake, waterbath, no waterbath, vanilla, chocolate, ice cream, stuffed fruit.
Now I can add brownies to the list.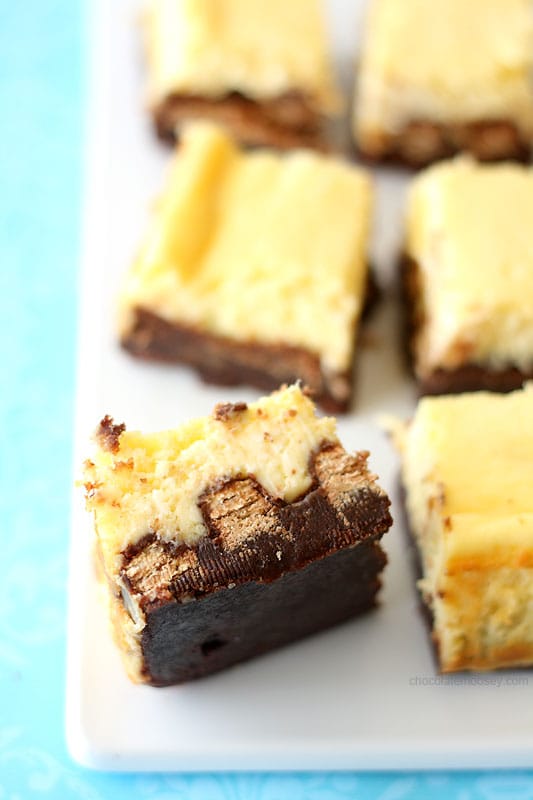 The first layer is a basic fudgy brownie. No cake brownies here.
I thought about baking that layer to firm it up a bit before adding the other layers, but when I realized how thick the batter was, I was able to place the Kit Kats on top without sinking.
I fit 20 Kit Kat wafers no problem (that equals five full-size candy bars. If you use the fun-size bars, they are slightly smaller; therefore, you may be able to fit a few more).
Then I poured the cheesecake filling over top.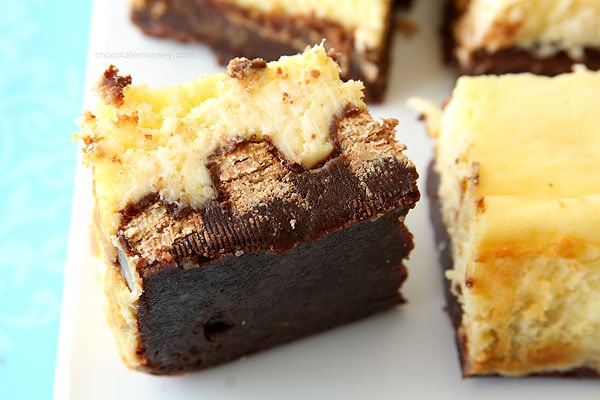 These Kit Kat Cheesecake Brownies are a bit messy when you pick them up, which makes them taste even better (ok not really, but roll with me on this).
I will warn you that you may need to let the brownies sit for a bit at room temperature before cutting.
The Kit Kat layer is hard to cut through when it's straight from the fridge.
Don't let that stop you though. You can always grab a spoon and dig into the cheesecake layer while you wait.
More Brownie Recipes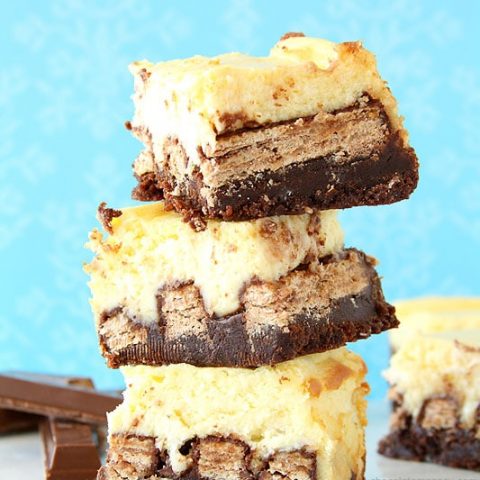 Kit Kat Cheesecake Brownies
Yield: 16 brownies
Prep Time: 30 minutes
Cook Time: 40 minutes
Total Time: 1 hour 10 minutes
Do you love fudgy brownies? Do you love cream cheese? Now you can have the best of both worlds with these Kit Kat Cheesecake Brownies made from scratch.
Ingredients
Brownie Layer
1/2 cup (4 ounces or 8 tablespoons) unsalted butter, room temperature
1 1/2 ounces unsweetened chocolate, chopped
1/4 cup unsweetened cocoa powder
1 1/4 cup granulated sugar
1/4 teaspoon salt
1 teaspoon vanilla extract
1 egg, room temperature
3/4 cup all-purpose flour
20 individual Kit Kat wafers (5 regular-sized Kit Kat bars)
Cheesecake Layer
16 ounces full-fat cream cheese, softened
2/3 cup granulated sugar
2 eggs, room temperature
1 teaspoon fresh lemon juice
1 teaspoon vanilla extract
Instructions
Brownie Layer: Preheat the oven to 350°F. Line an 8x8 pan with parchment paper.
In a medium saucepan, melt together the butter and unsweetened chocolate until smooth.
Remove from the heat and whisk in the cocoa powder, sugar, and salt (the batter will be really thick and grainy – keep going).
Beat in the vanilla and egg then stir in the flour.
Transfer the batter into the baking pan and smooth the top with a spatula.
Gently press the Kit Kat wafers on top of the brownie batter in one layer (you will make 2 rows with 10 wafers each). Set aside while you make the cheesecake layer.
Cheesecake layer: In a large mixing bowl, beat together the cream cheese and sugar until smooth, about 2-3 minutes.
Scrape down the bowl then add the eggs one at a time, beating 1 minute after each addition. Beat in the lemon juice and vanilla.
Transfer the cheesecake batter on top of the Kit Kat layer, smoothing it out. Bake 35-40 minutes or until the top is firm but still wiggles a little bit (a toothpick should come out clean).

Let cool completely to room temperature then refrigerate at least 4 hours or overnight. Let the pan sit at room temperature for 15-30 minutes before cutting. Store in an airtight container in the refrigerator for up to 1 week.
Sources: Adapted from
Katie Workman
and
Taste of Home
This post may contain affiliate links. As an Amazon Associate and member of other affiliate programs, I earn from qualifying purchase.