Chocolate Covered Strawberry Brownies
Chocolate Covered Strawberry Brownies are one pot fudgy brownies with a layer of strawberries and chocolate.

I've always been known as a messy person.
If you walked into my place right now, there are at least a few piles of stuff – on the table, on the floor, on the counter.
Don't even think about going into my bedroom because I have piles of books and props everywhere.
And even though it looks like I would never find anything, I'm actually an organized mess. I know which items are in which piles.
I'm also a mess in the kitchen. The counters constantly need to be wiped down from the crumbs, frosting smears, and drops of spilled milk.
Cutting brownies has never been my specialty either, like these messy Chocolate Covered Strawberry Brownies.
I call them messy because of the strawberries, much like real chocolate covered strawberries have strawberry juice when you take a bite.
The chocolate also adds to the fun if it's warm outside. But I think the messier it is to eat, the tastier it becomes. After all, a messy kitchen is a happy kitchen.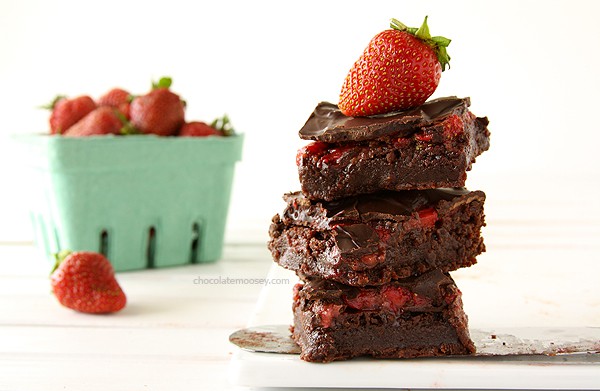 I got the idea for these brownies one day at work.
That's when I do most of my brainstorming – you know, when you don't feel like working on what you should be working on. I think that's the first rule in being creative.
That and take a shower. I can't tell you how many times I've "written" a blog post in the shower, just to lose my words when I got out.
It's also the perfect time to practice your presentation and think of interview questions.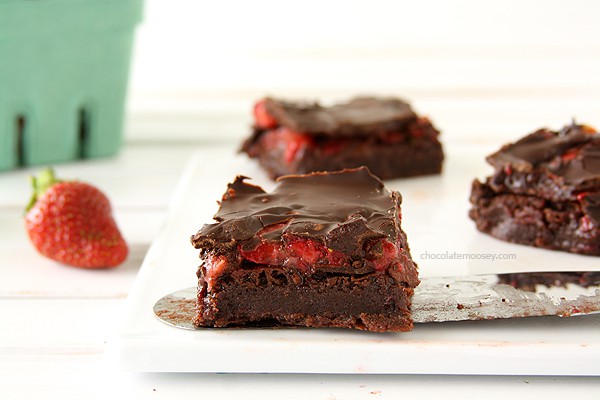 I wanted these chocolate covered strawberry brownies to be simple – bake my favorite one-pot brownie recipe, slice strawberries to go on top, then pour melted chocolate over that and chill.
The first time, I added strawberries to the brownie batter, but the juices from the berries made the brownies an even bigger mess and kept falling apart.
Messy is good, but not that messy.

Chocolate Covered Strawberry Brownies
Yield: 16 squares
Prep Time: 15 minutes
Cook Time: 25 minutes
Total Time: 40 minutes
Chocolate Covered Strawberry Brownies are one pot fudgy brownies with a layer of strawberries and chocolate.
Ingredients
1/2 cup (1 stick) unsalted butter
1 1/2 ounces unsweetened chocolate
1/2 cup unsweetened cocoa powder
1 1/4 cups granulated sugar
1/4 teaspoon sea salt
1 teaspoon vanilla extract
1 egg
3/4 cup all purpose flour
1 cup sliced strawberries
8 ounces semisweet chocolate, chopped into pieces
Instructions
Preheat the oven to 350F. Line an 8x8 pan with parchment paper or lightly grease with cooking spray.
In a large saucepan, melt together the butter and unsweetened chocolate until smooth.
Remove from the heat and whisk in the cocoa powder, sugar, and sea salt (it will be thick and granular).
Whisk in the vanilla and egg then whisk in flour.
Transfer to the pan and bake 25-30 minutes or until a toothpick comes out clean. Let cool completely.
Once the brownies are completely cool, lay the sliced strawberries in a single layer on top.
Place the semisweet chocolate in a heatproof bowl over a pan of simmering water. Stir the chocolate until it completely melts.
Remove from the heat and pour the chocolate over the strawberries. Spread evenly, being careful not to move the strawberries around. Chill in the refrigerator until the chocolate layer hardens.

Store up to a week in an airtight container in the refrigerator (let sit at room temperature for a few minutes before serving).
If you liked these Chocolate Covered Strawberry Brownies, you may also like these recipes:
From me: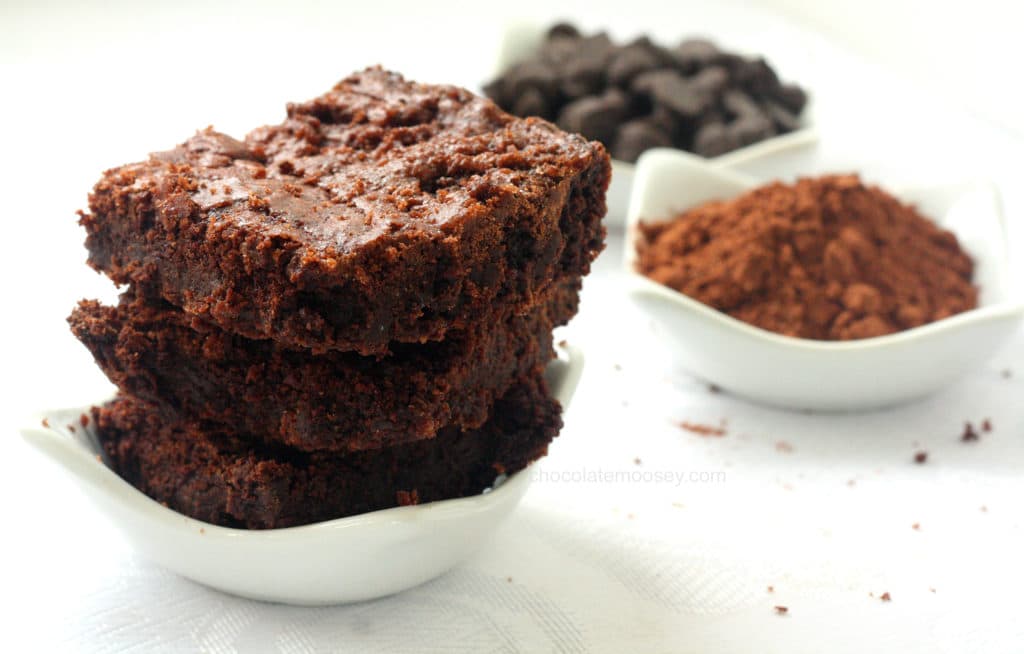 This post may contain affiliate links. As an Amazon Associate and member of other affiliate programs, I earn from qualifying purchase.