Chipotle Barbecue Lamb Kabobs
Crack open a cold beer and fire up the grill with these sweet and smoky Chipotle Barbecue Lamb Kabobs.
I've never been a movie person as I never really watched them growing up.
Some of the most popular movies out there are ones I've never seen – The Matrix, The Godfather, Lord Of The Rings (I might have seen part of it on a bus trip once before I fell asleep), Casablanca, Gone With The Wind.
If you do a search for "best movies of all times," I probably haven't seen 80 percent of them. Other movies I know I've seen but cannot remember anything.
Recently I was talking with a few friends who made a few My Big Fat Greek Wedding references. When I mentioned I've never seen the movie, they pretty much all but threatened that I had to see it (or else).
I finally gave in and borrowed it from my library. Now I can finally understand what everyone is talking about!
If you're like me and have never seen it before, pretty much a Greek daughter ends up marrying a non-Greek man despite her father's wishes.
The non-Greek man tries to fit in with the Greek daughter's huge Greek family. However, the man is a vegetarian, which does not go over well. My favorite part of the movie:
Aunt Voula: What do you mean he don't eat no meat?
[the entire room stops, in shock]
Aunt Voula: Oh, that's okay. I make lamb.
Lamb is a meat I love so much and find myself always wanting more.
There's this one Greek market in Pittsburgh where they serve fresh gyros for lunch right outside on the sidewalk. As you walk on by, you can both see and smell the meat cooking away.
That's enough to make me want to run home and grill up some lamb myself! And I did exactly that.
Except on my way to pick up the meat, I walked past a Mexican market grilling up some food of their own.
That inspired me to go Mexican instead of Greek with these Chipotle Barbecue Lamb Kabobs with cherry tomatoes and green bell pepper.
Since I've been trying to avoid turning on my oven for dinner, I opted to grill my kabobs on a portable camping grill that I have.
Even though I no longer have a yard like my last apartment, I do have a balcony where I can still grill.
I set up a folding table I have, set my grill on top, then fire away, leaving the heat outside and my apartment cool inside.
Kabobs are great to cook up after a long work day because they don't take long to cook.
You can speed up prep time by cutting everything up ahead of time then just thread everything onto skewers right before cooking.
I bought a boneless leg of American lamb from my local butcher so I wouldn't have to worry about deboning it myself.
You want to look for American lamb as it's typically larger and fattier, which also means more flavor than imported lamb (plus it's great to support local farmers).
While I'm waiting for the kabobs to cook, I like to relax with some cold, refreshing beer as it pairs really well with lamb.
Typically I would pair it with a porter, but because I'm grilling outside during summer, I wanted to go with something a bit lighter like a pilsner as it pairs well with the heat from the chipotle sauce.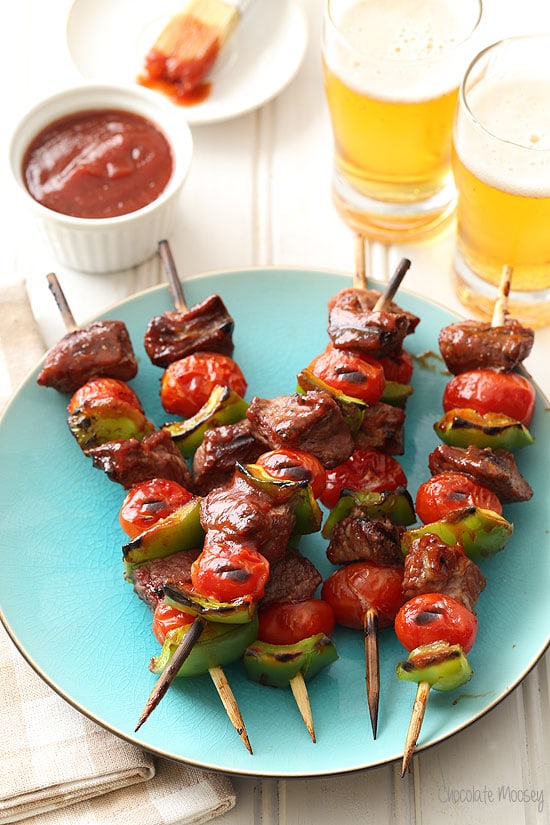 Speaking of chipotle, I can't get over how much I love this chipotle barbecue sauce and want to pour it on everything.
The best part is that it comes together in minutes because you don't need to cook it; just throw in a blender and hit blend.
This was my first time ever working with chipotle peppers at home (and certainly not my last!).
They come in a little can labeled as chipotles in adobo sauce, usually found in the Mexican section of your grocery store.
Chipotle peppers give the barbecue sauce a nice smoky and spicy flavor.
Serve your lamb kabobs with Caesar Pasta Salad or Italian Potato Salad.
Chipotle Barbecue Lamb Kabobs
Yield: 16
Prep Time: 1 hour
Cook Time: 15 minutes
Total Time: 1 hour 15 minutes
You can cut the lamb and bell pepper ahead of time to help save on prep when you're ready to cook.
Ingredients
1/2 cup ketchup
1/4 cup packed brown sugar
1/4 cup honey
1-2 chipotle peppers in adobo sauce
2 teaspoons white distilled vinegar
1 teaspoon Worcestershire sauce
1/2 teaspoon garlic powder
1/2 teaspoon onion powder
1/4 teaspoon salt
3 pounds boneless leg of lamb, cut into 1 1/2-inch cubes
1 pint cherry tomatoes
1 large green bell pepper, cut into 1-inch piece
Sixteen 8-inch wooden skewers, soaked in water for 30 minutes
Instructions
Add the ketchup, brown sugar, honey, chipotle peppers, vinegar, Worcestershire sauce, garlic powder, onion powder, and salt in a blender. Blend 1-2 minutes or until completely smooth.
Preheat your grill. On each skewer, thread the meat, tomato, and green pepper. Repeat until all of the ingredients are used.
Brush each kabob with sauce then add to the grill, cooking in batches if necessary. Cook for 5-8 minutes on one side, flip, and brush with more sauce. Cook another 5-8 minutes or until the internal temperature of the lamb is medium (160F internal temperature).
This post may contain affiliate links. As an Amazon Associate and member of other affiliate programs, I earn from qualifying purchase.