Toasted Coconut Frozen Hot Chocolate
One sip of Toasted Coconut Frozen Hot Chocolate made with coconut milk and you'll be whisked away to paradise. Easily makes two drinks in a blender.
If you've been to my blog before last month, you may have noticed a long overdue change. I (finally) hired a designer to freshen up my logo. If you've really been paying attention, you may have noticed I also updated my tagline to more accurately describe my recipe style. For the past year, I've been struggling with my blog's point of view. What once started out as recipes made from scratch soon evolved into using a few helpful ingredients such as puff pastry, BBQ sauce, and hummus. Was I still cooking from scratch even though I'm using bottled BBQ sauce? I researched what cooking from scratch meant, and people's opinions were all over the place. Some said you must make your own condiments from scratch. Some said it was ok because you were still cooking. Some even went as far as saying you must harvest your own wheat and grow your own produce (yikes). Not happy with any of the answers, I kept going with the made from scratch angle. It wasn't until last week when I bought a bag of croutons for a recipe that I decided it was time to figure out my cooking style once and for all. I asked friends for advice. Again, the opinions were mixed, but there were a few good phrases that popped up – real-life cooking and homemade. Two terms that indeed described my style. Real-life because who's really going to take the time to make condiments after working all day and homemade because I don't use convenience foods like cake mix or canned soup. Rest assured my recipes haven't changed. Rather, I found a better way to describe what I'm about.
And what I'm all about right now is chocolate and coconut milk. For awhile, I went through cans of coconut milk for various recipes, but it's been awhile since I opened a can. Time to fix that! Last year I made peanut butter frozen hot chocolate. This year I did a variation with Toasted Coconut Frozen Hot Chocolate with coconut milk and coffee, making a frozen mocha. The coffee is mandatory for me, but if you're not a coffee fan, you can substitute more coconut milk. It tastes like a Mounds bar in liquid form!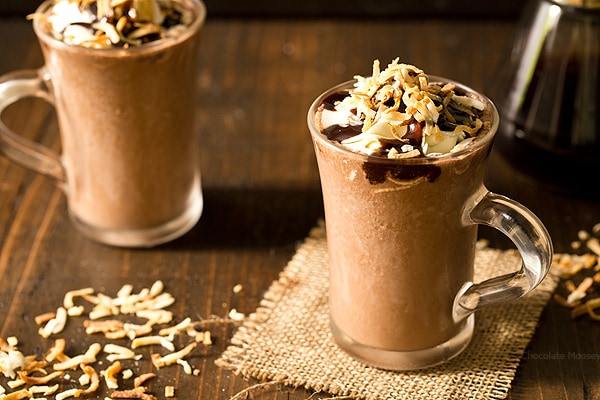 This recipe is inspired by Starbucks mocha coconut frappuccino. The first time I had one was in Philadelphia when Dad and I were visiting during a hurricane. Fun times. The rain had finally let up and as we were exploring the city on foot, I wanted something cold to drink. This recipe isn't meant to be a copycat recipe, although it easily could be. If you're looking for a hot coffee version of this, check out my
toasted coconut mocha recipe
.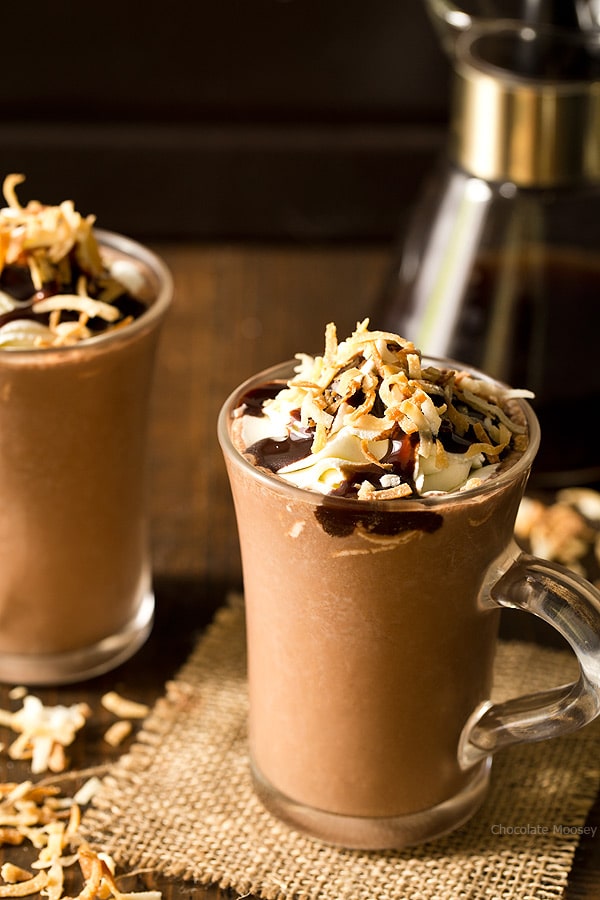 I know there can be some confusion on what coconut milk to use. I use canned coconut milk, which can be found in the Asian and Latin aisles of your grocery store. Shake it really well before opening so the solid and liquid are mixed together. It should be pourable, just like regular dairy milk. Otherwise, if you use only the solid part, your drink won't thin out properly.
You'll have leftover coconut milk, which you can use in Banana Coconut Milk Pancakes, Mango Coconut Margaritas, and Coconut Milk Pops.
Toasted Coconut Frozen Hot Chocolate
Yield: 2 drinks
Prep Time: 15 minutes
Total Time: 15 minutes
Ingredients
2 cups ice
1/2 cup canned coconut milk*, room temperature (see Note before measuring)
1/2 cup coffee (or additional coconut milk)
1/2 cup hot fudge sauce (homemade or store bought) + more for garnish
2 tablespoons unsweetened cocoa powder
2 tablespoons powdered sugar
1/2 teaspoon vanilla extract
Toasted coconut, for garnish
Whipped Cream
1/4 cup cold heavy whipping cream
1 tablespoon powdered sugar
1/4 teaspoon coconut extract
Instructions
In a blender, add the ice, coconut milk, coffee, hot fudge sauce, cocoa powder, sugar, and vanilla. Blend on high until completely smooth. Pour into glasses and top with whipped cream (recipe below). Garnish with toasted coconut and hot fudge sauce.
Whipped Cream
In a large mixing bowl on high speed (with whisk attachment if using a stand mixer), beat together the cream until it starts to thicken. Gradually beat in the sugar and coconut extract then continue beating on high speed until stiff peaks form (when you pull the beater straight up, peaks will form and not fall over). Serve immediately.
Notes
*Canned coconut milk can be found in your grocery store's Asian or Latin aisles. Shake the can well before opening. If the solid and liquid are still separated, whisk together until it's a pourable liquid (just like dairy milk) then measure. If you're using leftover coconut milk that was refrigerated, it needs to be at room temperature. It'll be too thick if used cold.
b]Drinks For Two:[/b] Got leftover coconut milk? Check out my [coconut milk recipes for more ideas.
This post may contain affiliate links. As an Amazon Associate and member of other affiliate programs, I earn from qualifying purchase.