Peanut Butter Cheesecake Bars
Creamy peanut butter cheesecake bars with chocolate and a cookie crust will make you wish that every day was Chocolate Peanut Butter Day.
Today is the day I've been waiting for all year – I, along with
Miriam of Overtime Cook
, are declaring March 25 as Chocolate Peanut Butter Day!
Miriam and I have been talking about this day for a really long time. Texts and emails back and forth "We really need to do a chocolate peanut butter day!" "When are we planning this?" "We really need to plan this."
Finally we picked a date and ran with it. If you love chocolate and peanut butter as much as we do, you'll want to keep reading.
Want to know how I made chocolate peanut butter even better? Turn it into Peanut Butter Cheesecake Bars.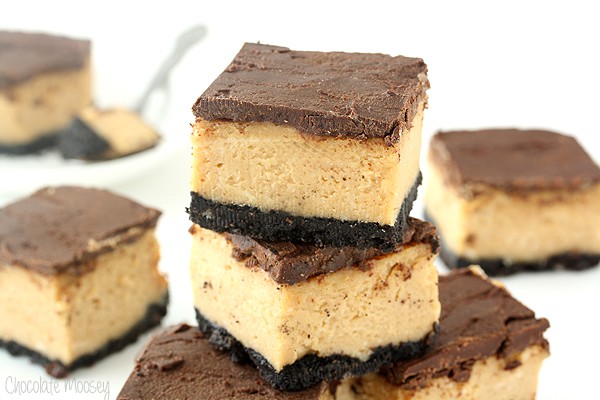 Chocolate and peanut butter has been one of my favorite dessert combinations since forever ago.
Which is funny because my mom doesn't like peanut butter, so I don't often make peanut butter desserts for the whole family.
If I do, I try to have something special for her so she's not left out. It's safe to say the chocolate peanut butter gene comes from my dad.
For those of you not familiar with buckeyes, they are a chocolate peanut butter candy named after the state of Ohio (pretty much peanut butter balls dipped in chocolate).
I've never actually made buckeyes before but have eaten my fair share from cookie trays.
When you bite into one of these bars, imagine a chocolate cookie crust with a creamy, luscious peanut butter cheesecake filling on top.
So I need to know – do you eat cheesecake bars with your fingers or with your spoon?
I couldn't decide which way to go, so I ate one with my fingers and one with my spoon. That only seems fair to test both ways, right?
If you love these peanut butter cheesecake bars, then you'll love my peanut butter cheesecake brownies.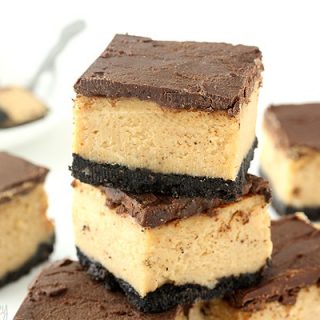 Buckeye (Chocolate and Peanut Butter) Cheesecake Bars
Creamy peanut butter cheesecake bars with chocolate and a cookie crust will make you wish that every day was Chocolate Peanut Butter Day.
Ingredients
2 cups chocolate sandwich cookie crumbs
4 tablespoons melted butter
16 ounces cream cheese, softened
1/2 cup granulated sugar
2 eggs
1 cup creamy peanut butter
1 teaspoon vanilla extract
1 cup semisweet chocolate chips
2 tablespoons heavy whipping cream
Instructions
Preheat oven to 350F. Line an 8x8 pan with parchment paper.
In a medium bowl, mix together the cookie crumbs and butter. Pat into the bottom of the pan. Bake 10 minutes or until set. Let cool.
In a large mixing bowl, beat together the cream cheese and sugar until smooth and creamy. Beat in the eggs, one at a time, until fully incorporated then beat in the peanut butter and vanilla. Spread into the pan and bake 35-40 minutes or until the top is firm and the center slightly jiggles. Cool completely.
Once the bars are cool, melt together the chocolate chips and the cream (either in the microwave or in a bowl over simmering water on the stove). Spread on top of the cheesecake then chill in the refrigerator for at least 4 hours or overnight. Cut into bars before serving. Store in an airtight container in the refrigerator.
Source: Adapted from
Taste Of Home
—-
If you enjoyed these Buckeye Cheesecake Bars, you may also enjoy these chocolate peanut butter recipes from me: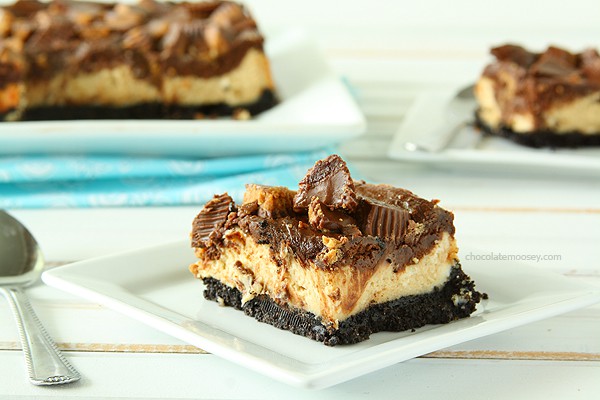 Chocolate Peanut Butter Cup Cheesecake Squares

Peanut Butter Cup Ice Cream (No Cook, Egg Free)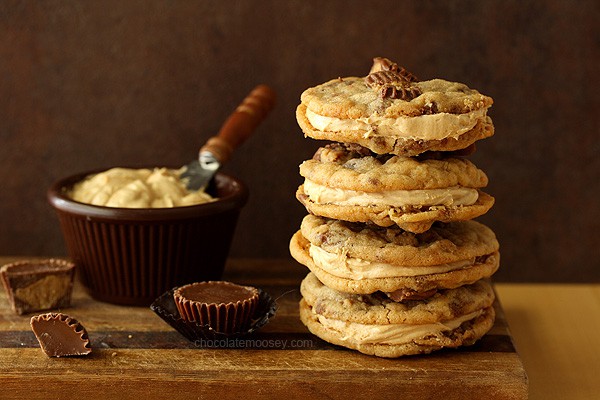 Peanut Butter Cup Sandwich Cookies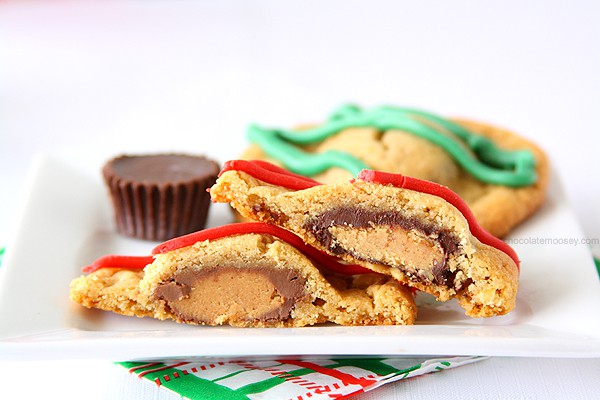 Double Peanut Butter Surprise Cookies

Peanut Butter Cup Bars
This post may contain affiliate links. As an Amazon Associate and member of other affiliate programs, I earn from qualifying purchase.