Chocolate Chip Cookie Apple Crumble For Two
Chocolate Chip Cookie Apple Crumble For Two combine chocolate chip cookies and apples into one fall treat.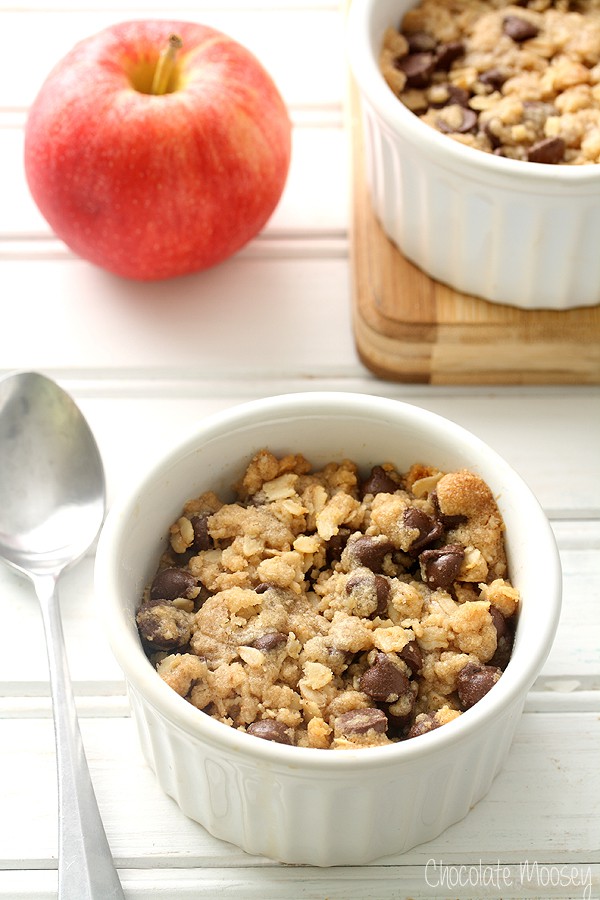 It seems that the latest trend in desserts is fruit with cookies on top. Or at least that's what I kept seeing on Pinterest.
Of course I can't find the link to the first recipe I saw, but I believe it was oatmeal cookies on top of peach cobbler. Another one used snickerdoodles.
Then I saw a chocolate chip cookie crumble and fell in love.
You can pretty much win my heart with chocolate chip cookies and knew I had to make my own.
Seeing that I had a ton of apples in the kitchen, I made a fall version with Chocolate Chip Cookie Apple Crumble For Two.
In my mind I keep calling it a crisp, but because there are oats in the topping, it is technically a crumble.
And yes, it's another dessert for two recipe. I can't help but be obsessed with making them, like with my peach cobbler for two and blueberry cobbler for two.
There are so many possibilities for small batch desserts when you own ramekins (Amazon affiliate link).
Do you like it when I make small desserts like this? Or is it getting redundant?
Whatever your answer may be, I hope you will at least give these mini apple crumbles a try!
I first made these crumbles after I made my
mini apple pie for two
.
Since I was feeding four people, I doubled the recipe. You can even cut the recipe in half for a single serving crumble.
The filling is based off of my homemade apple pie filling.
And if you're reading this post when it's not apple season, you can use almost any fruit you want. Try it with peach pie filling or cherry pie filling.
Or stick with the fall theme and make pear crisp.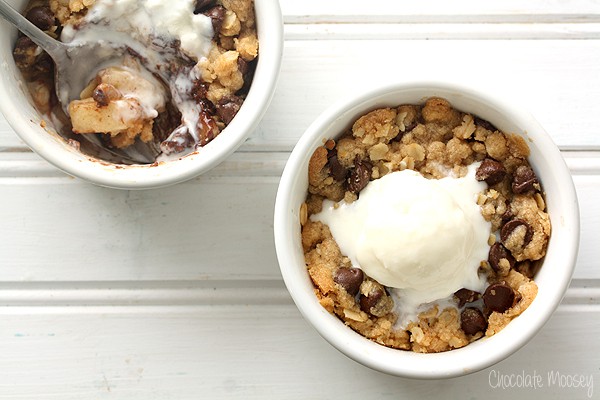 As I'm sitting here typing and looking out the window, the leaves are starting to change colors.
Although fall is taking its time to arrive, I can't wait. I recently discovered a hiking trail near me that goes through the woods to this (not impressive) waterfall.
As I walked through the trees, I couldn't help but imagine its beauty once the leaves fully change, especially since there are a few wooden bridges too.
I can't wait to go back with my camera and capture fall.
Looking for more? Check out my full list of
recipes using apple pie filling
.
Equipment you may need: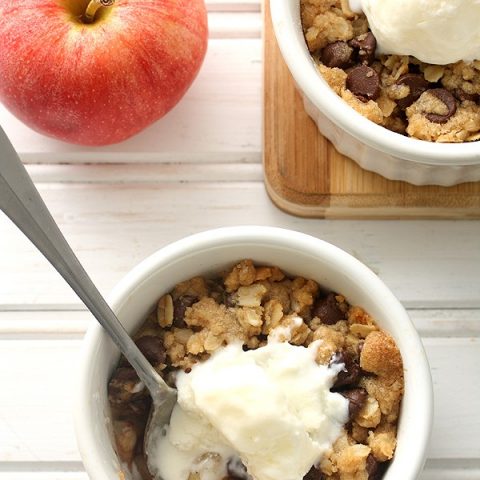 Chocolate Chip Cookie Apple Crumble For Two
Yield: 2 servings
Prep Time: 30 minutes
Cook Time: 35 minutes
Total Time: 1 hour 5 minutes
Chocolate Chip Cookie Apple Crumble For Two combine chocolate chip cookies and apples into one fall treat.
Ingredients
1 cup apples, peeled and chopped
2 teaspoons lemon juice
1 teaspoon granulated sugar
1 1/2 teaspoons cornstarch
1/4 teaspoon ground cinnamon
1/8 teaspoon ground nutmeg
Cookie Crumble Topping
2 tablespoons unsalted butter, softened
2 tablespoons packed brown sugar
1/2 teaspoon vanilla extract
1/4 cup all purpose flour
1/4 teaspoon ground cinnamon
1/8 teaspoon salt
2 tablespoons oats
1/4 cup semisweet chocolate chips
Instructions
Preheat the oven to 375F. Have two 6-ounce ramekins ready.
For the filling: In a large bowl, mix together the apples, lemon juice, sugar, cornstarch, cinnamon, and nutmeg. Divide between the two ramekins and bake 10 minutes. Cool while you make the topping.
For the topping: Beat together the butter, sugar, and vanilla until smooth and creamy. Add the flour, cinnamon, salt, and oats and beat until just incorporated. Add the chocolate chips. The mixture will be crumbly.
Top the cooked apples with the crumble mixture and smooth it out as much as possible. Bake for 20-25 minutes or until the top is golden brown and a toothpick inserted in the center comes out clean. Cool for 15 minutes before serving warm.
Source: Adapted from
Love And Olive Oil
More Apple Desserts For Your Snacking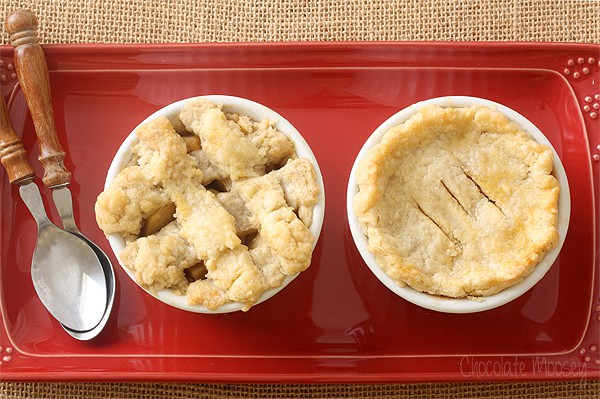 Apple Pie For Two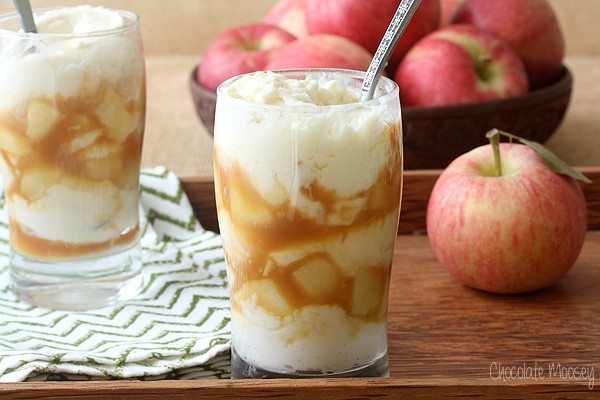 No Bake Caramel Apple Cheesecake Parfaits

Apple Nachos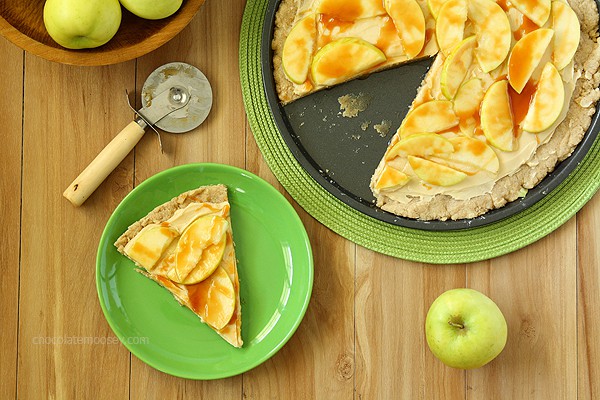 Caramel Apple Sugar Cookie Pizza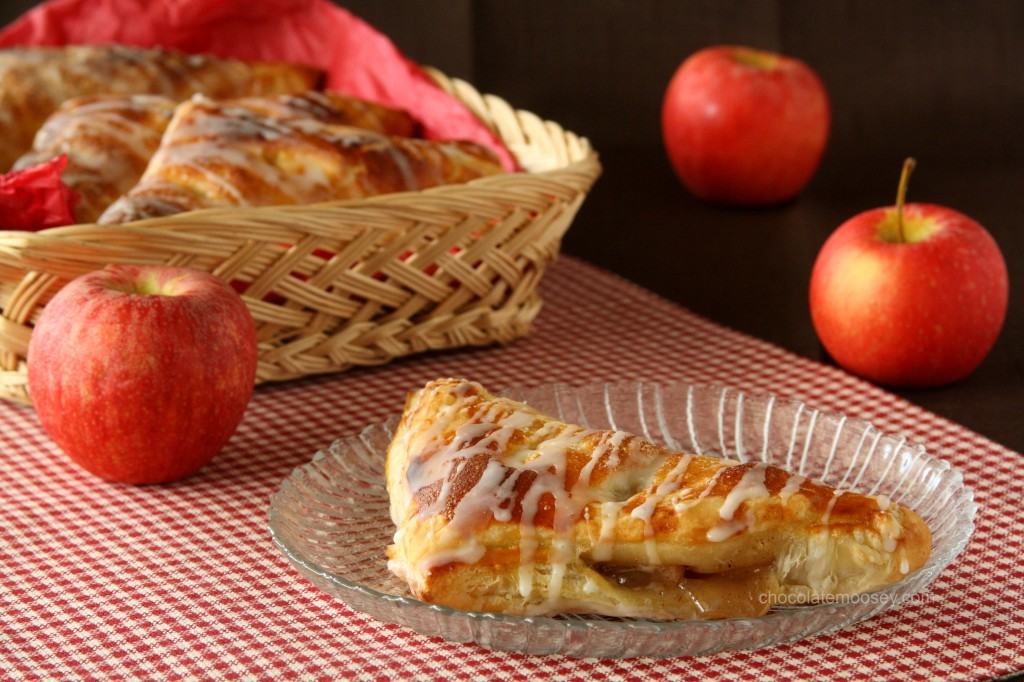 Apple Pie Turnovers
This post may contain affiliate links. As an Amazon Associate and member of other affiliate programs, I earn from qualifying purchase.