Strawberry S'mores Cobbler
No campfire needed for Strawberry S'mores Cobbler with a chocolate strawberry filling topped with toasted marshmallows and graham cracker pieces. Bake them in the oven for a gooey, irresistible smores dessert!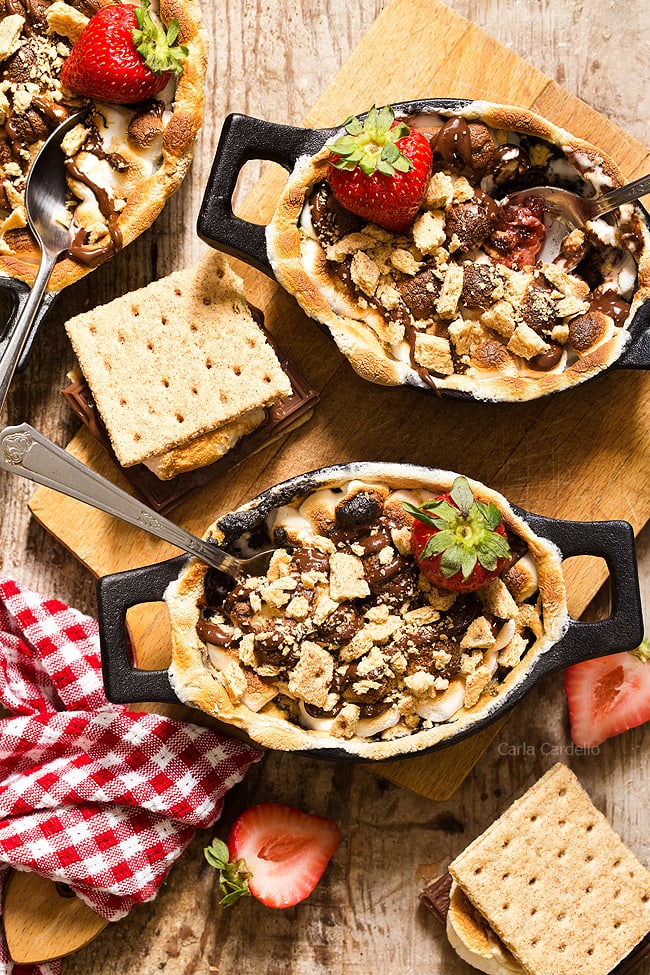 Pretty much every day this summer when it's not raining, I have trouble sitting still. I go outside and walk. A lot.
I walk to clear my mind. I walk to burn off the 570805 ice cream cones I've eaten this summer. I walk to take pictures. I walk to get out of my apartment since I work from home.
As you can imagine, I was excited to hear Pittsburgh was hosting an Open Streets event where they shut down part of the city for the morning and allow people to roam the streets (literally).
The original concept started with bikers, but everyone else joined in – roller skaters, skate boarders, runners, and walkers.
My friend and I walked the entire route with our cameras in tow, which was 6 miles. We were invited into a pinball cafe to take photos and saw a giant inflatable brain.
Along the route are tents set up, either from stores having sidewalk sales or from companies getting their message out.
On our walk back, we spotted a mini campfire built by a camping association, complete with a s'mores station. Who knew we'd be toasting marshmallows on a city sidewalk?
I'm not a camper, but I love s'mores. The more charred, the better.
I camped a few times with Girl Scouts growing up, but I definitely don't camp as an adult. Electricity and plumbing for me, please.
That messy yet satisfying treat got me thinking about National S'mores Day coming up on August 10.
I've had this idea for a Strawberry S'mores Cobbler since the beginning of summer, so I thought it'd be fitting to share this recipe today. S'mores AND strawberries? Yes please!
My s'mores cobbler is different than other recipes you'll find because it's chopped chocolate and strawberries mixed together then topped with toasted marshmallows and graham cracker pieces.
There is no cake mix. There is no orange juice. There are no soggy graham crackers in the bottom of your cobbler dish.
It's as simple as tossing a few ingredients together then baking. The hardest part will be waiting to dive in!
A cobbler is a fruit-based dessert with dough pieces dropped on top, giving it the appearance of a cobbled road (hence the name).
My peach cobbler for two and blueberry cobbler for two are pretty traditional with the cobbler dough on top.
You can also use biscuits like I did with my Strawberry Shortcake Cobbler.
Sticking with the s'mores theme, I used mini marshmallows instead of dough to keep with the cobbled look.
Because cobblers are traditionally made with fruit, I used strawberries to tie the two desserts together.
They add a fresh, fruity touch to the semisweet chocolate. Plus it's kinda like getting a serving of fruit into your diet, right?
Baking them toasts the marshmallows on top. However, if you're the type to purposely light your marshmallow on fire until completely charred like me, you can stick them under the broiler for a few minutes or use a
blow torch
.
I used some cute mini cast iron dishes I found at a local antique shop, which measure about 6 ounces each.
Since I'm assuming you don't have these, you can use three 6 ounce ramekins or put it all into one 6-inch round pan.
Strawberry S'mores Cobbler
Yield: 3 servings
Prep Time: 15 minutes
Cook Time: 20 minutes
Total Time: 35 minutes
Ingredients
2 cups chopped strawberries
3 ounces finely chopped semisweet chocolate
1 tablespoon granulated sugar
1 tablespoon cornstarch
1 tablespoon lemon juice
1 1/2 cups mini marshmallows
1/4 cup chopped graham crackers
Instructions
Preheat the oven to 400F. Have three 6-ounce ramekins or one 6-inch round cake pan ready.
In a large bowl, mix together the strawberries, 2 ounces chocolate, sugar, cornstarch, and lemon juice. Divide evenly among the ramekins or place all into the cake pan.
Top with marshmallows. Bake for 20 minutes or until the marshmallows are toasted and the filling is bubbling. Cool for 10 minutes.
Add the remaining 1 ounce chocolate to a sandwich bag. Microwave 30 seconds. Gently massage the bag. Keep microwaving in 15 second intervals until the chocolate has fully melted. Push all of the chocolate to one corner of the bag. Cut a small hole then drizzle over the cobblers. Top with graham cracker pieces. Serve immediately.
Disclosure: This post contains Amazon affiliate links.
This post may contain affiliate links. As an Amazon Associate and member of other affiliate programs, I earn from qualifying purchase.