Pittsburgh Pierogy Nachos
An ode to my favorite city! Whether you live here, moved away, or simply love visiting, this recipe for Pittsburgh Pierogy Nachos with kielbasa, sauerkraut, and a homemade beer cheese sauce will bring a little bit of Pittsburgh to your kitchen.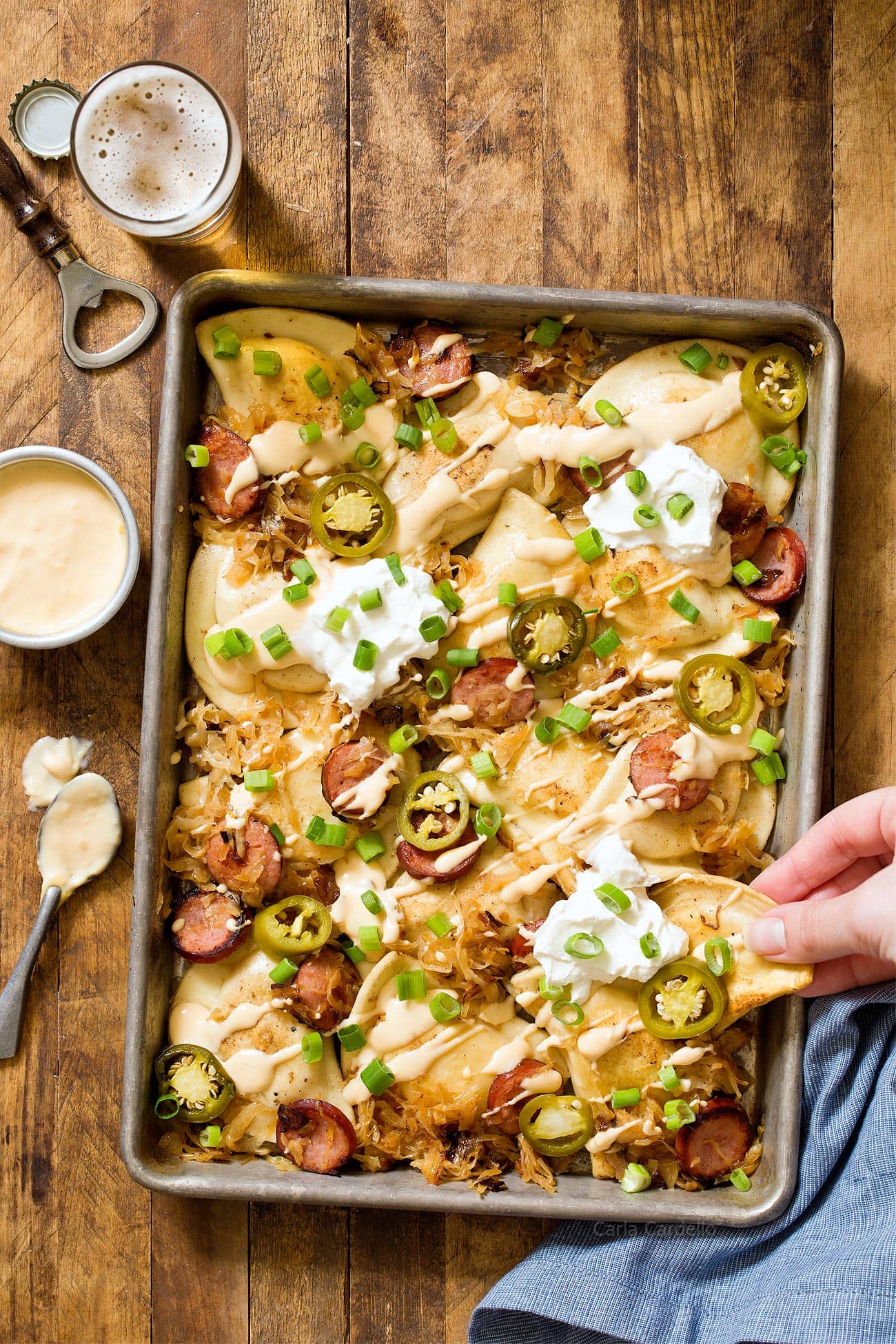 This post is in partnership with Mrs. T's Pierogies.
How much does Pittsburgh love pierogies? Let me count the ways:
There's the Great Pierogi Race during Pirates baseball games. After the 5th inning, people dress up as various pierogy flavors and race around the stadium. I even have a t-shirt referencing the race saying "I'm here for the pierogies".
We sell pierogies at fish fries for Lent. A lot of pierogies.
We have a Pittsburgh Pierogi Festival where everyone gathers in one spot and eats pierogies until they burst.
We have restaurants and a food truck dedicated to selling pierogies.
The freezer section in the grocery store has a sign dedicated to pierogies so you know which aisle they're in.
Everyone who grew up in Pittsburgh grew up eating pierogies. Show me one Pittsburgh native who hasn't.
Because the Pittsburgh Penguins are in the hockey playoffs, the arena sets up an outdoor screen so fans who don't have a ticket can still enjoy the game. When my friend and I attended one, we were talking about what we wanted for dinner when we got there. Then we started talking about how we were in the mood for pierogies and hoped the pierogy food truck was there.
Unfortunately it wasn't, which made our pierogy craving even stronger. When that happens, I usually turn to cooking something similar at home.
Since the weather has been alternating between winter and spring, it's usually been too cold to hang out at the outdoor screen. That's when you opt to watch the Pen games from the warmth of your living room.
And when you watch a hockey game, there must be snacks. More specifically, there must be nachos.
Pittsburgh Pierogy Nachos, to be exact.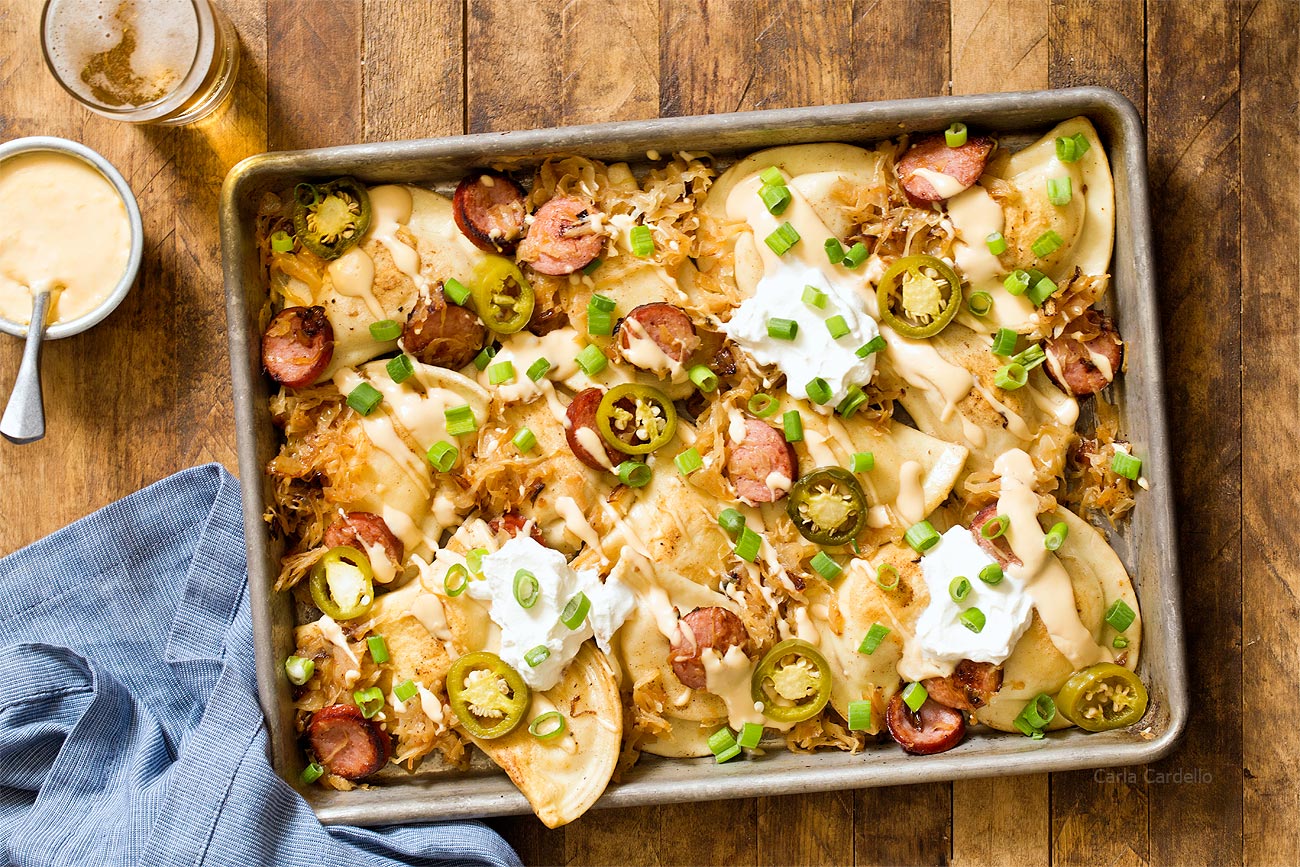 Growing up, my mom made pierogies probably every week. Caramelize some onions in butter and serve them on top for dinner.
But pierogies are so much more than that. Did you know you can also snack them? Fry them up and eat them like chips. Bet you can't eat just one!
I put everything Pittsburgh into one bite – kielbasa, sauerkraut, a homemade beer cheese sauce, and of course fried pierogies.
This is my ode to my favorite city.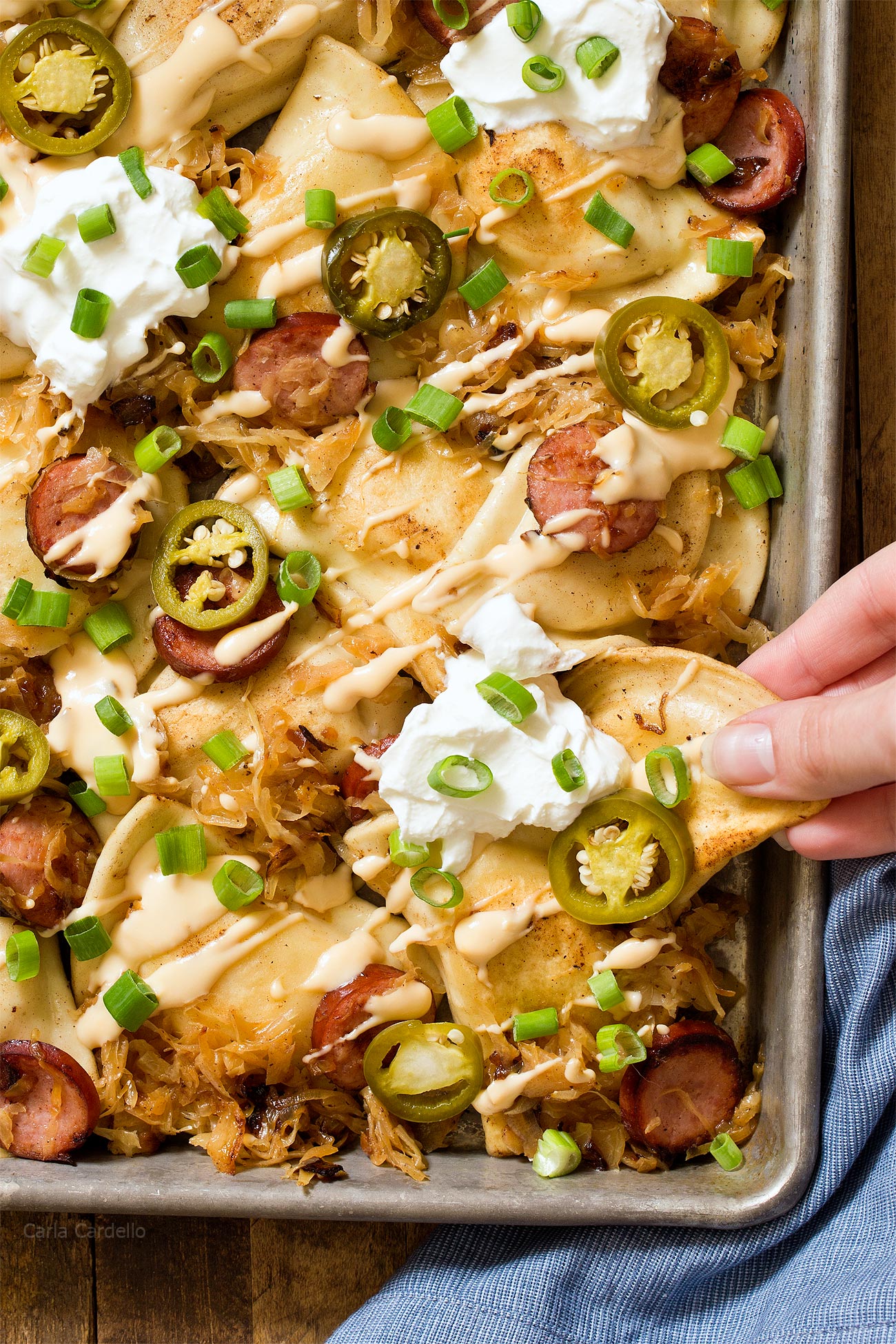 This isn't the first time I've dedicated recipes to Pittsburgh. I've made
The Pittsburger
and
Klondike Ice Cream Cupcakes
in honor of the city I call home.
So what makes these Pittsburgh nachos and not just regular nachos?
Pierogies – Instead of nacho chips, you use fried pierogies. It's like the foundation of everything Pittsburgh.And not just any pierogy. Anybody growing up in Pittsburgh grew up eating Mrs. T's Pierogies. They're made with real quality ingredients combined with creamy whipped potatoes, which are then folded into a pasta shell.Mrs. T's sells more than 15 varieties, including mini pierogies. For the nachos, I was torn between Classic Cheddar and Classic Onion. You can also use Spicy Jalapeno for an extra spicy kick.
Kielbasa – Using pierogies as chips isn't enough; it's all about the toppings too! I've seen pierogy nachos with the usual salsa, guacamole, jalapenos, etc. That's not Pittsburgh. Pittsburgh is topping it with fried kielbasa. It may not be as widely celebrated as pierogies, but it's like having Batman without Robin; you can't have one without the other.
Sauerkraut – You can't have kielbasa without sauerkraut! But I get not everybody agrees. You either really love it or you really hate it. If you leave it out, substitute caramelized onions for it. You won't be sorry!
Beer cheese – Pittsburgh is definitely a beer loving city. According to Discover The Burgh, Pittsburgh is home to 44 breweries (and by the time you finish reading this sentence, another brewery opened nearby. That's how fast they're growing!). Naturally I had to incorporate beer. What better way than a beer cheese sauce?Fun cooking tip: Using evaporated milk instead of dairy helps keep it smooth even when it cools down. No clumpy mess.If you make the sauce ahead of time, you may need to whisk in a little extra milk to thin it out as you reheat it.
Serve your Pierogi Nachos with haluski.
Pittsburgh Pierogy Nachos
Yield: 4 servings
Prep Time: 15 minutes
Cook Time: 30 minutes
Total Time: 45 minutes
Whether you live here, moved away, or simply love visiting, this recipe for Pittsburgh Pierogy Nachos with kielbasa, sauerkraut, and a homemade beer cheese sauce will bring a little bit of Pittsburgh to your kitchen.
Ingredients
1/4 cup (4 tablespoons or 2 ounces) unsalted butter
1/2 pound kielbasa, sliced into 1/4-inch pieces
1/2 cup chopped white or yellow onion
1 cup sauerkraut, drained and rinsed
12 Mrs. T's Classic Cheddar Pierogies
Sour cream, green onion, and pickled jalapenos (recipe here), for topping
Beer Cheese Sauce
1 cup evaporated milk
1 teaspoon cornstarch
1/4 cup lager-style beer
2 cups shredded cheddar cheese
1 teaspoon salt
Instructions
In a large 12-inch skillet over medium heat, melt 2 tablespoons butter. Once melted, add the kielbasa, onion, and a big pinch of salt. Cook until the kielbasa is brown on one side, about 3-5 minutes. Flip and cook until brown, another 3-5 minutes.
Stir in the sauerkraut and cook until hot, about 1 minute. Transfer everything to a bowl and keep warm.
Melt the remaining 2 tablespoons butter in the skillet. Once melted, add the pierogies in a single layer (if you're using a skillet smaller than 12 inches, you may need to cook them in two batches). Cook until golden brown, about 5-8 minutes. Flip and cook until golden brown, about another 5-8 minutes.
For the beer cheese sauce: In a small bowl, whisk together 1 tablespoon evaporated milk and the cornstarch to make a slurry.
In a large saucepan, heat the remaining evaporated milk and beer until hot but not boiling. Stir in the cornstarch slurry, cheese, and salt until smooth. Cook for 3-5 minutes or until thickened, stirring often.
Arrange pierogies on a large plate. Top with the kielbasa mixture, beer cheese sauce, sour cream, green onion, and pickled jalapenos.
Disclosure: This post is sponsored by Mrs. T's Pierogies. As always, thank you for reading and supporting brands I work with, which helps keep this website running.
This post may contain affiliate links. As an Amazon Associate and member of other affiliate programs, I earn from qualifying purchase.