French Onion Macaroni and Cheese
All of your favorite flavors of French onion soup in pasta form – stovetop French Onion Macaroni and Cheese with caramelized onion and gruyere cheese makes 4 servings, enough to have dinner for two.
Ever have a good problem to deal with?
Right now my cheese drawer is packed full of every cheese you can imagine – Parmesan, gruyere, blue cheese, feta cheese, queso fresco, multiple kinds of Irish cheese, mozzarella cheese, cheddar cheese, smoked cheddar cheese.
It's probably better to ask what cheese don't I have in my fridge right now? And why *do* I have so many cheeses at once?
Sometimes with recipe development, you need to use very specific ingredients without any substitutions, like blue cheese for buffalo chicken grilled cheese, Parmesan for spinach parmesan quiche, and gruyere for my French onion quiche.
Of course once I'm done with these recipes, I have plenty of cheese leftover. And if you're ever purchased gruyere before, you know it ain't cheap, and I wasn't about to waste it.
Gruyere cheese is a hard yellow cheese from Switzerland known for its melting quality, which is why you often see it used in French onion soup.
Knowing its time was almost up after making my quiche a few months ago, I had to think of something quick.
There's one rule I have – when there's too much cheese in the house, I make macaroni and cheese. I probably make mac and cheese once a week for dinner, whether it's Pulled Pork Mac and Cheese, Alfredo Mac and Cheese, or Pumpkin Mac and Cheese.
Looking at the gruyere, I stayed with the French theme and made French Onion Macaroni and Cheese with plenty of caramelized onion, a melted gruyere cheese sauce, and toasted panko breadcrumbs.
It's made all on the stovetop, so you don't need to turn on the oven for dinner that is ready in under 60 minutes.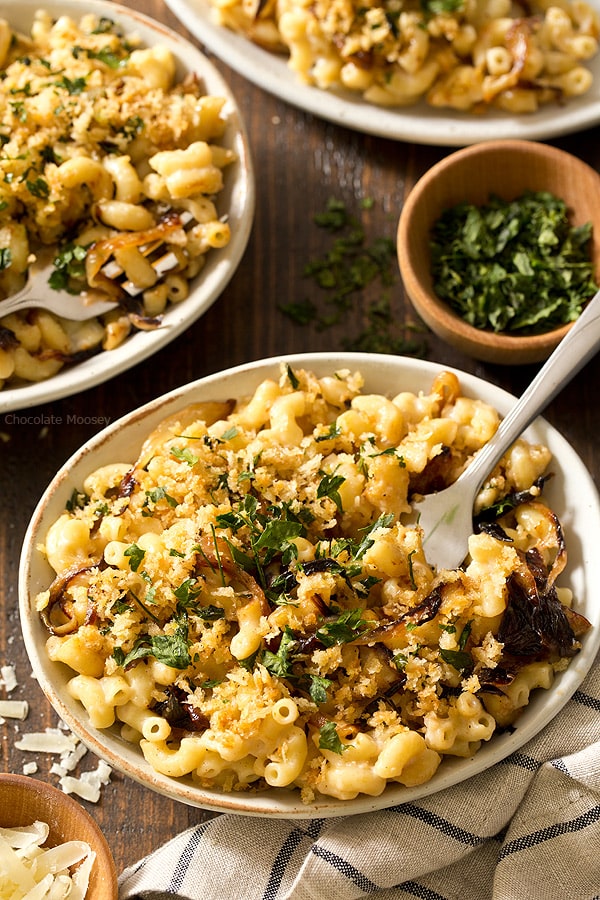 There are several key components to French onion soup – caramelized onion, melty Gruyere cheese, and a crouton on top.
Since I made this recipe on the stovetop rather than baking in a casserole dish, I used toasted panko breadcrumbs and sprinkled them on top to give it crunch, just like a crouton.
You can find panko in the Asian section of your grocery store.
The secret ingredient to French onion macaroni and cheese is time.
Don't rush caramelizing the onions, which takes roughly 20 minutes. You want the onions to be nice and brown without burning.
Too light of a color, and the flavors won't have time to develop.
Good news is you can make caramelized onions ahead of time if you're prepping dinner for the week (assuming you don't eat the entire batch before reaching the fridge).
French Onion Macaroni and Cheese
Yield: 4 servings
Prep Time: 15 minutes
Cook Time: 40 minutes
Total Time: 55 minutes
All of your favorite flavors of French onion soup in pasta form – stovetop French Onion Macaroni and Cheese with caramelized onion and gruyere cheese makes 4 servings, enough to have dinner for two.
Ingredients
1/4 cup (2 ounces or 4 tablespoons) butter
1 small onion, sliced
1/2 pound (8 ounces) uncooked elbow pasta
2 tablespoons all-purpose flour
1 cup whole milk
1 cup shredded Gruyere cheese
1/4 teaspoon salt
1/4 cup panko breadcrumbs
1 teaspoon dried parsley
Instructions
In a large skillet, melt 2 tablespoons butter (add pinch salt if unsalted). Add the sliced onions and stir to coat with butter. Cook for 20 minutes until golden brown, stirring every few minutes and scraping any bits that form on the bottom. Transfer to a bowl and keep warm.
Bring a large pot of salted water to a boil. Cook macaroni as directed on the package until al dente, roughly 10 minutes. Drain into a colander.
While the pasta is cooking, make the sauce. Add another 1 tablespoon butter to the already-used skillet and melt. Whisk in the flour to coat and cook 1 minute. Slowly whisk in the milk. Bring to a boil and cook until thickened, about 3-5 minutes. Whisk in the cheese and salt until melted.
In a small skillet, melt the remaining 1 tablespoon butter. Add the breadcrumbs and cook until brown, stirring often, roughly 5 minutes. Stir in parsley.
Once everything is cooked, mix together the cooked macaroni, sauce, and onion. Top with toasted breadcrumbs.
This post may contain affiliate links. As an Amazon Associate and member of other affiliate programs, I earn from qualifying purchase.