Hot Chocolate Fudge
This easy chocolate marshmallow fudge recipe, aka Hot Chocolate Fudge, captures the flavors of hot chocolate in one bite. Give as a gift for the holidays or serve alongside your cookie trays.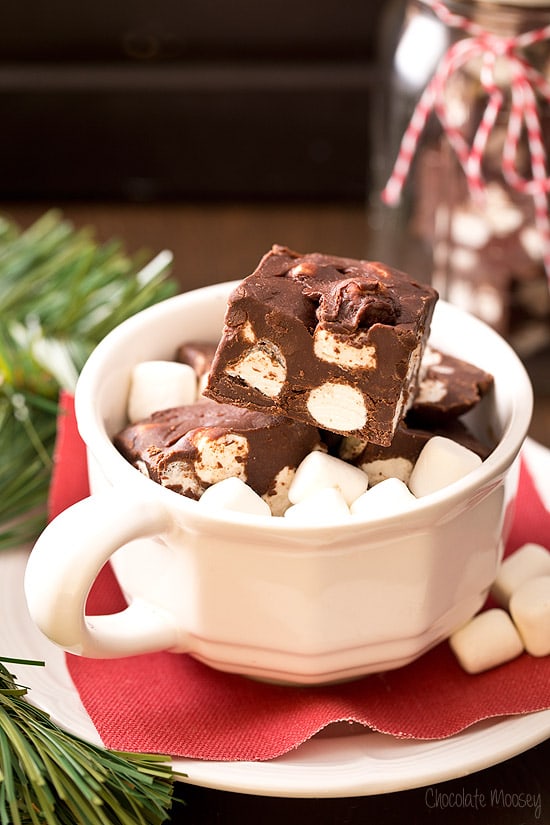 Happy December! Is it true that we are only three weeks away from Christmas?!
I certainly am nowhere near done with my shopping. I'm lucky I even got the tree up this past weekend!
Christmas means gift giving, and one tradition I do every year is give homemade treats to friends. Usually I give cookies or popcorn, but sometimes I give fudge.
Fudge is a word that scares people because it means breaking out the candy thermometer. I remember when I first tried making fudge the old fashioned way, and that didn't end too well.
However, this particular recipe uses sweetened condensed milk and chocolate chips, which practically guarantees that the fudge will set up no problem.
I have all kinds of fudge recipes on the blog already, but the one kind I didn't have was Hot Chocolate Fudge.
As the name suggests, it's an easy chocolate fudge with marshmallows stirred in, sharing the same flavors as a nice hot cup of cocoa.
This winter has been particularly mild, so I haven't had too many cups of hot chocolate. However, I may or may not have had too many bites of hot chocolate fudge.
Last month I visited the ALDI Test Kitchen near Chicago, IL. At least twice a year they taste test their products alongside national brands to ensure they taste just as great if not better.
To prove this point, ALDI set up a tasting station for us where we had to select which sample we preferred.
Personally, I had trouble telling the difference on most of the items except for the butter crackers. Hands down ALDI crackers were much more buttery and better.
Because I have a massive sweet tooth, one of my favorite parts of the trip was the hot chocolate bar, which is what inspired my hot chocolate fudge.
Unfortunately, I was too stuffed to make a cup, but that didn't stop me from grabbing a stir stick to go.
I also loved the chocolate chip and marshmallow centerpieces because I can very easily make that myself at home with the millions of prop glasses I have for photography.
I also had the opportunity to make cookie mix in a jar, which is what inspired me to put my hot chocolate fudge in a jar. Much more festive that way.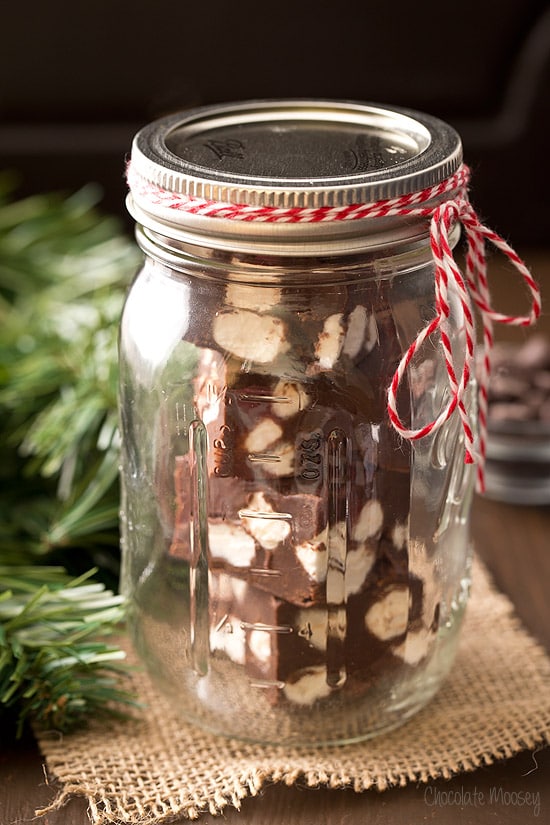 Towards the end, Chef Brigitte Nguyen demonstrated how to cook a holiday meal on a budget while still using fresh ingredients.
At the end, I asked her about dessert because duh it's me and I live for dessert. She suggested putting out cookies on cookie trays so the host can relax.
This reiterated the fact that people want quick and easy recipes so they aren't stressed for the holidays.
Of course if you're known for desserts like me, you need to have at least one thing homemade. That's where fudge comes in.
You can make it up to several days ahead of time so you aren't stuck making dessert the day of entertaining.
Then you can either serve fudge alongside your cookies or package it up for your guests to take home.
Want to spice it up a bit? Check out my Mexican Hot Chocolate Fudge.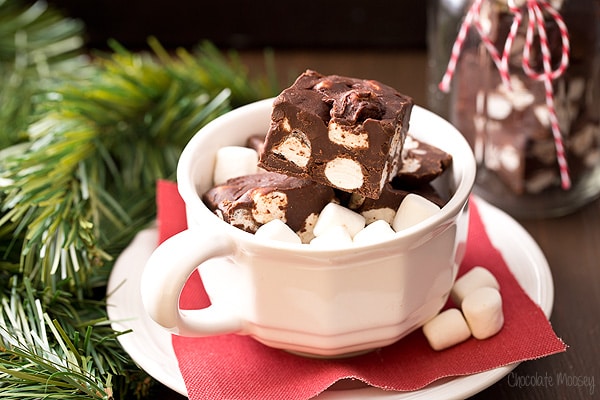 Hot Chocolate Fudge
Yield: 25
Prep Time: 15 minutes
Cook Time: 15 minutes
Chill Time: 4 hours
Total Time: 4 hours 30 minutes
This easy chocolate marshmallow fudge recipe, aka Hot Chocolate Fudge, captures the flavors of hot chocolate in one bite. Give as a gift for the holidays or serve alongside your cookie trays
Ingredients
3 cups semisweet chocolate chips
1 (14 ounce) can sweetened condensed milk
1 tablespoon unsweetened baking cocoa
1 teaspoon vanilla extract
2 cups miniature marshmallows
Instructions
Line an 8x8 pan with parchment paper. Have all your ingredients measured and ready to go because the fudge will thicken quickly.
In a large heatproof bowl over a pan of simmering water (do not let the bowl touch the water), melt together the chocolate morsels and sweetened condensed milk. It will be thick but keep stirring until smooth.
Remove the bowl from pan. Stir in the vanilla and cocoa powder. Fold in the marshmallows.
Immediately spread into the pan and cool until firm, at least 4 hours or overnight (you can store in the refrigerator to speed up the process). Store in an airtight container for up to 2 weeks.
More Fudge Recipes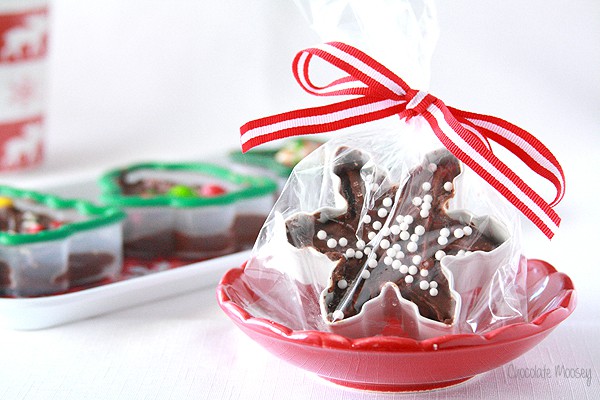 Cookie Cutter Fudge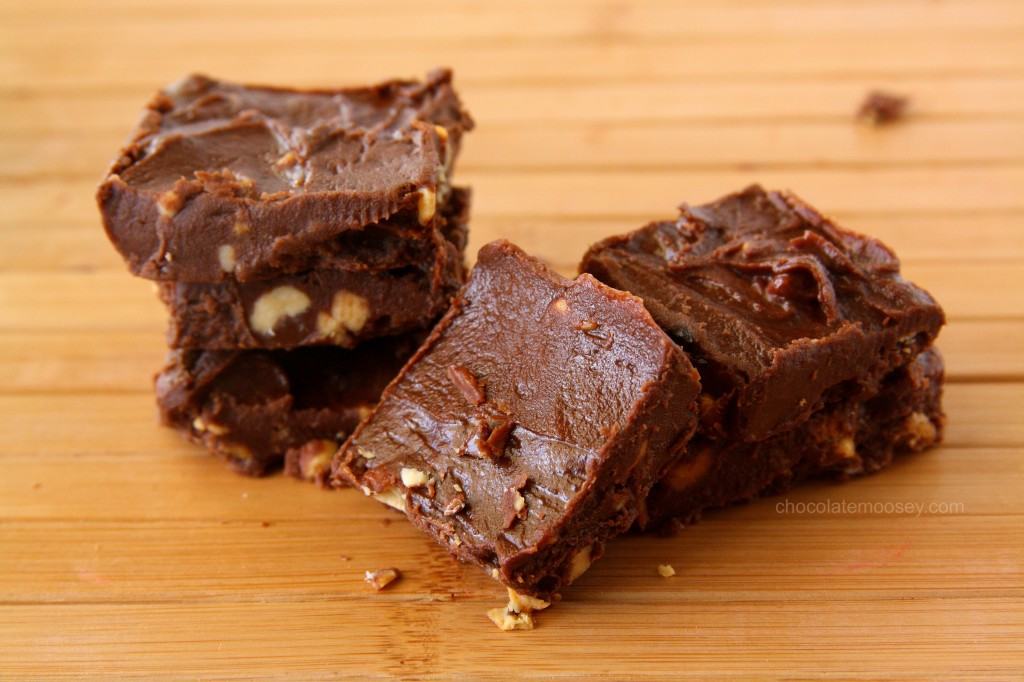 Chocolate Peanut Butter Fudge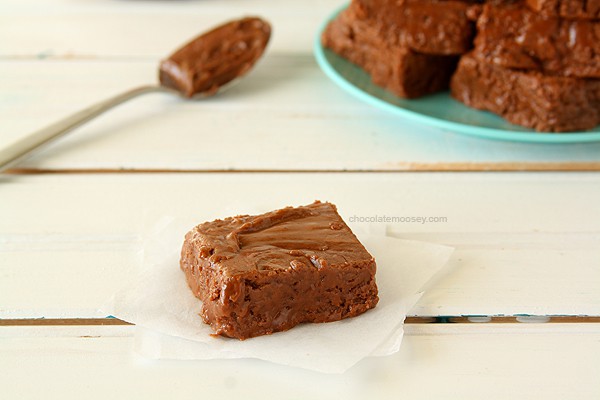 Nutella Fudge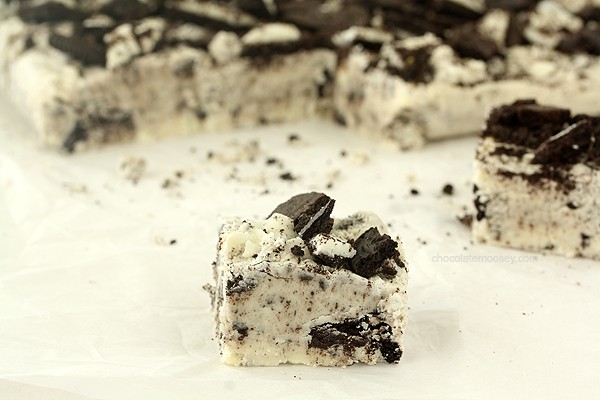 Oreo Fudge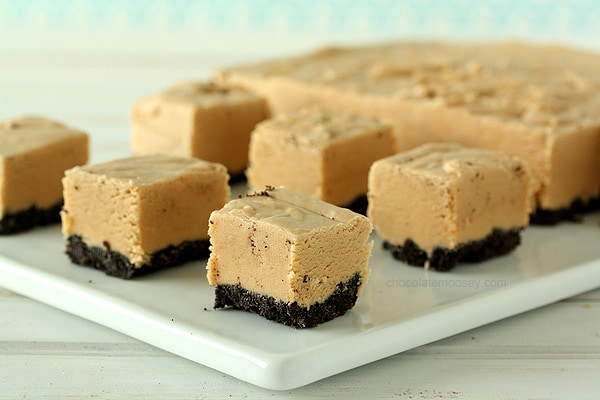 Peanut Butter Oreo Fudge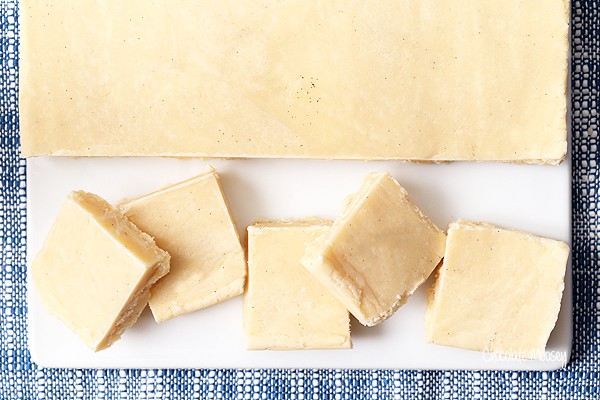 Vanilla Bean Fudge
Disclosure: This post is sponsored by ALDI. Thank you for supporting me and the companies I work with as sponsored posts help pay for the costs of running this blog, including website hosting and groceries for recipe development.
This post may contain affiliate links. As an Amazon Associate and member of other affiliate programs, I earn from qualifying purchase.