Gingerbread Popcorn Snack Mix
Whether you're looking for an afternoon popcorn snack to munch on or a festive Christmas popcorn to wrap up and give away, this Gingerbread Popcorn Snack Mix combines caramel popcorn with chocolate and molasses.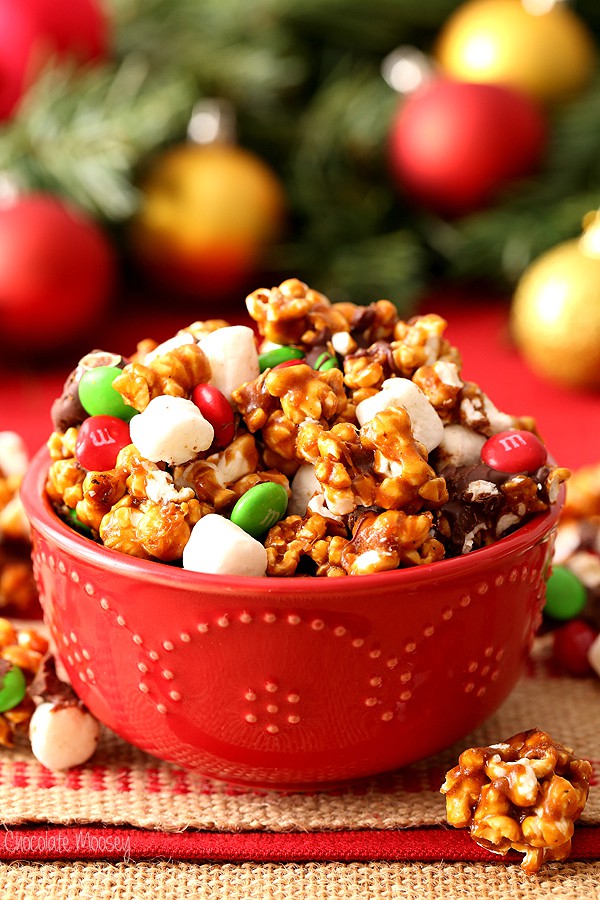 I have a big snacking problem. It usually happens at night while I'm watching TV. Probably because we are trained to associate television and movies with eating snacks like potato chips and popcorn. I mean, all you have to do is walk past a movie theater and take a deep breath (and it takes everything I have not to spend $6 on a tiny popcorn while I'm there). I try not to buy junk food for home because I can easily inhale a whole bag of potato chips. However, I do keep popcorn kernels on hand. I figured if I take the time and effort to make popcorn on the stove, then I earned my snack for the evening. Being that it's a week away from Christmas, I was in the mood for gingerbread popcorn. And since I love throwing M&Ms and mini marshmallows into my popcorn (yes, even into buttered popcorn), I came up with this Gingerbread Popcorn Snack Mix: caramel-and-molasses coated popcorn drizzled with chocolate then tossed with Christmas M&Ms and mini marshmallows. Not only does it make a great snack to eat while watching Christmas movies (Elf and Home Alone are my favorites), you can wrap it up in holiday treat bags and give away to family and friends.
This gingerbread popcorn is made almost exactly like
caramel popcorn
except you add some molasses and spices to give it its iconic gingerbread flavor. If you see any gingerbread popcorn recipes that don't call for molasses (and I have), it isn't gingerbread. I once made a "gingerbread" dessert without molasses. Trust me – it's just not the same.
You can make the gingerbread popcorn itself a day ahead of time since it does take an hour to bake. I know that sounds long for a popcorn recipe, but you need the full hour to "dry" the caramel-molasses coating. However, the marshmallows go stale pretty quickly, so I recommend mixing everything together at the last possible minute before eating (or packaging for gifts).
Gingerbread Popcorn Snack Mix
Yield: 7 cups
Prep Time: 30 minutes
Cook Time: 1 hour 15 minutes
Total Time: 1 hour 45 minutes
Whether you're looking for an afternoon popcorn snack to munch on or a festive Christmas popcorn to wrap up and give away, this Gingerbread Popcorn Snack Mix combines caramel popcorn with chocolate and molasses.
Ingredients
7 cups unsalted popped popcorn*
2/3 cup packed brown sugar
1/2 cup (4 ounces) unsalted butter, cut into 8 pieces
1/4 cup corn syrup
1/4 cup full-flavor molasses (not blackstrap)
2 teaspoons ground ginger
1 teaspoon ground cinnamon
1/2 teaspoon ground nutmeg
1/2 teaspoon ground clove
1/2 teaspoon salt
1/2 teaspoon baking soda
1/2 teaspoon vanilla extract
1 cup semisweet chocolate chips
1 cup mini marshmallows
1 cup M&Ms
Instructions
Preheat oven to 250F. Lightly grease a 13x9 pan and add the popcorn.
In a medium heavy saucepan, add the brown sugar, butter, corn syrup, molasses, ginger, cinnamon, nutmeg, clove, and salt. Bring to a boil over medium heat, stirring often. Once it hits boiling, cook without stirring for 5 minutes.
Remove from the heat and stir in the baking soda (it may foam a bit) then stir in the vanilla. Quickly pour over the popcorn and stir until evenly distributed.
Bake 60-75 minutes, stirring every 15 minutes, or until the coating is mainly dry (it's ok if it's a little sticky when stirring the final time). Remove from the pan and transfer to waxed paper to cool completely. If not assembling right away, store in an airtight container.
To assemble
Melt 1/2 cup chocolate chips in the microwave. Drizzle onto parchment or waxed paper with a spoon (alternatively you can spoon into a sandwich bag and cut the corner to drizzle).
Immediately top with half of the popcorn, 1/2 cup marshmallows, and 1/2 cup M&Ms in a single layer.
Melt the remaining 1/2 cup chocolate chips, drizzle on top of the popcorn then top with the remaining ingredients. Let the chocolate harden completely (you can use the refrigerator to speed this up) then break into pieces. Store in an airtight container.
Notes
*7 cups of popped popcorn is roughly equal to 1/3 cup unpopped kernels plus 2 tablespoons vegetable oil. To make popcorn on the stove: Find a pot with a wide bottom and a lid. Add the oil and stir to coat the bottom. Add the kernels and shake the pan until coated. Turn on the heat. Shake the pan every so often so the kernels move around a bit. After what seems like forever, a kernel should pop. Once that happens, add your lid. Once the popping stops, remove the pan from the heat. Pour into a giant bowl and let cool for a bit. Sift through popcorn to remove any unpopped kernels and possible burnt pieces.
Source: Adapted from Taste Of Home
More Popcorn Recipes For You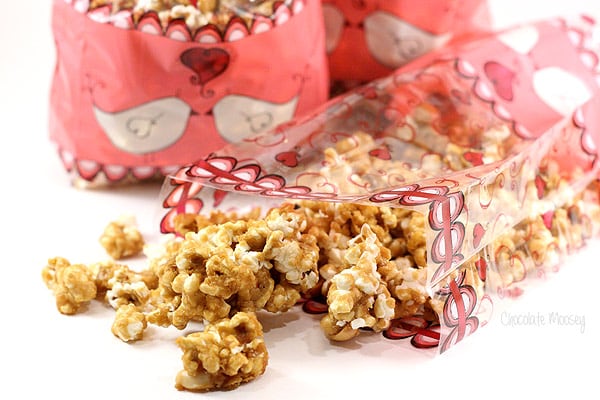 Caramel Popcorn

S'mores Caramel Popcorn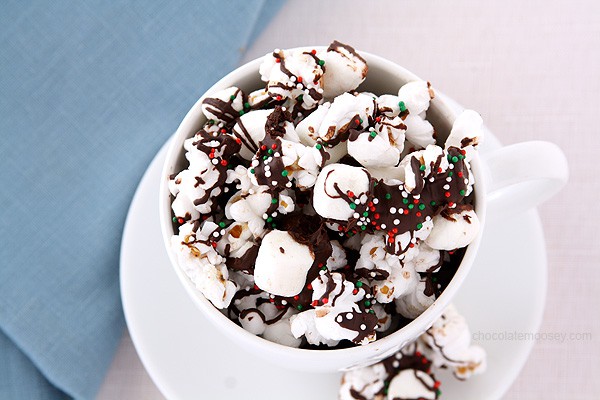 Hot Chocolate Popcorn

Irish Cheese and Bacon Popcorn
This post may contain affiliate links. As an Amazon Associate and member of other affiliate programs, I earn from qualifying purchase.