Chocolate Peanut Butter Pretzel Bark
Satisfy your sweet tooth with sweet and salty Chocolate Peanut Butter Pretzel Bark with peanut butter cups. Make it as a gift or keep it all to yourself.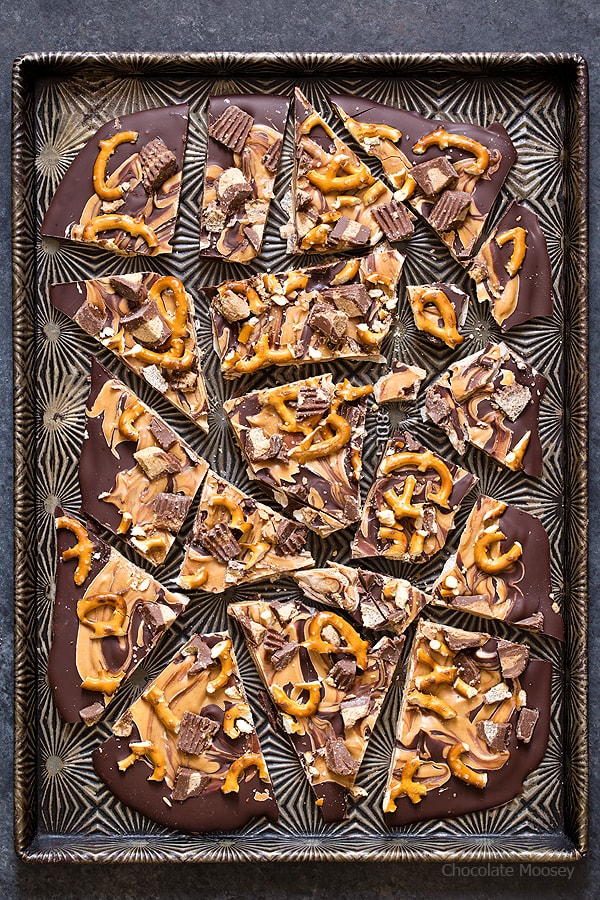 Do you find yourself adding more and more people to your holiday gift giving list every year?
Coworkers, friends, neighbors, delivery drivers, your mailman, your landlord, teachers, janitors, coaches, etc.?
Of course who has that kind of money? Not me, especially since I bought a car in October.
I bet you have your own big expenses to deal with as well, but you also don't want to look like a Grinch.
I hear you. That's why I always recommend making homemade food gifts. Not only are they more thoughtful than a scented candle, it's much more enjoyable and won't clutter your home with another thing you don't need (seriously – I don't ever burn candles. Or use lotion).
Usually when people ask me for recipe ideas, I direct them to cookie cutter fudge or gingerbread popcorn snack mix.
But this year I have the recipe that trumps all recipes – Chocolate Peanut Butter Pretzel Bark with peanut butter cups.
It's sweet. It's salty. It's nutty. It's irresistible.
If you're weak in the knees for anything chocolate and peanut butter, imagine an entire tray of it at your fingertips. In fact, you'll want to make a double batch because once you take a bite, you won't want to give any away.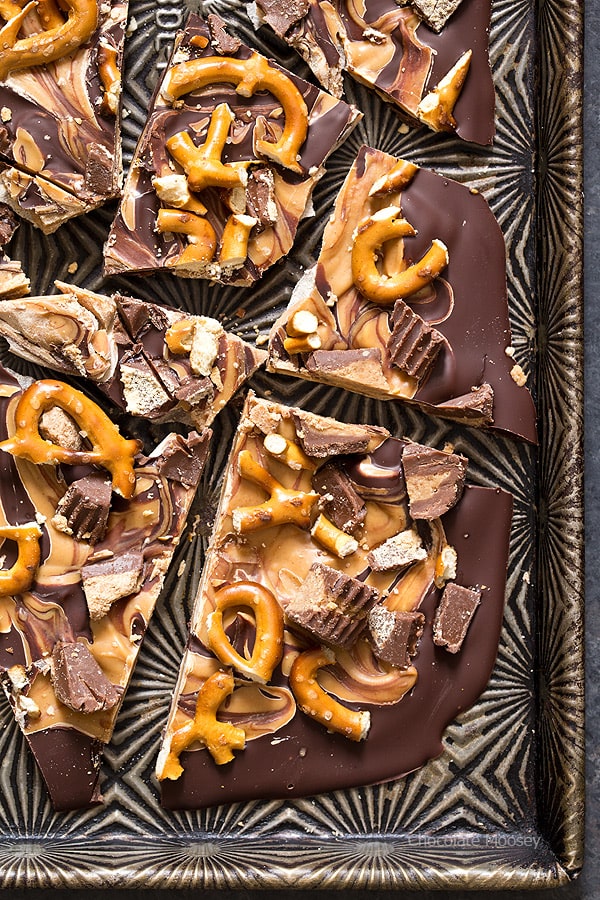 How To Temper Chocolate
One technique you need to understand when making bark is tempering chocolate.
Now before you run away from such a "scary" term, I'll let you in on a little secret: if you've melted chocolate before, you've already been tempering. You just didn't know it!
Tempering chocolate means melting the chocolate to a certain temperature (below 88F) so when it hardens back into a solid, it remains smooth and glossy with a crisp snap you'd expect when you take a bite.
If you want to learn more about the science behind tempering chocolate, America's Test Kitchen produced a 4-minute informative video about it.
I don't think you need me to bore you with crystal formation when somebody else can explain it better.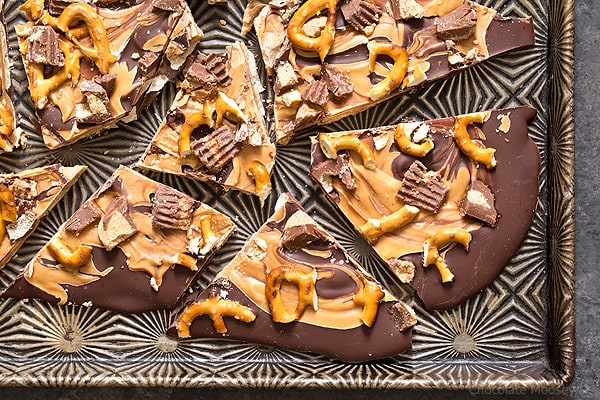 Luckily you don't necessarily need a
candy thermometer
(affiliate link) for chocolate bark (although if you have one, it certainly wouldn't hurt!).
There are two key points to remember:
One – don't get any water or steam in your bowl as that will seize (clump) your chocolate.
Two – patience. You can't rush the melting process. Trust me – if you try to turn up the heat to melt your chocolate faster, you'll end up redoing the entire batch.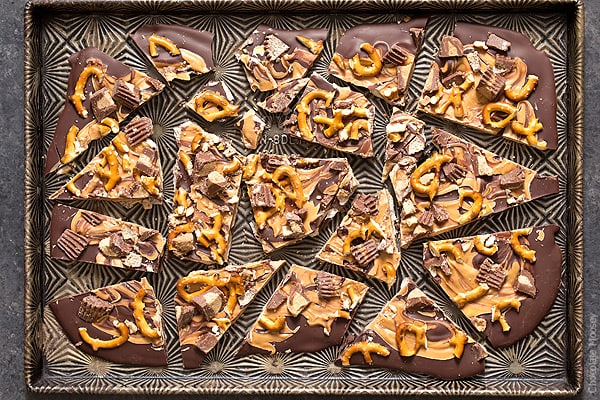 For the peanut butter swirl on top I used melted peanut butter chips, which are more forgiving to melt. Some brands melt perfectly while other brands may require a teaspoon or two of fat to help smooth it out.
If you find your melted peanut butter a little too thick, add some butter or shortening to help it out.
Chocolate Peanut Butter Pretzel Bark
Ingredients
8 ounces good quality bittersweet chocolate (70-80%), finely chopped
6 ounces (1 1/4 cup) peanut butter chips
1 teaspoon butter or unflavored shortening (optional)
1/2 cup chopped peanut butter cups
1/2 cup chopped pretzels
Instructions
Bring a medium pot of water to a simmer. Once simmering, turn off the heat.
Put the chocolate in a heatproof bowl and place it over the water (make sure no steam or water gets in the bowl). Let it sit over the hot water, uncovered, until about 2/3 melted. Gently stir it and allow it to melt further until completely smooth. Do not rush this process. If the water gets too cold, you can turn on the heat for a little help, but don't overdo it.
Once fully melted, pour onto a baking sheet lined with parchment paper and spread into an even layer.
Immediately in another heatproof bowl, add the peanut butter chips and place it over the hot water (if it's not hot enough, repeat Step 1). Let it sit until softened. Gently stir until completely smooth. If the mixture is too thick, add the butter/shortening to help smooth it out.
Spoon the melted peanut butter chips on top of the chocolate, leaving space between each spoonful. Run a knife through to form decorative swirls. Sprinkle evenly with peanut butter cups and pretzels. Let sit at room temperature for 1 hour or until set. Cut into desired pieces.
This post may contain affiliate links. As an Amazon Associate and member of other affiliate programs, I earn from qualifying purchase.