Small Batch Creamy Lemon Fudge (In A Loaf Pan)
Learn how to make real traditional fudge with this Small Batch Creamy Lemon Fudge recipe made in a loaf pan. It's a sweet and tangy flavor in every bite!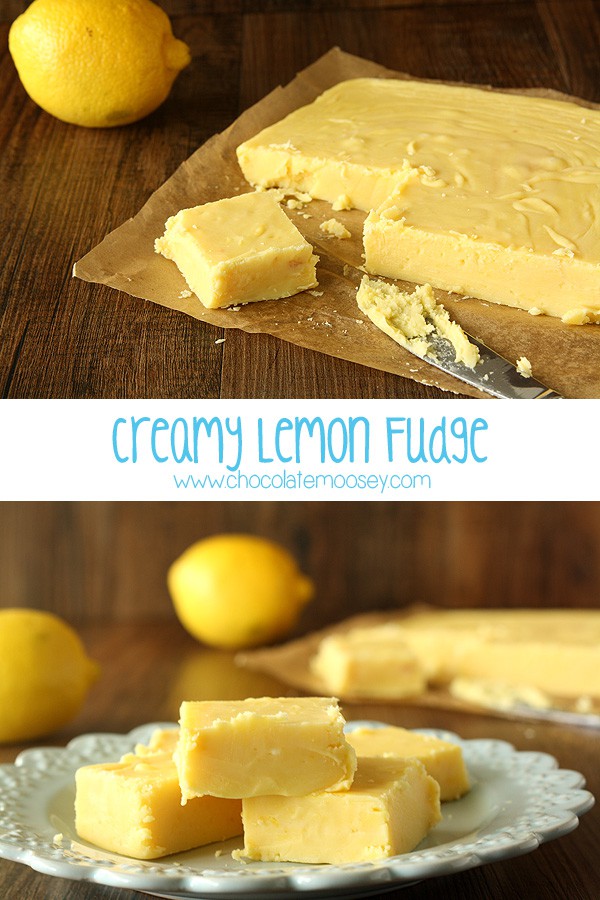 Fudge
. Real, homemade, use a candy thermometer fudge.
I finally did it!
Usually I end up cheating and let the ingredients make the fudge (otherwise known as easy fudge), but this time, I finally conquered the technique.
I made Small Batch Creamy Lemon fudge made with real lemons. No lemon extract required!
Real, traditional fudge is made by boiling together milk and sugar until the temperature reaches 235-240F, which is known as the soft ball stage in candy making.
This ensures the fudge sets up and becomes firm after cooling.
Then you stir in your flavorings before transferring to a loaf pan to harden into candy.
It isn't hard to do; really it comes down to patience and an accurate cooking thermometer.
As long as you follow my directions, you will soon have Small Batch Creamy Lemon Fudge to eat!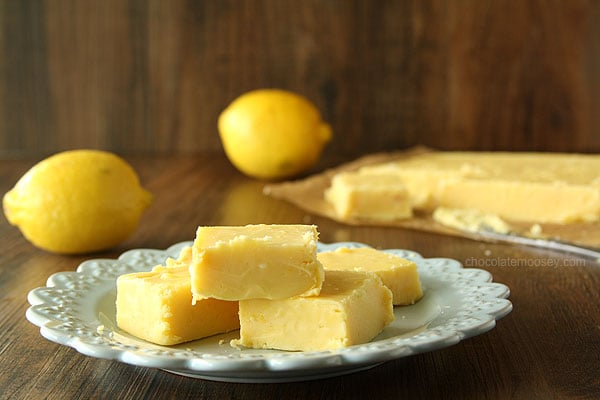 Fudge has always been a huge enemy of mine.
I remember years ago I wanted to make pumpkin fudge. Little did I know what I was getting into to, I found a recipe and made it.
After it cooled, I cried. It barely set and could only have been eaten by a spoon.
That's when I learned how precise fudge making is. That bringing it to a rolling boil wasn't enough; it had to reach at least 234 degrees on a candy thermometer.
You also don't stir the fudge once it's boiling; otherwise, sugar crystals will reform. This is why fudge can often have a gritty texture because the sugar recrystalized.
And even if you do reach 234 degrees, factors you can't control such as the weather can make or break your recipe.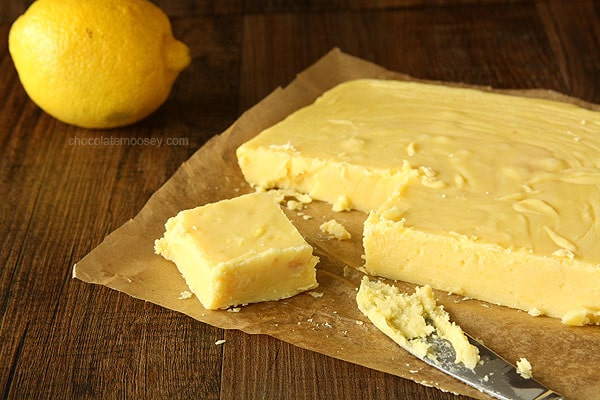 I was so nervous in making lemon fudge.
What if I did all that work and it failed yet again?
After I poured the mixture into my pan, I anxiously checked on it often as it cooled. Slowly, it started to harden. The fudge was turning into, well, fudge!
I breathed a sigh of relief as I made a mess cutting it.
I toyed with the idea of making rocky road fudge because it is my mom's favorite, but with the dreary weather and chilly days ahead, I wanted to brighten it up a bit with some citrus.
The texture is creamy melt-in-your-mouth goodness with a huge tang of lemon flavor, which comes from the zest of real lemons. You definitely don't need lemon extract (more on that in a bit).
I did add some food coloring to emphasis this is indeed lemon fudge since it's not naturally bright yellow.
You certainly don't need food coloring if you're not worried about presentation. Naturally it comes out a pale yellow.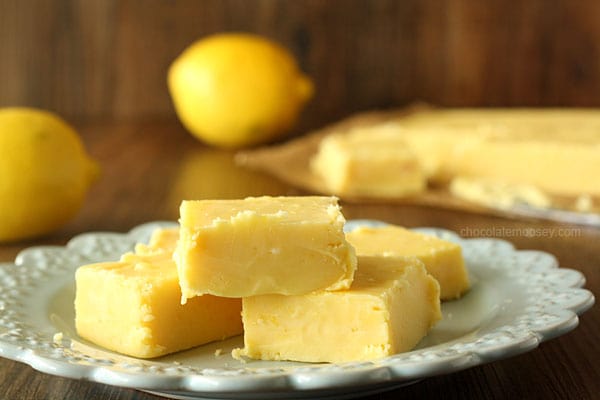 The original recipe called for lemon extract, but I found most people don't have this in their pantry, including myself.
You can substitute lemon zest for lemon extract, so I added a lot more than I would typically use.
Do not try to substitute lemon juice because the extra liquid and acidity may prevent the fudge from firming up after cooling.
I also substituted heavy whipping cream for evaporated milk. Sometimes when I'm in the mood to make fudge, I don't have canned evaporated milk. And if I do, I don't use the whole can.
However, I almost always have heavy cream on hand, so it was a natural fit.
You definitely need a candy thermometer, preferably with a digital face (I bought this one).
If you are without one, you can test the mixture using the soft ball stage test.
I made a small batch of fudge in a loaf pan because by nature, fudge is almost sickly sweet. That means most people can only eat a small square before the sugar rush hits.
Depending on how big you cut your pieces, you can make anywhere from 12 to 16 squares.
More Fudge Recipes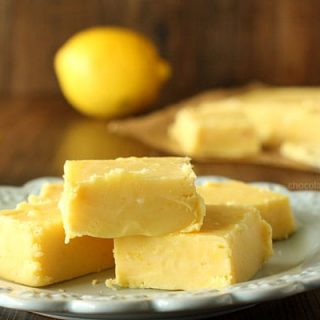 Small Batch Creamy Lemon Fudge
Yield: 12-16 squares
Prep Time: 20 minutes
Cook Time: 10 minutes
Cool Time: 2 hours
Total Time: 2 hours 30 minutes
Learn how to make real traditional fudge with this Small Batch Creamy Lemon Fudge recipe made in a loaf pan. It's a sweet and tangy flavor in every bite!
Ingredients
1 cup granulated sugar
1/3 cup heavy whipping cream or evaporated milk
4 ounces white chocolate, finely chopped
1/4 cup butter (2 ounces or 4 tablespoons), cut into 4 tablespoons
2 tablespoons lemon zest (roughly 2 lemons)
1/4 teaspoon vanilla extract
Few drops of yellow food coloring (optional)
Instructions
Line a 9x5 loaf pan with parchment paper. Have all of your mise en place (ingredients) prepped before starting.
In a large saucepan, whisk together the sugar and cream/milk. Heat over medium-high heat, stirring constantly until it reaches a rolling boil.
Turn the heat down to medium-low and boil until a candy thermometer reaches 234F degrees, about 5 minutes. Do not stir. If it begins to brown, turn the heat down to low, ensuring it's still at a boil.
Once the mixture reaches 234F degrees, remove from the heat. Using a rubber spatula, immediately stir in white chocolate, butter, lemon zest, and vanilla until the chocolate and butter are fully melted. The mixture should be thick and smooth. If you want a brighter color, stir in the food coloring.
Immediately transfer to the pan and spread into an even layer. Let cool until firm, 2 hours at room temperature or 1 hour chilled. Remove from the pan and cut into squares.
Recommended Products
As an Amazon Associate and member of other affiliate programs, I earn from qualifying purchases.
Source: Adapted from
The Well Seasoned Cook
This post may contain affiliate links. As an Amazon Associate and member of other affiliate programs, I earn from qualifying purchase.