Oreo Fudge
This almost foolproof recipe for cookies and cream fudge made with Oreo cookies practically melts in your mouth. You don't even need a candy thermometer. Make it for a sweet snack or wrap in a candy box and give to your loved ones.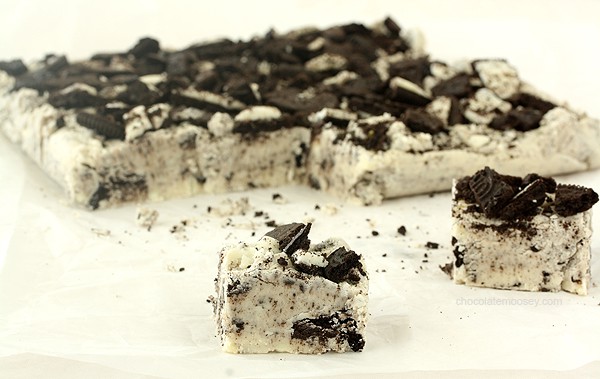 What presents can you count on every year? Every Christmas for quite some time now, Murray would give me a package of Oreos and a 12 pack of Vanilla Coke. I know that sounds silly, getting a gift from your cat, but he did help Dad wrap them. One year Dad accidentally put his catnip toy and one of my cookbooks in the same bag, so Murray uh ended up wrapping that one too (evidence supports he really liked the cover). This year, Christmas will be quiet without Murray, so I bought myself some Oreos and made this Oreo Fudge. With the help of white chocolate chips and marshmallow cream, you can make fudge that's almost guaranteed not to fail.
When I eat the famous chocolate sandwich cookies, I eat the cream first then the cookie. This fudge is one of my favorites because it tastes exactly like the cream filling. Don't worry cookie lovers – there are chopped cookies on top for you. As for those of you who dunk your cookies in milk? Well you can dunk the remaining Oreos from the package as you wait for the fudge to cool.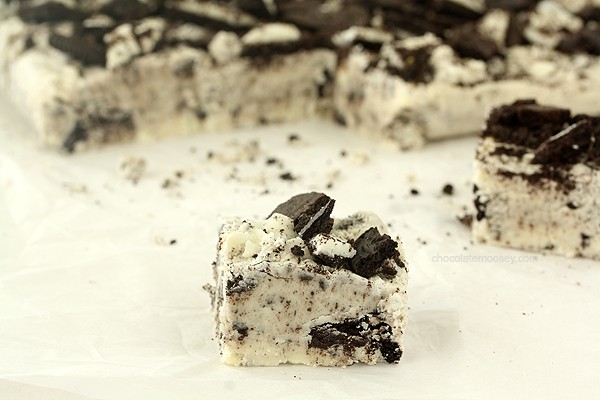 Fudge used to be one of my weaknesses in the kitchen, busting out the candy thermometer and ensuring the mixture is up to temperature before chilling for a few hours, praying it'd harden or cry at all that effort and ingredients wasted. Not this recipe. Because of the white chocolate chips and marshmallow cream, this fudge will thicken greatly to the point of having trouble stirring it. Think of it as a good workout and not needing to lift weights that night at the gym.

Murray's last Christmas
Not sure how Christmas will go this year. It was already too quiet when I helped my parents put up their tree. No little grey furball of terror eating the tree skirt or playing Catzilla with the mini village. Maybe the Ghost of Christmas Cat will leave more Oreos under the tree…
Equipment you may need (Amazon affiliate links):

Oreo Fudge
This almost foolproof recipe for cookies and cream fudge made with Oreo cookies practically melts in your mouth. You don't even need a candy thermometer.
Ingredients
1 1/2 cups granulated sugar
6 tablespoons unsalted butter, cut into 6 pieces
1/3 cup evaporated milk
1 cup white chocolate chips
1 cup marshmallow fluff (roughly half of a 7 ounce jar)
1/2 teaspoon vanilla extract
1 cup coarse Oreo crumbs
1/2 cup chopped Oreo pieces
Instructions
Line an 8x8 pan with parchment paper.
In a large heavy-bottom saucepan, combine the sugar, butter, and milk. Bring to a boil, stirring until everything is smooth and the butter has melted. Once it's at a rolling boil, cook for 5 minutes, stirring often.
Remove from the heat and stir in the chocolate chips, marshmallow fluff, and vanilla. Stir until melted and smooth (it will be really thick - use your muscles). Fold in the coarse Oreo crumbs. Spread into the pan*. Quickly add the chopped Oreo pieces on top and gently push them into the fudge to stick. Let cool until firm. Cut into pieces.
Notes
*If you take too long and the fudge thickens too much, put back over the heat until easy to stir again.
Source: Adapted from
All Recipes
—-
If you liked this Oreo Fudge, you may also like these recipes:
From me:
From others:
This post may contain affiliate links. As an Amazon Associate and member of other affiliate programs, I earn from qualifying purchase.